Updated by Laura | 11th June 2020

The billions of photos taken, shared and commented on across the world every day can be traced back to a few individuals, one of the most significant of which was a man named George Eastman. This is the story of how he made photography available to everyone.
The invention of the roll film camera
Up until the invention of the roll film camera, specialists would use a photographic plate for taking pictures. These plates were notoriously difficult to work with as they had to be developed immediately after the photograph was taken. This made outdoor photography next to impossible, as only the wealthiest of photographers could afford to pay for the transportation of all their developing equipment, including a tent to form a temporary dark room.
Who was George Eastman?
George Eastman was a U.S. entrepreneur with a passion for photography, but he hated carrying so much stuff and couldn't afford to pay an assistant to carry it for him. In 1878 he learned about 'dry plates' in Great Britain, which could be developed later at home. Eastman started experimenting and manufactured dry plates as well as a machine to produce them; by 1881 he was able to found the Eastman Dry Plates Company.
A few years later, in 1884, Eastman invented a type of paper that could replace the glass plates: another step closer to 'comfortable photographing'. The next challenge was to invent a light proof film roll, which he perfected in 1885. Photography was already much easier, but Eastman had a dream to make photography available for anyone by eliminating the need to use a dark room. This dream was realised in 1888 when Eastman successfully created development centres that would take over the 'dark room work'.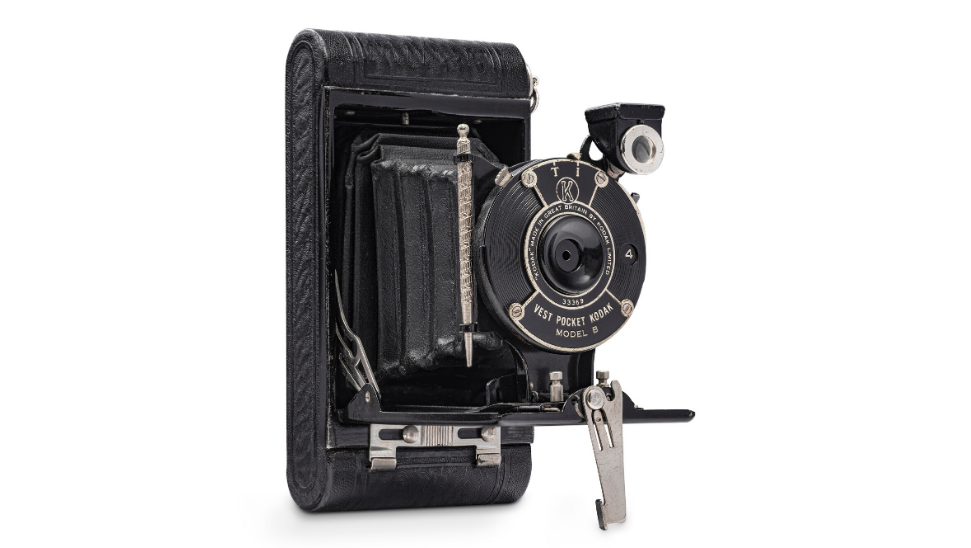 A vintage Vest Pocket Kodak, model B
The founding of Kodak
The original Kodak company slogan encapsulated the work Eastman had already done to bring photography to the masses, and the ease of use the company would become known for: "you press the button, we do the rest". Another famous claim about the roll film camera (and specifically Kodak) was that it was "the only camera that anybody could use without instructions". These two phrases acted as Eastman's rallying cry as he pushed to make sure that photography was no longer just for specialists.

For the time, it was truly a revolutionary invention. Photography went from being the preserve of the few to being the pastime of the many. Just as professional photographers reacted to the mass adoption of camera phones with unease and dire predictions that the photography industry would disappear; professional photographers during Eastman's time were troubled by his invention. The rest of the world was thrilled. Suddenly anyone could take photos, use up the 100 exposures on the roll of film, and send it to Kodak to be developed. Is it any wonder that the Kodak camera was an instant success?
____________________
Check out our latest analogue camera auction or register as a seller with Catawiki.
Discover more Analogue Cameras | Kodak Cameras
You might also like:
Superfans: the story of how Polaroid came back from the dead
Everything you need to know about daguerreotypes
Everything you need to know about investing in analogue cameras