Written by Irene | 13th August 2018

Antique bed linen, tablecloths, napkins and such can provide your home with an ambiance that modern bed linen simply can't. They bring a sense of nostalgia, while the great quality of the fabrics as well as the fine hand-stitched decorations make antique bed linens historical pieces of art. In this article we'll give you four factors to help you determine the value of your antique linen.
#1: Aesthetics
As with all antiques, the decorative appeal very much affects the value of your bed linen. But what one believes is beautiful, another finds common. And while a certain style or handcraft can be popular for some time, a few years later there might be pretty much no demand for it. Timing is essential. Crochet details generally do not add much to the value of a handkerchief, while handmade lace is much more desirable. There is a market for embroidery and cutwork too. Figural items are more sought after than flowers, and a tablecloth sells better if it comes as a set with matching napkins.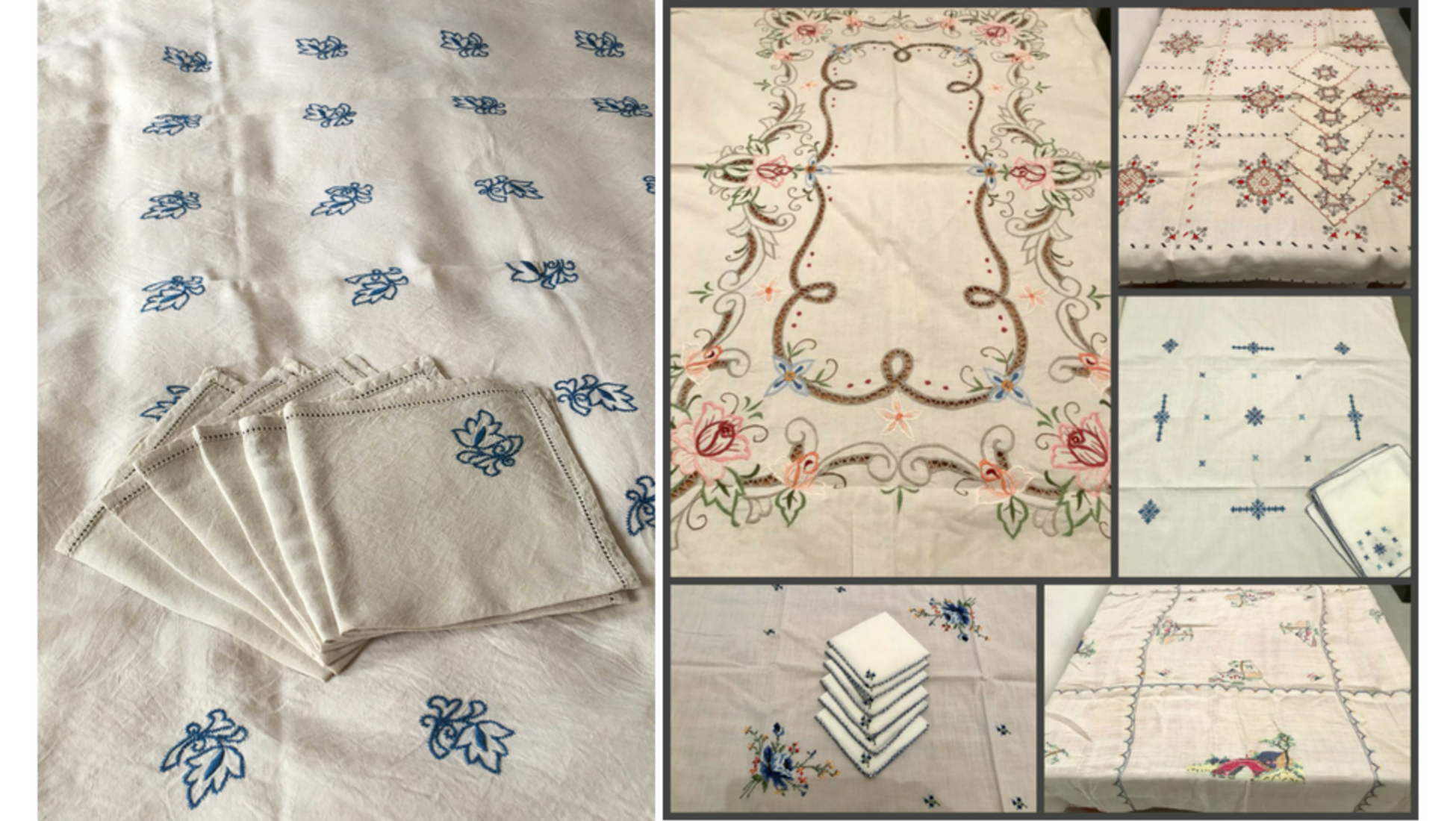 #2: Condition
Generally, only good condition or unused bed linen are sold, with a rare exception made for very old and special examples. Be careful: sometimes a stack of linen looks as good as new, but when you unfold it you find damage and stains. This is because the weight of linen compresses the stack. So always unfold a piece to make sure there are no holes, stains, repairs and such. Today people throw away damaged linen, but it was much more common to repair and re-use them earlier. One thing in particular to look out for is dry rot - holes that get bigger when you tug on them. Your bed linen should be free of all these flaws in order to be valuable.
#3: Origin
Part of the reason people love antique linen is that it tells a story, so it's important to know the origin of the piece when determining the value. The country of origin, to start with, can influence the value. For example French, Italian and English linen are generally great pieces of work, while post-1930 Chinese linen holds far less value. Pre-1900 pieces are very desirable if the linen is in good condition.
#4: Size
With most types of cloth, larger sizes are more wanted and therefore more valuable. This accounts for handkerchiefs, napkins, tablecloths and more. Napkins sized 3 or 4 feet are particularly desirable, though they should come in sets of at least a dozen. But every now and then, an item can be too big. Some antique tablecloths for example were made for incredibly large dining rooms and tables. As they would not fit many modern homes, they would be a burden rather than a blessing and therefore hold less value.
____________________
Do you own bed linen, a tablecloth, quilt, handkerchiefs, napkins or other antique linen that you believe could be valuable? There is just one way to find out! Register here, consult our experts and offer up your antique bed linen for auction. Or perhaps you now realise you have a love for antique linen and wish to start a collection: check out our Kitchen Collectables auction for more beautiful, tablecloths and more linens!
Discover more antiques | antique furniture
You might also like these articles: