Written by Tom | 7th October 2020
The word circus draws to mind a number of artistic expressions but the poster isn't one of the most immediate. Yet circus posters were remarkable for their artistry and are one of the earliest examples of truly memorable marketing. To help us uncover this overlooked art form, we asked photographer and circus poster collector Piet-Hein Out for his thoughts.

On 31st January 1967, John Lennon walked into an antique shop and bought a poster advertising the 19th-century circus, The Pablo Fanque Circus Royal. Fascinated by the poster's construction and content, Lennon was inspired to pen a song, later known as' Being for the Benefit of Mr. Kite! ', for the Beatles' critically lauded Sgt. Pepper's Lonely Hearts Club Band LP. While much of the song's acclaim can be accredited to its sound and production, the lyrics, which describe a number of once-prominent circus performers, helped convey the effects circus posters often had on viewers.
"Circus posters are unique in what they depict: the cultural phenomenon that is the circus", explains Piet-Hein. "Where else other than the circus can you witness incredible human athletic and acrobatic feats, performed multiple times in a single day? Or a place where you can experience close interactions between animals and humans? A circus is a place of awe and amazement - and the posters that accompany it aren't that different ".
Circus beginnings
Historians have debated the origins of the circus for years but the general consensus is that the modern circus began in the UK in 1768, with equestrian Philip Astley. A keen lover of horses from a young age, Astley set up the earliest form of the circus when he created a show around horse-riding tricks. He gradually introduced acrobatics and clowns alongside his own show - the first to do something like this - and inaugurated the circular 'ring' that circuses still use today.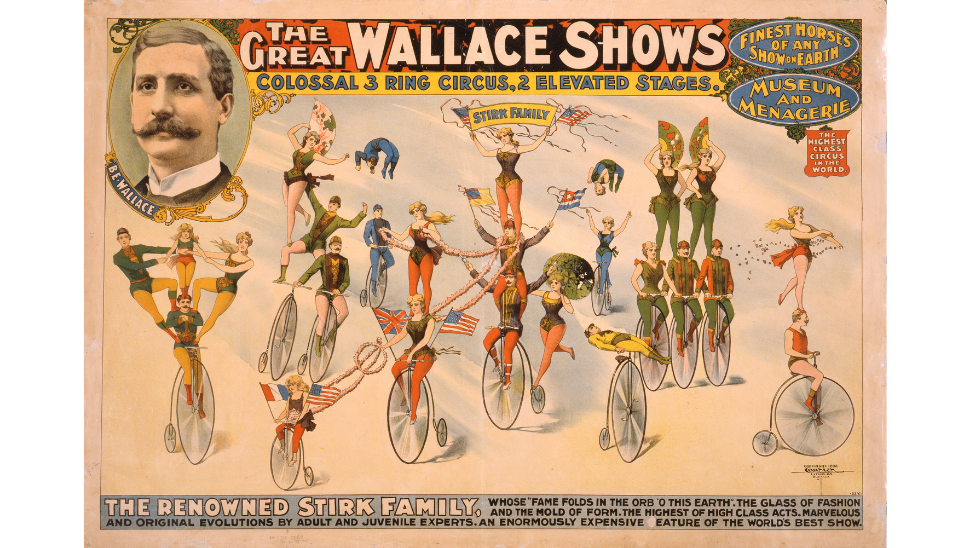 Circuses were a gateway to all things fantastical during times where travel was limited. Wikimedia Commons.
As circuses grew in popularity and began to tour, so did the need to market themselves. Back in the 18th and 19th centuries, circuses were truly the realm of the faraway and fantasied. At a time when people often lived and died in the same place they were born, the arrival of these mobile universes presented an opportunity for local communities to experience something remarkable. However, since circuses often only landed in town for a day or two, a sense of anticipation was necessary. The organizers of the circus knew this and so it was left to the humble poster to communicate the promise of wonder that people could experience, as well as the urgency and brevity of a circus' stay.

Capturing the carnival
Truly capturing the multitude of the circus is no easy feat, which is why circus posters have a variety of styles, says Piet-Hein. "Naturally there are depictions of acrobats, clowns, animals but not necessarily all together on one poster. Sometimes several different poster images were used at the same time to communicate the different parts of a circus; a trick modern-day marketers would likely reject for a lack of brand recognition ".
Circus managers employed some of the earliest tactics of innovative marketing, albeit using sometimes questionable methods, like saturation advertising. Potential customers received posters in their letterboxes and likely saw them on any billboard they would pass. But the urgency was necessary for an event that only happened nearby for one day out of the year. Besides, circuses weren't strangers to a little bit of exaggeration. Headlines such as 'The Greatest Show on Earth', written in bold type and colourful font were all methods used to excite potential customers. They were also early examples of stylised printing techniques, with the use of lithography, which gave circus posters their vivid, colourful look.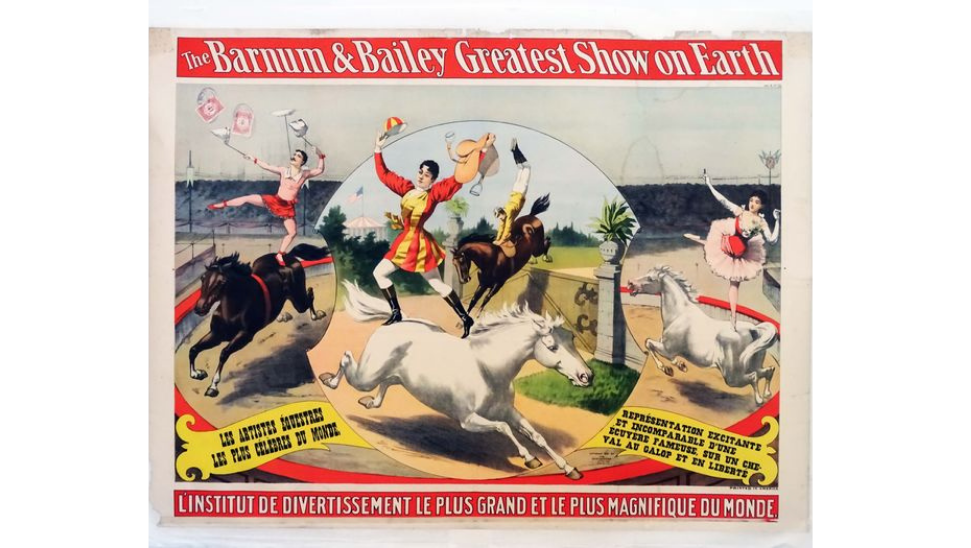 Circus posters weren't afraid of a bit of pomp and bombast, regularly resorting to hyperbole to attract visitors. Wikimedia Commons.
While circus posters are known for their colour, animal imagery and carnivalesque atmosphere, they weren't only collected for their aesthetic appeal. "Circus posters are remarkable because they've long mirrored society and its views," explains Piet-Hein. "One of the focuses in my collection is Original Soviet Circus Posters. If I were to take those and put them beside American Circus Posters from the 50s and 60s, you can see a world of difference in style, motifs and subjects. "
"Personally, I find the Soviet Circus Posters more like works of art and more modern than the American Circus posters. Acrobats hanging from flying rockets representing the Soviet dream of space domination. A far cry away from the more traditional style of the American Circus. It all goes to show how much society has influenced and still influences circuses and circus poster design ".
Remedying effect
Beyond being just worthy artistic candidates, circus posters are also helping to correct misnomers and stereotypes around the circus. "I think that the circus has been wronged often by book authors and Hollywood," says Piet Hein. "Coulrophobia (a fear of clowns) took flight because of horror clowns such as Stephen King's It. The circus was portrayed in such an overly dramatised and stereotypical way that it didn't represent the circus world anymore. Even the use of the word circus for a situation of chaos is itself discriminating. The running and logistics of Ringling Bros Barnum and Bailey Circus were so impressive that the US Army studied its methods to improve their own ".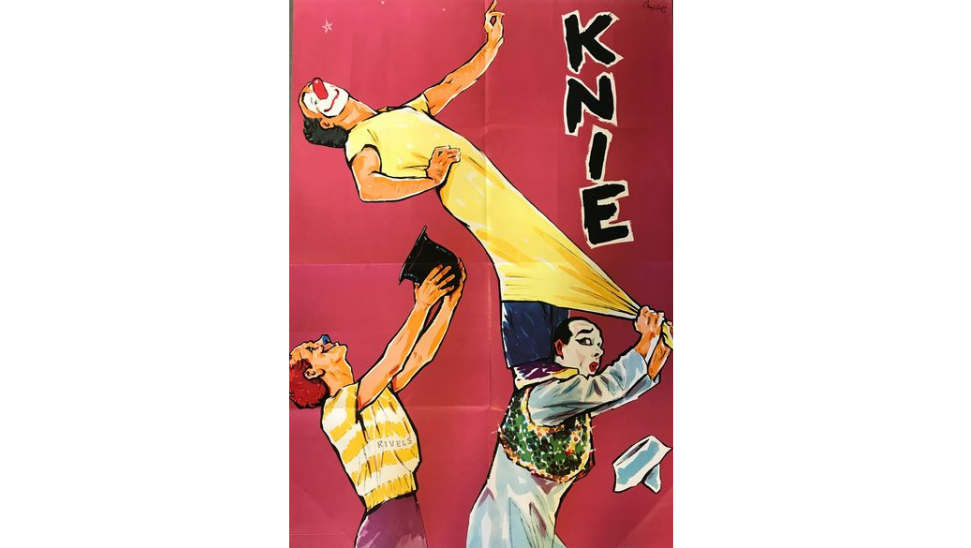 Clowns have wrongly earned themselves a scary reputation, far away from the comedians the posters portray them as
Circus posters combat this through artistic integrity. "Some of the world's greatest poster designers also designed circus posters", says Piet-Hein. "Bell Geddes in the USA created a series of posters for Ringling Bros Barnum and Bailey, while some of the best Polish poster designers created posters for the Polish State Circus. I regard circus posters not just as an item that is used to announce the circus is coming to town. I see them as a sort of homage to great performers and the circus as a whole. I like to think that by preserving them, I am honouring the performers and circuses of the past and keeping their memory alive ".
____________________
Explore our circus posters in our auctions here or register as a seller with Catawiki.
Discover more posters | Modern & Contemporary Art
You might also like:

Posters from the lost world of the great ocean liners

The girl with 1000 faces: the story of Fornasetti

An introduction to the art of Chinese calligraphy