Written by Beulah | 8th January 2020

"I don't mind if the fans rip the shirt off my back – they put it there."
Arguably one of the most significant cultural icons of the 20th century, Elvis Presley was known for packing out venues with screaming, fainting, gyrating music lovers. He may have had questionable taste in business managers, but Elvis knew the true value of his fans. The King would regularly stop and sign autographs for hours, chatting to fans until his management hustled the singer away, fearful that his voice would be damaged before that night's show. And he heaped endless praise on his dedicated superfans; citing them as his motivation to keep touring, long after health problems made this a painful, difficult process.
Elvis' fans returned his devotion, with interest. During his lifetime Elvis had a seemingly endless hit parade of platinum albums and he continues to be the best-selling solo artist of all time. Elvis' Graceland mansion was flooded with gifts from admirers (a collection of fan gifts to Elvis is on permanent display) and today the mansion is the second most visited home in the U.S.A. All this and we're yet to touch on the legions of Elvis impersonators who regularly give credence to the adage that "imitation is the sincerest form of flattery."
A legendary entertainer, ardent superfans and a long history of gift giving between the two; is it any wonder that a host of myths and misinformation have sprung up around the value of Elvis memorabilia? In an effort to separate fact from (admittedly very entertaining) fiction, here are some of the most expensive and mythologised pieces of Elvis memorabilia ever sold.
The acetate record that Elvis forgot existed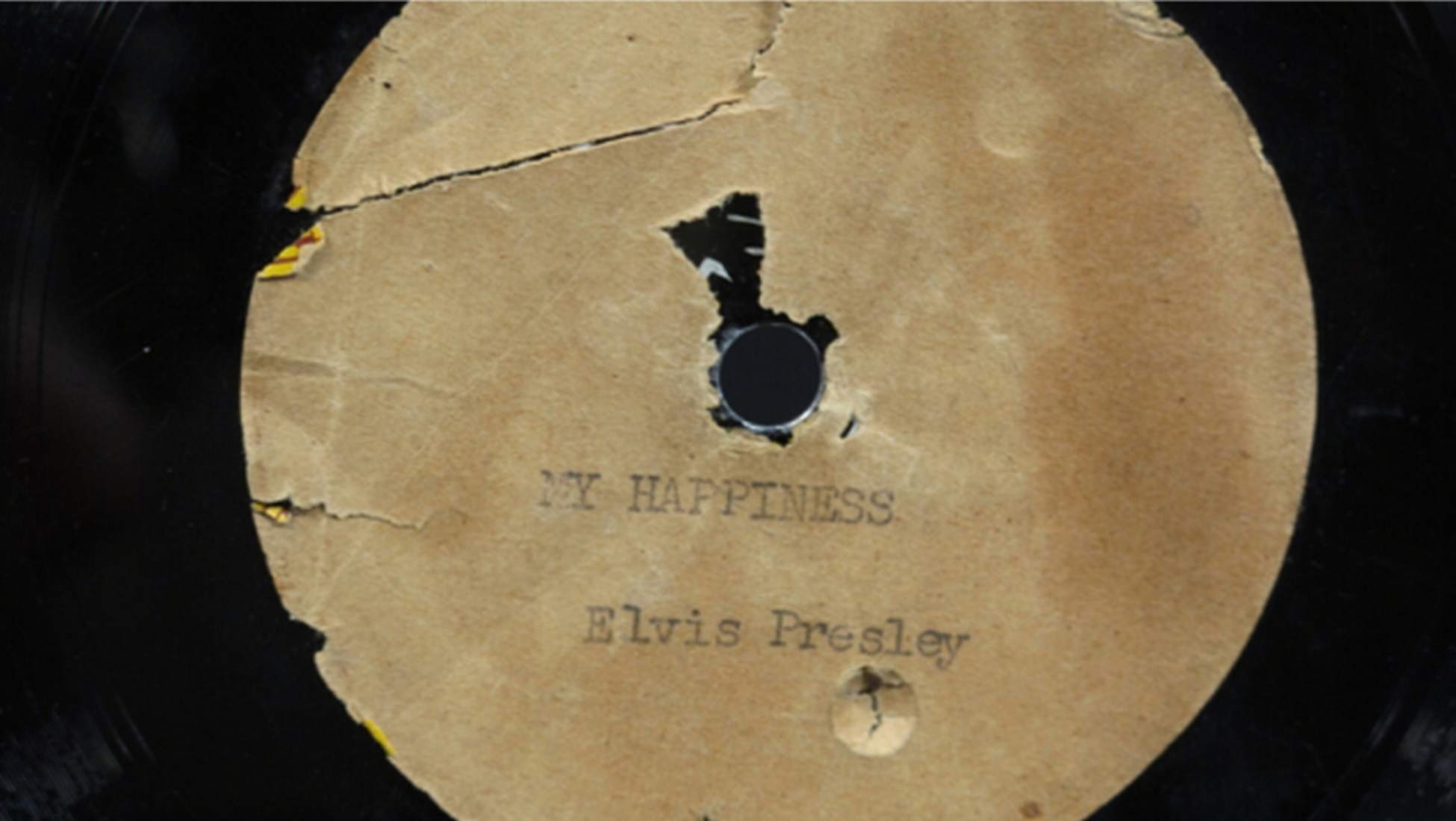 Acetate recording of 'My Happiness' by Elvis Presley

'My Happiness' was the first song that Elvis ever recorded. It was August 1953, and according to different sources, Elvis just wanted to know what he sounded like. Or it was a birthday present for his mother. Or he was bored. Or he was hoping to catch the attention of Sun producer Sam Philips. Whatever the reason for the recording, Elvis didn't have a record player of his own so he went to his friend Ed Leek's house to listen to the recording, and then promptly forgot about it. The acetate disc lived in Leek's record for collection for 60 years, before it went up for auction and was sold to White Stripes singer Jack White for $300,000, making it one of the most expensive acetate ever sold.
The jeweled jumpsuit that concealed a gun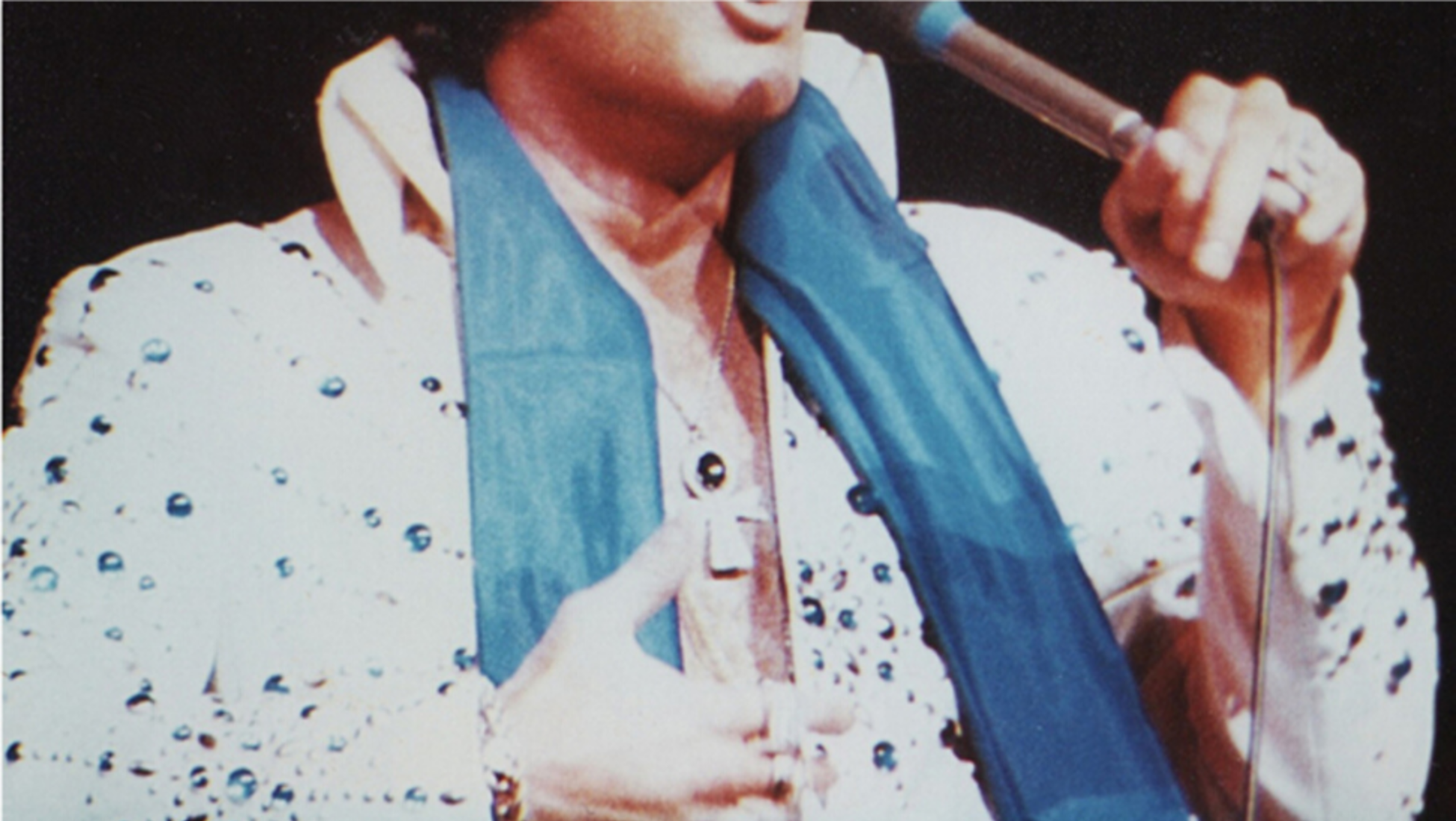 Aqua-blue vine jumpsuit, worn by Elvis in the early '70s

In 2016, Elvis' aqua-blue vine jumpsuit was auctioned for $325,000. Covered in jewels and studs, the aqua-blue vine was worn by Elvis between 1973-74 and it was the work of designer Bill Belew and renowned embroiderer Gene Doucette. Despite both Belew and Doucette going on the record to discuss how they came up with the design (Napoleon, superheroes and ease of movement on stage are frequently mentioned) rumours about the suit continue to circulate. Perhaps the most outlandish of which is that the legs of the suit were made so wide to accommodate an ankle holster for Elvis' Derringer. The holster was apparently requested after an assassination threat in 1970, although fans who saw Elvis perform are quick to affirm that the aqua blue vine jumpsuit concealed nothing.
The gold grand piano that cost $1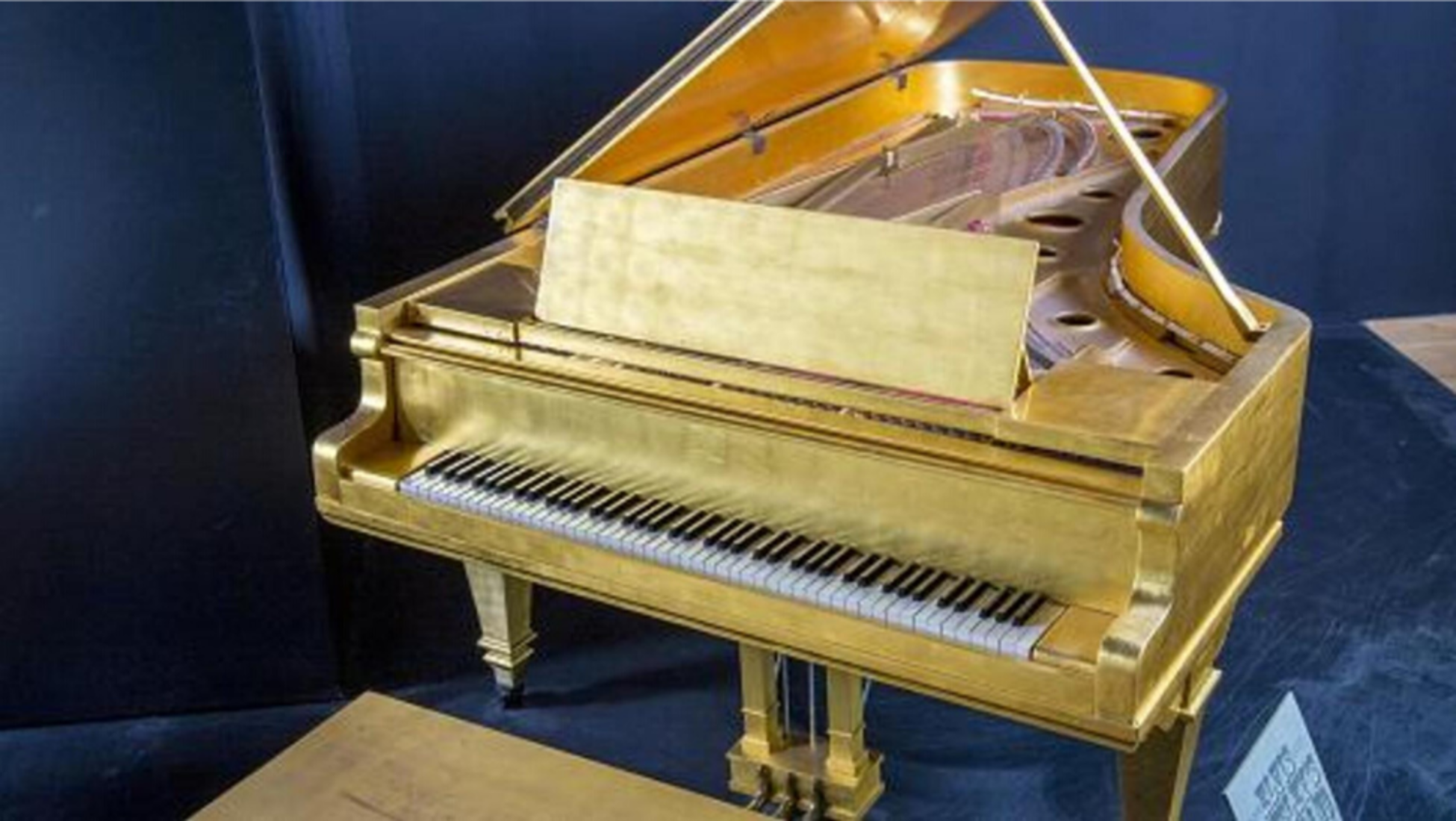 Elvis' 24kt. gold-plated Kimball piano

One of the most persistent myths surrounding Elvis memorabilia is that his 24kt. gold-plated Kimball piano was auctioned off for $1. Originally a present for Elvis' mother, the 1924 Kimball grand piano languished in storage after her death, until Priscilla Presley had it painted in gold leaf and installed in the Graceland music room. After Elvis' death, the piano was bought by entrepreneur Russ Kemppel for $2 million and loaned to the Nashville Country Music Hall of Fame for $1 per year. In the early days of the internet, this act of generosity quickly became misconstrued and speculation began that Kemppel had brought the piano for only $1.
____________________
Are you an Elvis superfan with a slightly more realistic budget? Keep an eye on our weekly music memorabilia auctions. Or register as a seller with Catawiki.
Discover more Records / Vinyl | Music
You might also like:
A history of heavy metal in three unusual instruments
How Nintendo made video game music mainstream