Updated by Laura, in collaboration with Barbara Bieshaar | 7th June 2021


From action figures to signed memorabilia to life-sized replicas, owning something from your favourite film isn't just an essential part of being a true fan; it could also be an investment down the line. We asked toys and memorabilia expert Barbara Bieshaar to tell us how she judges the value of movie memorabilia items.
Factors that determine the value of your movie memorabilia:
Rarity
If an item is unique, a limited or special edition, it's likely to catch the attention of bidders. People are generally very interested in owning items which not many other people have. This life-sized statue of Jack Sparrow from Pirates of the Caribbean was sold as a limited edition figure, which means there are only a few in circulation. Naturally this also increased the price tag and the statue was auctioned off for €3,500 in 2016.
Provenance
Provenance is particularly important with items such as props, costumes or autographs. It's key to know who has owned an object previously in order to trace its authenticity. A good example is this signed photo of Stan Laurel and Oliver Hardy, which was sold with a full letter of authenticity from PSA/DNA, the leading authority on autograph authentication, to prove that it's genuine and reached €1,500 at auction.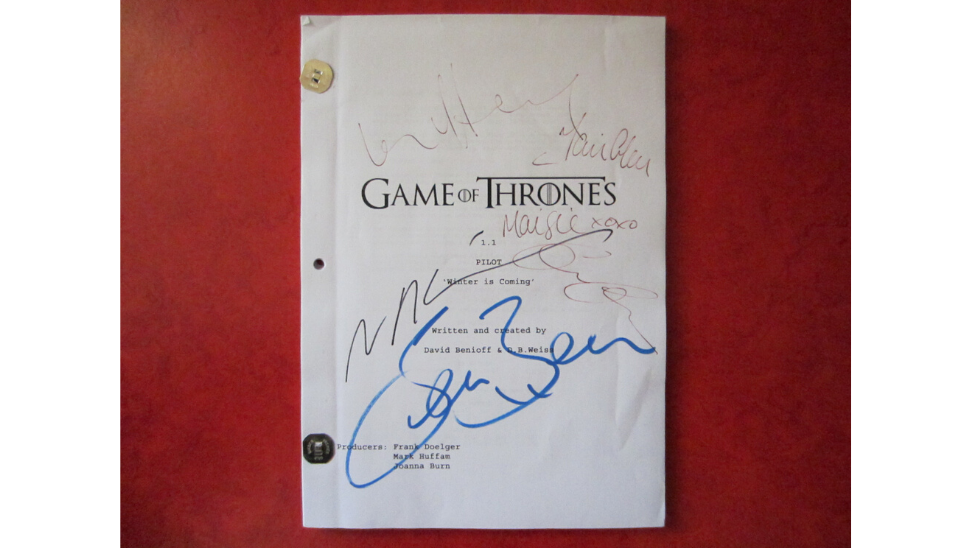 A script from the first episode of Game of Thrones, signed by the cast
Popularity
Generally, if a film is very popular, its associated memorabilia is likely to be too. Trends and new movie releases can affect popularity. Memorabilia is likely to be more in-demand if a remake of an original movie is made, if a sequel is released, or around major anniversaries of prolific films. The Star Wars franchise has spanned decades and reached fans of all ages, so when the franchise updated a few years ago, we weren't surprised to see a Star Wars Stormtrooper selling at auction for €1,000. Another example is this life-sized Smeagol (or Gollum if you prefer) which sits at 58cm high and 45 cm wide and was released to promote The Two Towers in 2002. It was snapped up for a fantastic €1,000 at auction. Precious? Definitely.
The 'wow factor'
Sometimes pieces of memorabilia are just, well, quite cool. It might be something shocking, unusual or just a really interesting talking point. A good illustration of the 'wow' factor is this original script from the wildly popular TV show Game of Thrones. The script sold at auction for €1,800, the high price at least partly because it was from the Pilot episode series (Winter is Coming) and it is signed by six members of the cast.
____________________
Interested in owning your own piece of film history? Check out our movie memorabilia auctions! And don't forget to register as a seller with Catawiki.
Discover more Movie Memorabilia
You might also like these articles:
Top 5 Most Expensive Movie Posters Ever Sold

Top 10 Most Memorable Movie Props at Auction