Love jewellery? Then of course you should have a jewellery box to hold your collection! A jewellery box can not only be an attractive feature piece, but it should protect your precious jewels and keep them safe from exposure to damage. So what should you look for when searching for the best way to store your jewellery? And what is the most expensive jewellery box ever made? Read along for some tips and tricks as we show you how to find the perfect jewellery box.
Most Expensive Jewellery Box
Although a jewellery box's primary function is to be a safe keeper for your beautiful earrings, bracelets or necklaces, there's no reason why your jewellery box shouldn't be incredibly beautiful too! One of the most beautiful - and also the most expensive - jewellery boxes ever made has a value of over €2.5 million. In 2017, luxury goods company Mouawad introduced the astonishing 'Flower of Eternity Jewellery Coffer': a jewellery box decorated with diamonds, gemstones and precious metals. And it certainly is beautiful - it's decorated with a total array of 542.39 carats of white and yellow diamonds, 293.24 carats of white and pink sapphires, 20.06 carats of rubies and 1,899.75 carats of lapis lazuli. Wow!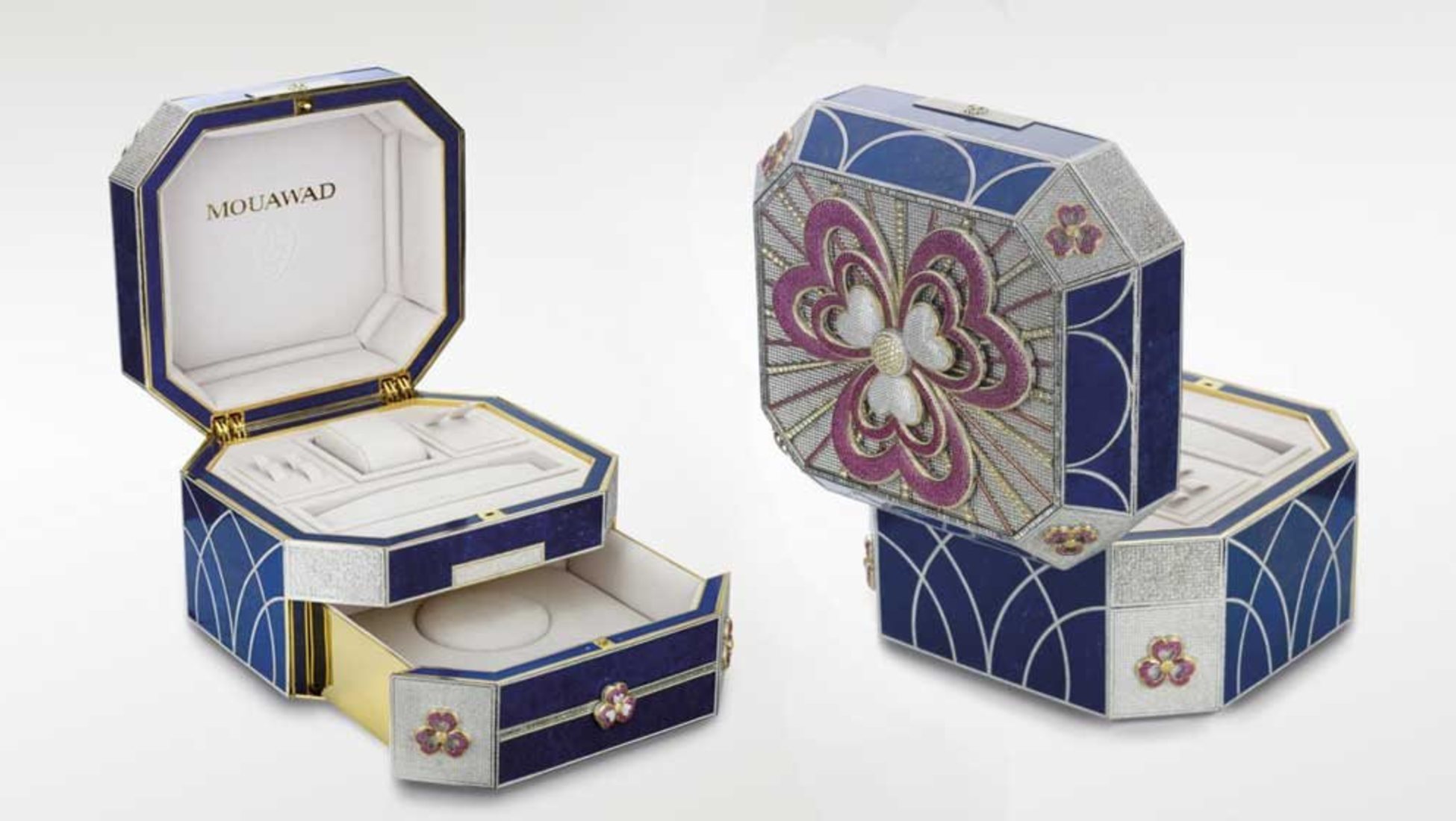 The most expensive jewellery box ever sold
What to Look For
So what should you consider when buying a jewellery box to store your finest diamonds, gemstones or gold in? First, it depends on the type of jewellery you favour. Rings are best kept in slots, bracelets can be stored in spacious drawers, while for necklaces you might be better off with an armoire with an upright design. Pearl necklaces however, are often strung on a vulnerable thread so they should be laid flat. A different space for each piece of jewellery will prevent them from getting tangled.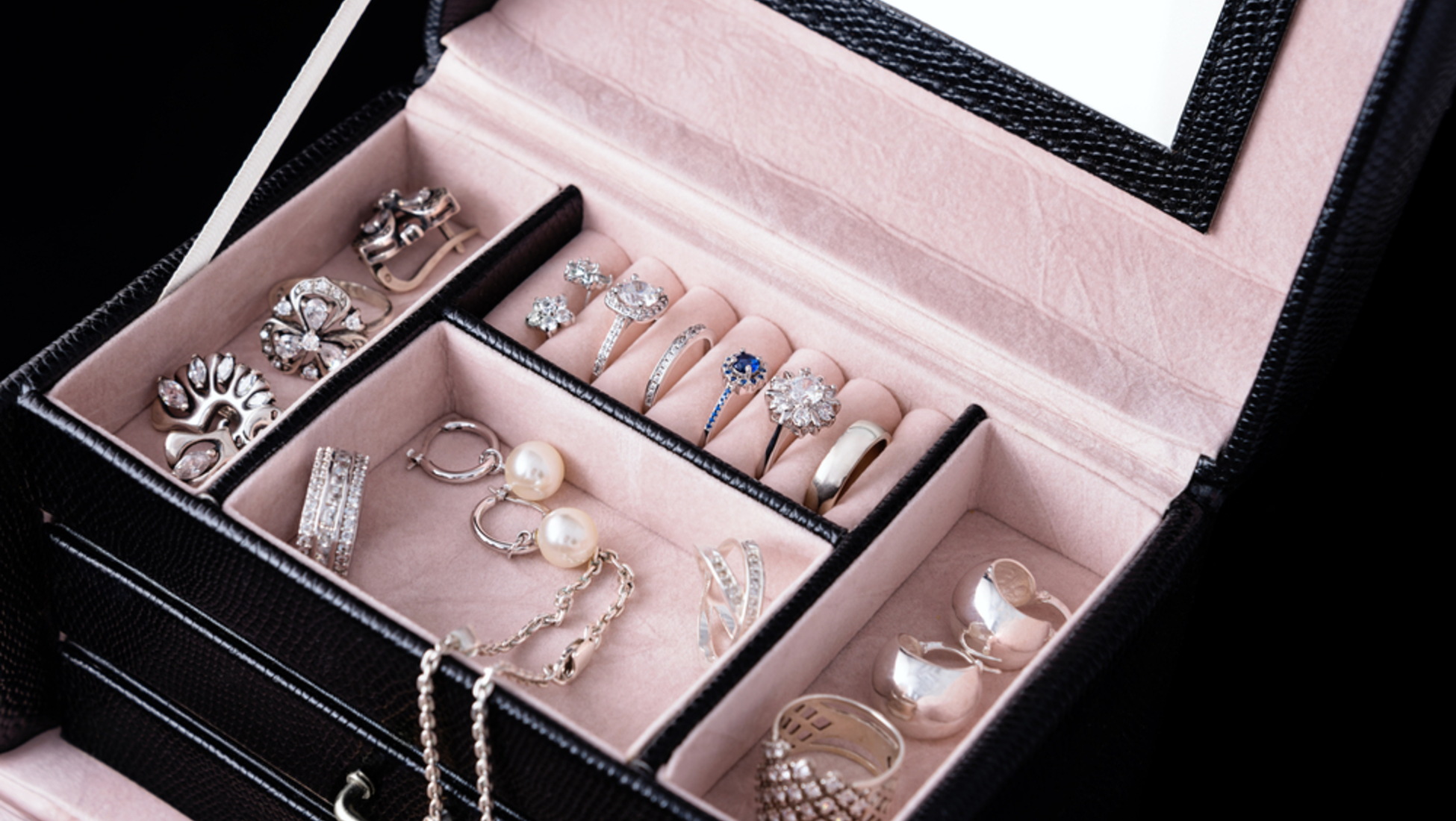 Safe Storage of Jewellery
When buying a jewellery box to safely store your jewels, you need to make sure the inside is soft or smooth, free of parts that can damage your jewellery. Look for a box which has different sections so you can store gold, silver and different kinds of metals apart from one another. This is important because softer materials might be damaged by the harder materials. Don't be fooled: diamonds might be the hardest known material on earth, but one diamond can easily scratch another! Make sure the jewellery box keeps your pearls and gemstones dry and store it away from heat.
Find Your own Jewellery Box on Catawiki
If you have recently started a jewellery collection and are in need of a fine jewellery box to store them in safely, keep an eye on our weekly auctions. Perhaps you are looking for a silver jewellery box to match your silver earrings? The perfect box might just pop up in our Silver auction. In our Curio auction you will come across beautiful jewellery boxes with a long history, just like the ones in our Asian Art & Objects auctions. And did you know? You can also sell your antique jewellery boxes in our auctions, whether you're a professional trader or would just like to offer up a few peices. Register as a seller and offer them up for our experts to review.
You may also like these articles: