Written by Beulah | 22nd March 2019

The 2018 World Cup Russia digital Panini album was heralded as football stickers for the Pokemon Go! generation. We ask Panini expert Wouter Waaijers what happened next and if digital Panini has the same value as the physical version.
At first glance, Panini football stickers and the internet are an unlikely match. Panini stickers are, by their very nature, physical and collecting them is a rite of passage that often stretches from schoolyard to retirement home. The thrill of seeing that silver edged card, comparing, bargaining and swapping with friends and then, finally, sticking in a new sticker is hard to beat.
Trading cards expert Wouter Waaijers describes the ritual that hooks so many Panini collectors at a young age; "[It's] about the thrill of walking to the shop and travelling home to open the packs. Developing your own technique for opening as many packs as possible, as fast as possible, without damaging the stickers, the look and feel (and sometimes even smell!) of a very old album or box, but also the experience of visiting your favourite professional player and then getting your Panini card or album signed."
Panini albums lie forgotten in cupboards or hold pride of place on bookshelves. Contrast all of this with the nature of following football online; endless messageboard debates about whether VAR is killing/saving the beautiful game, hours stolen from work to craft your perfect Fantasy Football team, live-streaming games and arguing with pundits on Twitter.
Despite the seeming disconnect between collecting physical football stickers and online football, the internet is bringing a whole new kind of audience to Panini collecting. The sale of completed albums via online auctions can net the seller thousands of euros (over 12,000, in the case of the 1970 Mexico World Cup album signed by Pelé), and Panini stickers are increasingly seen as a viable investment opportunity.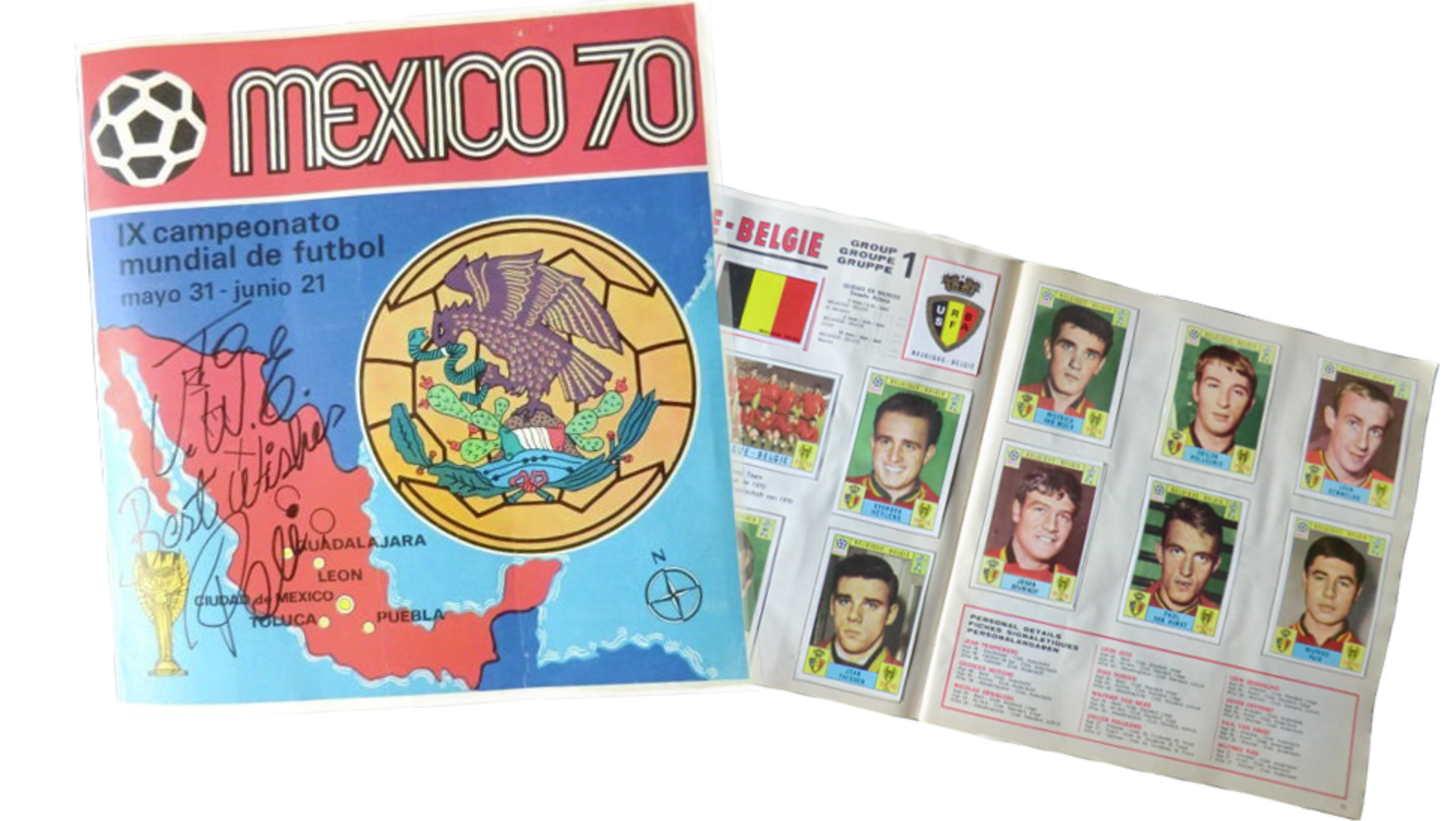 The 1970 Mexico World Cup Panini Album Signed by Pele

The online sale and swapping of physical Panini stickers has been going on for years, but what about digital stickers?
During the 2018 Russia World Cup, Panini announced that, alongside the usual physical sticker albums, there would be a completely digital Panini sticker album. The album would live online and every week collectors who signed up would be emailed a digital pack of stickers. Five million Panini collectors signed up and started collecting 'virtual' football stickers; swapping and collecting, just as they would the physical version.
Once the World Cup finished most Panini sticker collectors continued growing their collections, buying missing stickers from the Panini Group and organising Meetups. It was the same as any other tournament, with one important difference: the digital sticker collectors also carried on growing their collections. Reddit threads popped up, devoted to swapping digital sticker codes; screenshots of completed albums appeared online and the number of collectors expected to participate in the next digital Panini album is expected to break the Russian record.
So what's next? Will digital Panini collecting continue to grow? Will digital stickers appreciate at the same rate as their physical counterparts? And will Catawiki ever sell digital Panini stickers, alongside the physical versions?
Wouter, the Catawiki trading cards expert, believes that the digital Panini album will change the way people collect football stickers; "Virtual or digital collecting might evolve into a kind of 'gaming' (comparable to Pokemon Go!), which doesn't have to be a bad thing! It's actually still in line with the original philosophy of the Panini brothers." He points to a Dutch interview with Fabrizio Melegari, who referred to the following Umberto Panini quote:
"The secret of [Panini's] success is the game factor: in general it's one of the very first child experiences of a game of chance. The feeling when you're opening a packet is the same as when you're opening a poker hand very slowly."
Whether the digital Panini album will grow and appreciate at the same rate as the physical version presents an interesting conundrum for a man who curates online Panini auctions. As Wouter points out; "A lot of collectors buy Panini objects as an investment. In general, every two years [when new World Cup & Euro Cup albums are released] the value will increase a little bit. It's interesting to see how Panini will create a market in a virtual way."
He warms to his theme; "Maybe they will add some treasures after opening the virtual collecting card or pack, and then show how many times the card has been clicked. Wouldn't it be fun if you'll have in 2040 a 'never opened digital Messi card(pack') of the WC 2022 (with still a guaranteed treasure in the digital card) which would be worth some significant money."
For now, however, Wouter will have to stick to non-digital Panini related pursuits, such as the upcoming auction of a complete, loose, set of Mexico 70 figurines. Wouter also curates the weekly and monthly Panini auctions on Catawiki, and the next two months will see exclusive Modena Panini auctions.
____________________
Discover more Panini | Trading Cards | Sports Memorabilia
You might also like these articles:

Why You Should Invest In Panini Stickers Today
7 Things You Might Have Lying Around Your House That Can be Worth a Fortune
The Panini Boy: How a 9 Year Old Boy Ended Up With a Panini Album Worth €12,000