Written by Beulah | 20th December 2019

Jules Verne is one of the most prolifically translated science fiction writers in the world, and his work continues to inspire and enthrall each new generation. What many readers don't realise, however, is that classics like Twenty Thousand Leagues Under the Sea and Around The World In Eighty Days were part of a publishing phenomenon. In collaboration with a shrewd publisher, Verne was unwittingly co-creating an entirely new literary genre.
Voyages extraordinaires was a collection of 54 lavishly illustrated novels by French writer Jules Verne. Casual readers will recognise the best known of Verne's Voyages extraordinaires novels: Twenty Thousand Leagues Under the Sea and Around The World In Eighty Days. The first novel was published in 1863 and the last in 1905. The purpose of the series was to present a history of the universe and the novels included topics such as geology, biology, astronomy, paleontology, oceanography and many more areas of fascination for Verne. Not only a creative tour de force, Voyages extraordinaires was an early example of an 'encyclopedic novel'.
Today an encyclopedic novel is defined as a long, heavily-detailed work of fiction that includes a lot of information from a specialised academic discipline. Forerunners to Voyages extraordinaires were the Divine Comedy and Don Quixote, but it wasn't until Verne started writing the series that the form and tone of the traditional encyclopedic novel were established. Alongside these early texts, Verne drew inspiration from Alexander Dumas' The Count of Monte Cristo and his contemporary encyclopedic novel writers included Herman Melville (Moby Dick) and Leo Tolstoy (War and Peace).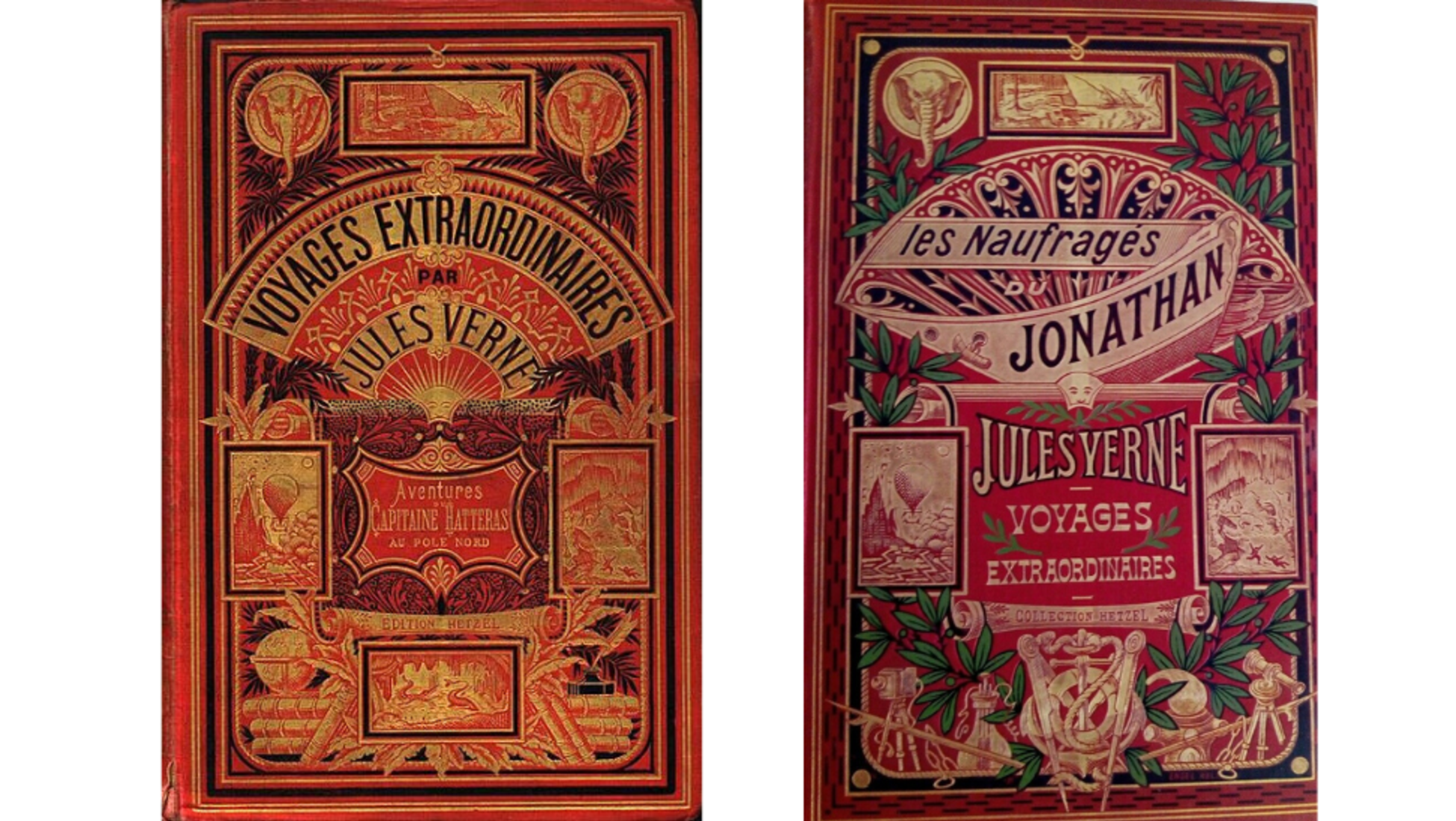 Editions of Voyages extraordinaires by Jules Verne

Pierre-Jules Hetzel: innovative publisher
The original publisher of Voyages extraordinaires was Pierre-Jules Hetzel. Hetzel founded Le Magasin d'éducation et de récréation (Education and Entertainment Magazine) in 1864, with a view to providing children with an entertaining, education window to the world. By bringing together some of the most talented illustrators and writers of his day, Hetzel's Magasin was a work of art. Unfortunately aesthetic appeal wasn't enough to guarantee publishing success and it took until 1875 for the magazine to achieve a readership of over 10,000.
When it came to publishing Voyages extraordinaires, Hetzel had to resort to more innovative measures and it's possible that Hetzel drew inspiration from Charles Dickens' habit of serialising his novels in his own magazine, prior to publication. In Dickens's case, this serialisation allowed him to reach new audiences who might have been disinclined to purchase a book by an unfamiliar author, but were happy to buy a magazine. Hetzel adopted a similar strategy by releasing three distinct versions of Voyages extraordinaires. Prior to hardback publication, Hetzel serialised Voyages extraordinaires in Le Magasin d'éducation et de récréation. The bi-weekly installments were illustrated by Hetzel's staff artists – including Léon Benett, George Roux and Édouard Riou (who went on to illustrate six more of Verne's novels) – and these installments became known as éditions pré-originales.
This successful serialisation in Le Magasin d'éducation et de récréation was followed by the publication of all the Voyages extraordinaires text, in 18mo size – known as éditions originales. While éditions originales were fairly successful, Hetzel realised that readers were just as enthralled by the éditions pré-originales illustrations, as they were captivated by Verne's stories. Sensing an opportunity, Hetzel released a third edition: cartonnages dorés et colorés. These elaborately illustrated and gilded editions were designed for the festive season: perfectly demonstrating Hetzel's commitment to producing high-quality literature and his commercial savvy. But what did the future hold for Verne's encyclopedic novels?
Voyages extraordinaires: today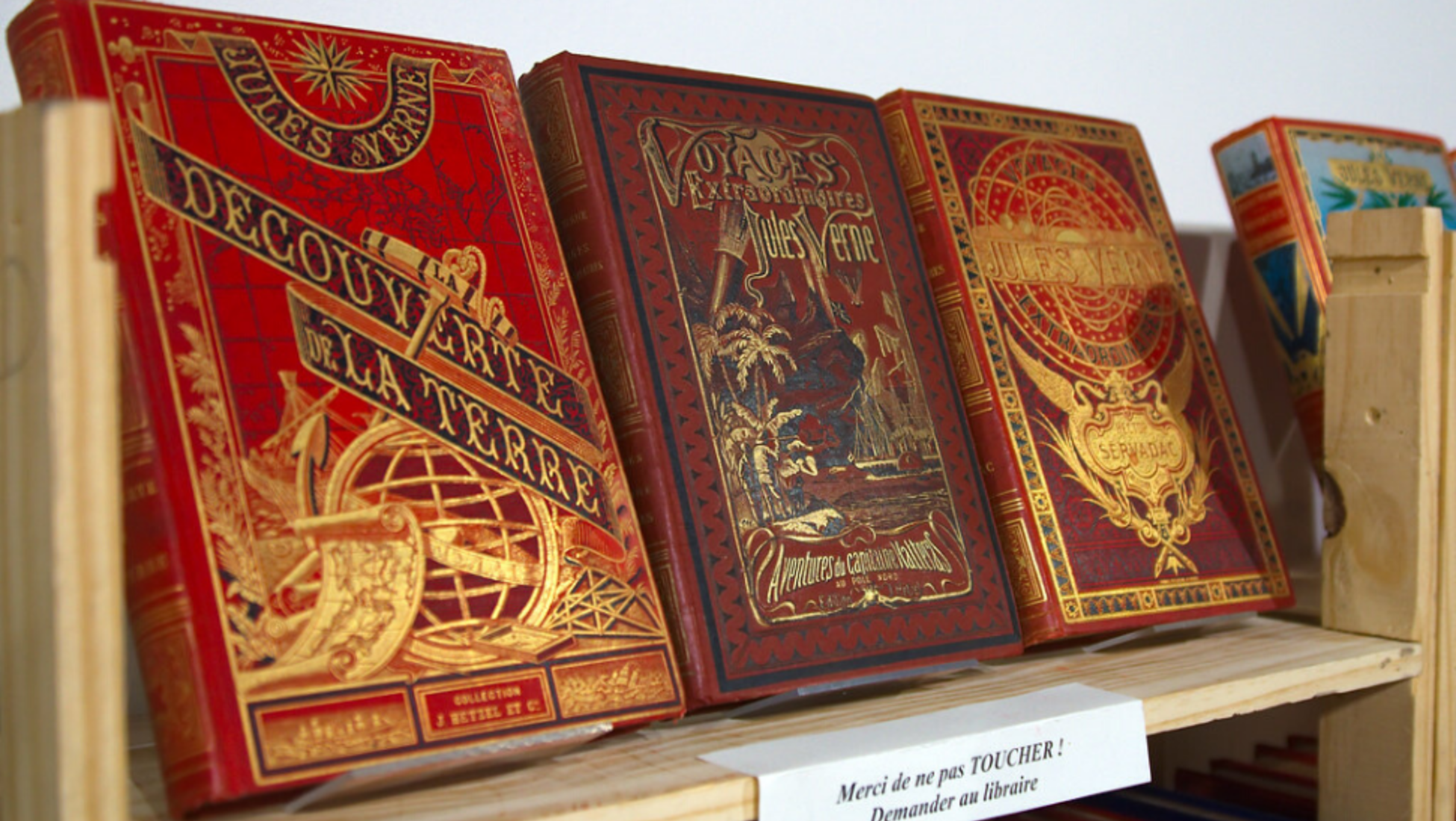 Découverte de la terre, Voyages extraordinaires - Frédéric Bisson

It's arguable that Hetzel's commitment to finding the correct format to showcase Voyages extraordinaires added to the books' lifespan and relevancy in the present day. The danger of an encyclopedic novel is that it dates as quickly as the factual information it relies on. Verne neatly sidestepped this by fictionalising a lot of his "scientific" references. But it's the beautiful cartonnages dorés et colorés editions that appeal to contemporary bibliophiles; with its illustrations and luxurious covers that offer the reader the chance to be transported back in time, or, depending on how robust the imagination, into an alternative future.
Hetzel may have established Voyages extraordinaires as a highly desirable collectors item, but, ironically, his innovative publishing also created a number of difficulties for collectors. Rare books expert Kurt Salchli explains: "Most of the time the publication date is not mentioned in the books, so only the binding or the catalogue at the end of the book helps you to see if you are buying a first edition. Then there's the fact that Hetzel made different editions from the same text with different covers; he published one book but also made 'bundles' with two or three books bound together with a new cover."
"The most important thing for a Jules Verne collector is the condition of the book," says Kurt. "The value of a first edition in perfect condition can be worth €2000 more than the same book in a medium or bad condition. On Catawiki, we regularly sell Jules Verne books with bindings in different conditions. Most collectors begin to collect the Jules Verne books in medium condition and later swap a book in medium condition for a book in perfect condition."
All this and there's also the fact that after Verne's death, Hetzel continued to add to the series with the publication of eight new Voyages extraordinaires, many of which were written by Verne's son and editor, Michel Verne – who had been charged with posthumously publishing his father's last manuscripts. The father and son had a somewhat turbulent relationship while Verne was alive, and Michel's heavy editing of his father's work created yet more controversy. While the new Voyages extraordinaires were generally well-received at the time, Michel's work has not aged as well as his father's and the later novels are generally considered to be inferior.
Whatever your stance on Michel's contribution to the series, there can be no doubt that Verne's evocative prose and Hetzel's innovative publishing have continued to capture hearts into the present day. All three editions of Voyages extraordinaires are collectors items and recent examples of the encyclopedic novel include Cryptonomicon, Infinite Jest, Underworld and, if you're of a playful disposition, even Max Brooks' World War Z: An Oral History of the Zombie War.
____________________
Check out our latest books auction or register as a seller with Catawiki.
Discover more French Literature & Illustrated Books
You might also like:
How Pilote reclaimed European comics for the French
A history of censorship in three books
How Napoleon's autopsy fuelled some wild conspiracy theories