Written by Tom | 10th January 2020
French cuisine is considered by many (including the French) to be the mother of cuisines and French chefs have represented the very best of the gastronomic profession throughout history. But the bountiful and regionally diverse cuisine we know today—from the rustic, lightness of Provençal dishes to the haute cuisine of Paris—has undergone a number of drastic transformations. With the help of our books expert, Kurt Salchli, we used a few iconic cookbooks to track French cuisine's steady evolution and its impact on the way we eat today.

La Varenne and Menon
Back in the Renaissance period, it was actually the Italians who helped establish what we now consider modern day meal time practices. Naples and the Italian papacy specifically led the way, the latter in particular became known for their epicurean feasts. One memorable banquet is said to have involved a centrepiece of a marzipan-crafted Hercules battling a pastry Hydra (a many-headed serpentine water monster) filled with hard-boiled egg yolks, sliced veal and pine nuts. While the Italians unleashed decadent feast after decadent feast, the French dawdled in the culinary practices of the Middle Ages; in cities such as Paris, they were allegedly content to stick to the rather gruesome Roman tradition of roasting stray cats alive. It wasn't until Catherine de Medici's marriage to French king Henry II—who brought Italian chefs to Paris—that a broad refinement of the French cuisine (and banishment of feline gastronomy) took place. François Pierre La Varenne was one prominent chef in the aristocratic kitchens of France, who published Le Cuisinier François (1651) and left an indelible impression on the French kitchen.
La Varenne positioned the book as a companion and guide for chefs short on time, who wanted to learn new cooking techniques. For a period when cooking was taught through instruction, the book was radical not just in what it documented but in that it explained the gastronomic profession in writing, opening it up to everyone. La Varenne's book quickly became a bestseller. It explained how to make stocks, introduced us to butter-fried mushrooms with a buttery lemon and chive sauce (which would later inspire a renowned Escoffier recipe) and advocated for a more local and seasonal approach to ingredients – a departure from the spices and sugar of French medieval food. Produce such as onions, capers and leeks were given the attention they now so regularly receive, and it was La Varenne's book that marked an auspicious moment in the modern French food canon.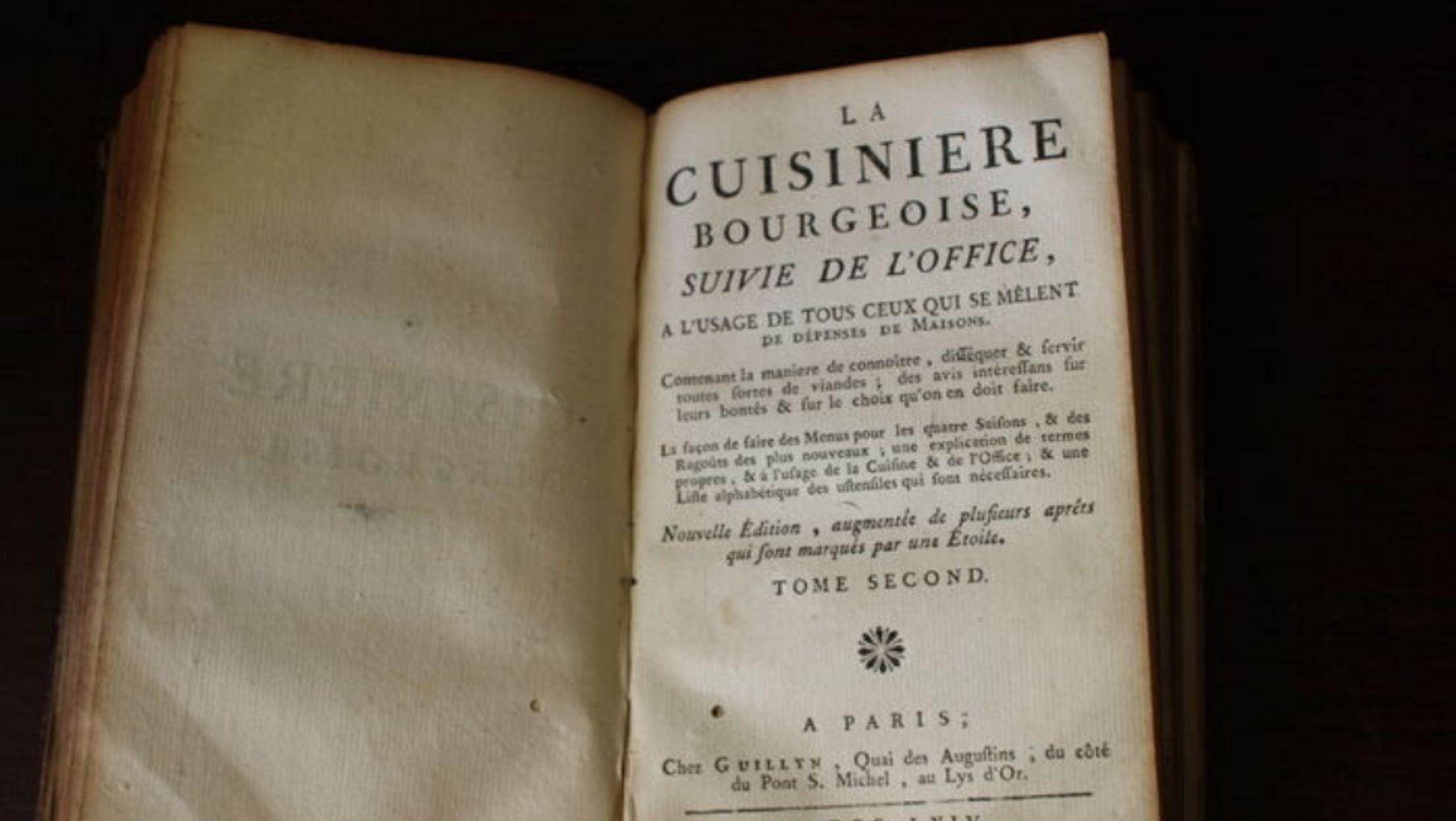 Menon's work geared more towards the home cook who wanted to try the recipes of La Varenne's cookbook
The following century saw other esteemed French cookery books released and a shift in the approach to dining. Menon (an alias for an unknown French author) wrote La cuisinière bourgeoise (1746), which was quickly lapped up by voracious 18th century readers and endorsed a simpler style of home cooking. Other than recipes, the books lent themselves to the French middle class' yearning to dine as the aristocracy did. People began to emulate grand banquets in the form of dinner parties – food was served in silver tureens and waiters were present. This became known as 'service a la francaise'.
Carême
If the 17th and 18th centuries saw the French depart from the traditional culinary world, then the 19th century saw them completely reshape it. The appetite for more refined dining refused to subside and the French were unwavering as they carved out new ways to eat.
One chef who made a name for himself during this period was the grand chef of French haute cuisine, Antonin Carême. Carême was a pastry chef, a sauce chef and an all-round gastronomic wizard, famed for his elaborate recipes, decorations and keen sense of posterity. Indeed, many of Carême's creations and formulae are still relevant today. He was the first chef to come up with the concept of the four master sauces which form the sauce makeup of most French dishes (veloute, l'espagnole, bechamel and hollandaise). He is also credited with creating the millefeuille, the vol-au-vent (a hollowed-out puff pastry), oversized meringues and bouquet garni (a bunched package of bay leaf, parsley and thyme) which is an essential flavouring base for French stocks and soups. Carême's cookbook L'Art de la cuisine française au dix-neuvième siècle (1833) helped circulate these techniques and methods globally, instigating another form of French revolution – this time strictly bound to the culinary realm.
Escoffier
Later in the century and in the early half of the 20th, another chef and cookbook made waves – Auguste Escoffier and his landmark work Le Guide Culinaire, published in French in 1903 and four years later in English. The extended edition of Le Guide Culinaire contained up to 5,000 recipes, though many of them were abbreviated and simplified from Carême's time. Where Carême had simplified the cuisine of the royals into more digestible recipes (though the modern day reader may disagree), Escoffier took this even further. His book stands as one of the most comprehensive recordings on classic French cuisine and is used as the go-to text by professional chefs looking to master said cuisine to this day.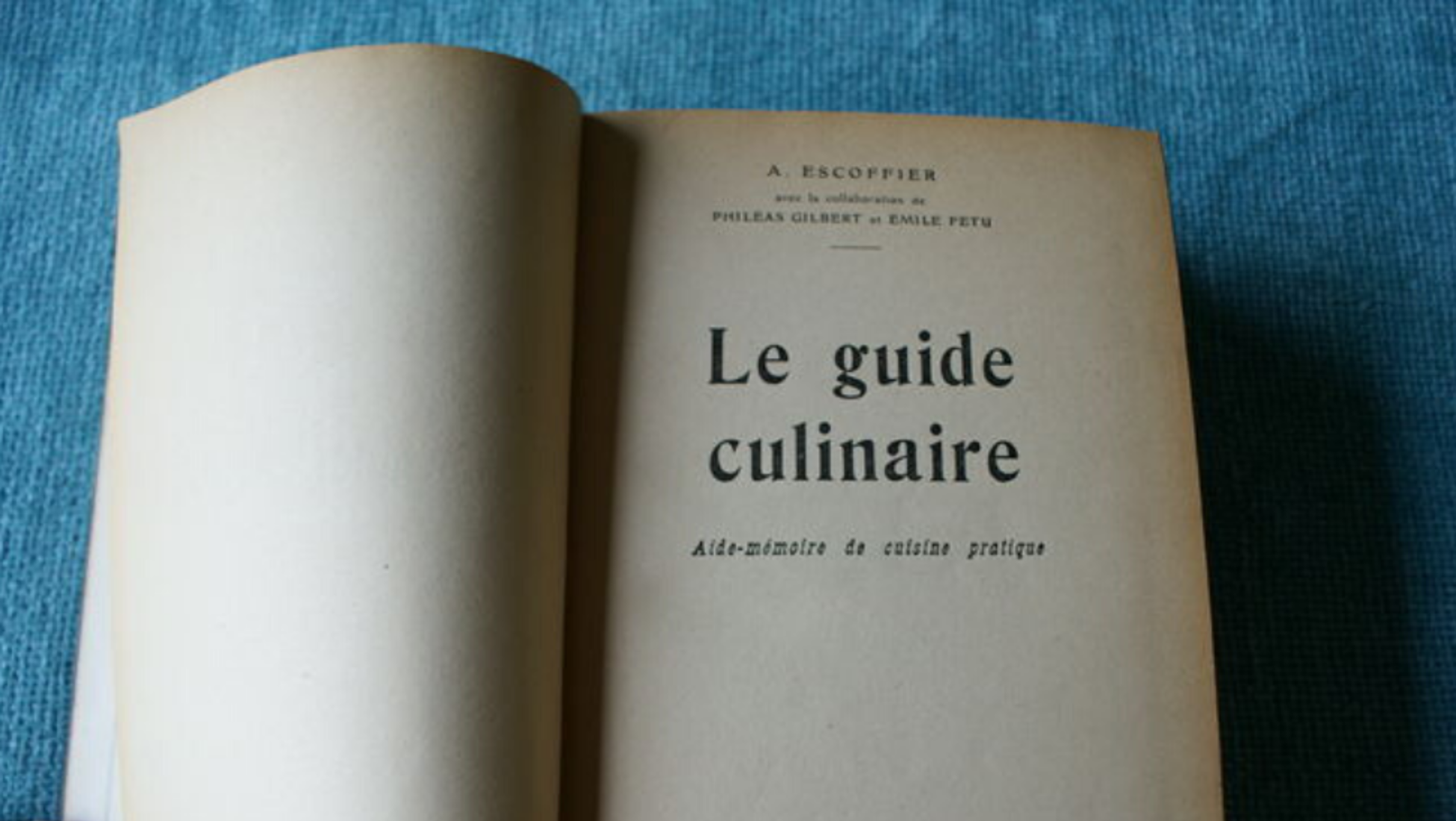 Escoffier's Le guide culinaire is widely used by chefs today as a textbook for chefs looking to master French cuisine and its techniques
Escoffier's influence endured throughout the 20th century. It wasn't until the introduction of the nouvelle cuisine—proponents Paul Bocuse and Henri Pellaprat advocated for lighter, healthier food—for French cuisine to undergo another significant change. Without chefs like Menon, Carême and Escoffier and the cookbooks they wrote, we arguably wouldn't have icons such as Julia Child who introduced French cuisine to eager U.S. gastronomes.
The way we eat in the home and at a restaurant can be directly linked to those moments some French chefs decided to put down their work on paper. But perhaps most importantly, we're left with a record of some of the best-loved and most salivating dishes ever presented to the world.
____________________
Food on the brain? Dive into our cookbooks auction or register as a seller with Catawiki.

Discover more Books | French Literature & Illustrated Books | Old & Rare Books | Cooking & Dining | Wine
You might also like:
How Pilote reclaimed European comics for the French
How Jules Verne co-created a new literary genre