Written by Tom | 16th October 2020
Dark are the days of late but that needn't be a bad thing for your home. Harness the bold, ornate and richly texture palate of Gothic Drama, a revivalist interiors style that's a little macabre and a lot magical as antiques and interiors expert, Silvia Fini, explains.
What is Gothic Drama?
Gothic Drama is for those of us whose tastes drift to the darker end of the colour spectrum but don't want gloom. It's about being more daring with your design – think darker-hued feature walls, plush velvet sofas in deep reds and purples, glinting metallics and intricately patterned rugs.
"Gothic style is rich in personality and excites the imagination – it's never banal and is capable of conjuring a wealth of emotions", says Silvia. "Born in the 12th-century, Gothic style was primarily used in the architectural context, but it evolved into influencing interiors and the so-called 'minor arts', such as goldsmithing, miniature, ivory carving, stained glass, fabrics, etc".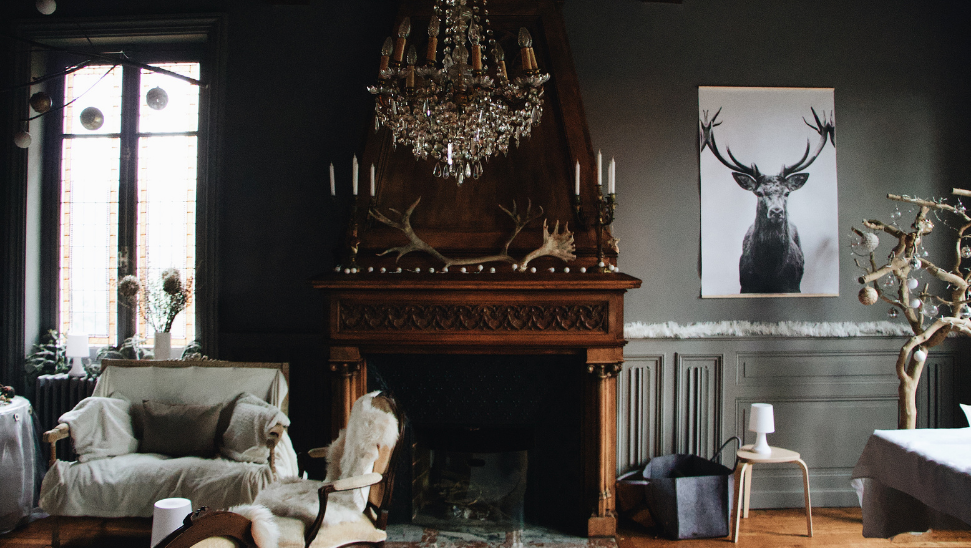 Go for moody colour schemes.
"Don't think of it as a style that creates a dark and sad world but instead one that's a riot of bright colours", enthuses Sylvia. "Imagine yourself in a sanctuary with majestic and intricately designed stained glass windows from which a dazzling light enters. Think of rooms warmed by grand fireplaces under exposed wooden beams, while candlelight flickers in the background. It's a magical place that attracts you and invites you to explore it, much like a relic hunter."
You'll like it if…
You want to capture the palatial spirit of Notre-Dame without a trip to France. You've got a dark sense of humour, a penchant for fantasy and lust for gripping histories. And your decorating style is all about creating the right atmosphere and always telling a story.
What are the essential pieces you'll need?
Gothic art and stained glass
If you're looking for a quick way to inject the drama part of Gothic Drama then look no further than paintings. While history places Gothic Art in the realm of the church, there are also plenty of secular options—many of which depict churches and cathedrals; and all of which are rich in colour *and* melodrama.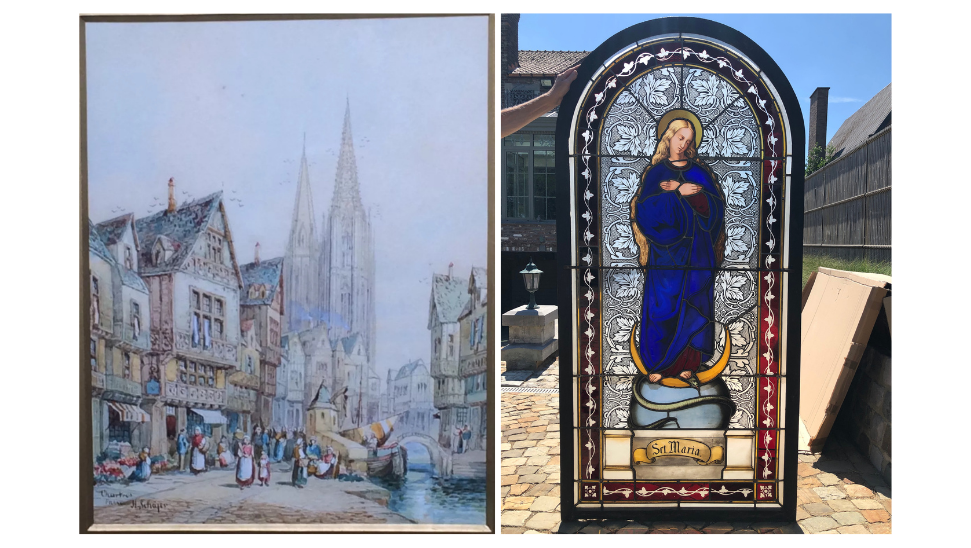 Invest in atmospheric paintings and luxe fittings like stained glass
"Paintings are an integral part of Gothic art", explains Silvia. "Gothic painting is characterised by extreme stylisation and richness of decorative elements. The artists are less interested in a realistic representation of spatial depth and more concerned with conveying the importance of the subjects depicted". Invest in classical painting in the neogothic style. Think fog-shrouded depictions of remote towns, regal cathedrals bathed in fading light or interpretations of stained glass iconography. Go for larger pieces for dramatic effect, best placed in a living room or above a roaring fireplace. It's the perfect pairing for those autumn nights when you're curled up nearby with a book. And if you've got the budget to stretch, consider investing in a stained glass window to inject a little bit of church chic into your space.
Rugs, tapestries and wallpaper
From Dracula's castle to the Victorian homes of a bygone era, no space would truly be Gothic-styled without a generous rug or tapestry. The Victorian period was the first to introduce Asian and Middle Eastern influences into Western European design and the adoption of textiles was a natural choice. Many of the rugs came in deep reds and burgundy which fit seamlessly into the Gothic interior. For those of you looking for a burst of colour, Persian rugs are an excellent addition providing detail and drama.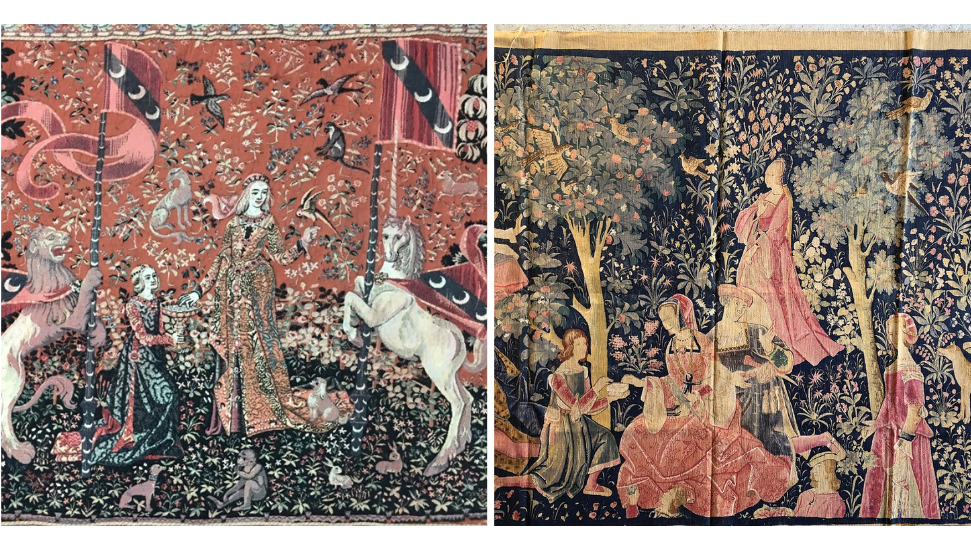 Tapestries are both decadent and a throwback to regal times
You needn't focus solely on floor pieces, however, textiles and tapestries are a welcomed extra. Hang a tapestry on a bare feature wall and layer plush velvet throws on your bed and sofa to swiftly transform them into the envy of even the most decadent and discerning decorators. And if tapestries aren't your thing, wallpaper might be. Swirling patterns of black flora and geometric designs are grand, gorgeous and attention-grabbing.
Candlesticks, silverware and oddities
Capturing the Gothic atmosphere is more than just a case of colour – you need to tap into that darker, macabre energy. The best way to do that is through ornaments and curio, and the images they conjure up. "Think precious objects in gold and silver on the shelves, and mysterious objects linked to the legends of the Knights Templar and witches", says Silvia.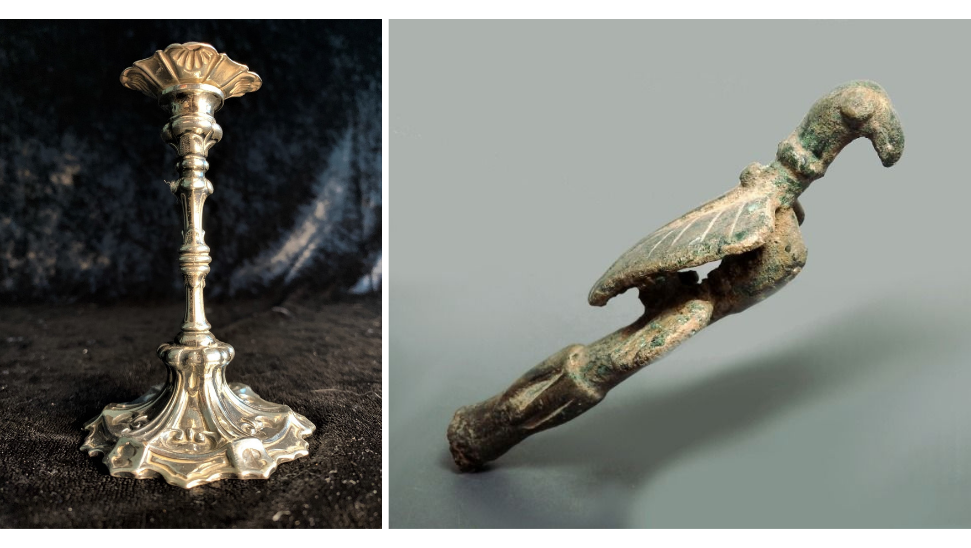 Oddities and candleware provide a generous dose of Gothic style to any living space
The trick here is to balance out the ordinary with the unusual. Shelves of dusty tomes and Gothic romance novels take on extra appeal when positioned alongside miniature skulls or
figurines
. Buffalo skulls are a popular trend so hang these up for a novel take on wall hanging. And don't be shy about really blending colour and pushing contrast – gold and silver coins and curios are excellent complements to a dark backdrop.
Tableware is an essential part of any home and with Gothic Drama, it's no different. Opt for gorgeous, tall candlesticks in bold metallics; especially potent when filled with lit candles which make for a luminous display that'll keep even the most persistent ghosts at bay.
____________________
Check out our latest Interiors & Decorations auctions for some inspiration, or register as a seller in these categories with Catawiki.

Discover more Interiors & Decorations | Interiors
You might also like:
How to style your home in Botanical Opulence
How to style your home in Country Library
How to style your home in Parisian Elegance
.