Written by Tom | 6th May 2021
In a year of increased consciousness and affinity for our homes, we've started to become mindful of what we choose to share our spaces with. Luckily, that has meant reusing and repurposing old finds rather than buying new. For those with a penchant for salvaged antiques, industrial style and a more sustainable approach to decorating, Decorative Salvage style may do the trick. Expert William Walsh explains how to capture this interiors style in your home.
What is Decorative Salvage?
If you combine the raw materials of Rustic Industrial style with a mindset that's laser-focused on one-off finds and sourcing sustainably, you'll come to something that most closely resembles Decorative Salvage. It's a celebration of the old that's now become the new, and taking what once didn't belong to the home and making it a part of one.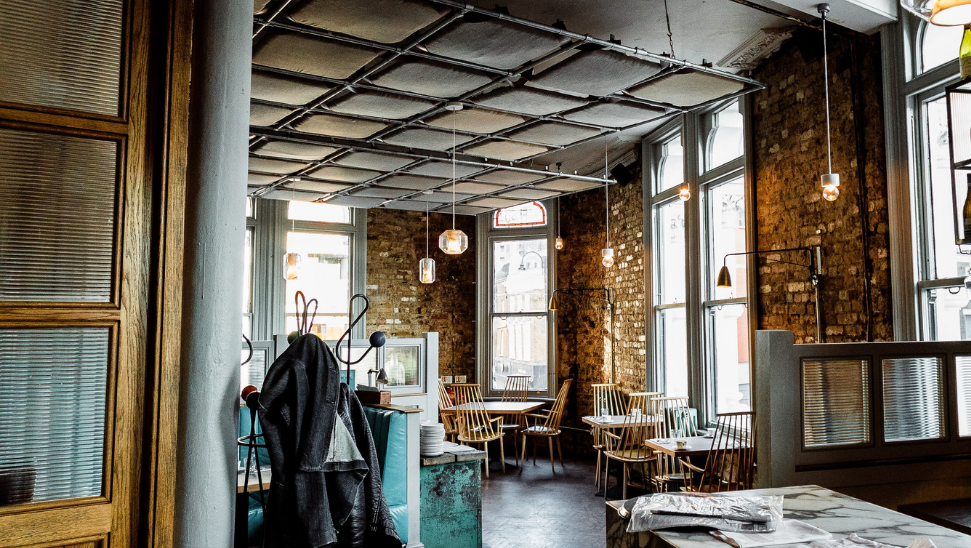 Decorative Salvage has been a favourite among commercial decorators too, so your favourite café might incorporate elements of it.
"The key characteristics of the "Decorative Salvage" style are patina, character and a sense of the passing of time", explains William. "Decorative Salvage is the coming together of many themes and styles in antique and vintage design. Ultimately everything in this business is "salvaged" from somewhere and that is the spark that keeps buyers coming back to this wonderful and diverse world of unique and one-off decorative pieces for their homes".
Historically, it's been a popular style in the UK & Ireland with antique dealers specialising in what are broadly considered Decorative Salvage goods. Think original road or brand signage, old car engines turned side tables, discarded bistro tables and gymnasium benches; all pieces that serve a newer, more stylised purpose in your home. Commercial architects and interior designers have drifted towards this style and objects when designing for cafes, lofts and hotels too.
Towering lamps are great if you have the space and height. Otherwise bring in metal shelving units and antique furniture for that well-loved feel
"More recently too, this style has grown in popularity because of the added element of the circular economy and the fact that this area of interiors is now also helping us understand how to work with all the beautiful things we already have, without it costing us the Earth – quite literally".
You'll like it if….
You love raw materials and interiors that combine the best of the fires of industry with the mindfulness of today's generation. You're a mindful decorator looking to reuse and recycle. And you're not afraid to look past objects' faded exteriors to uncover the statement piece you know they can be.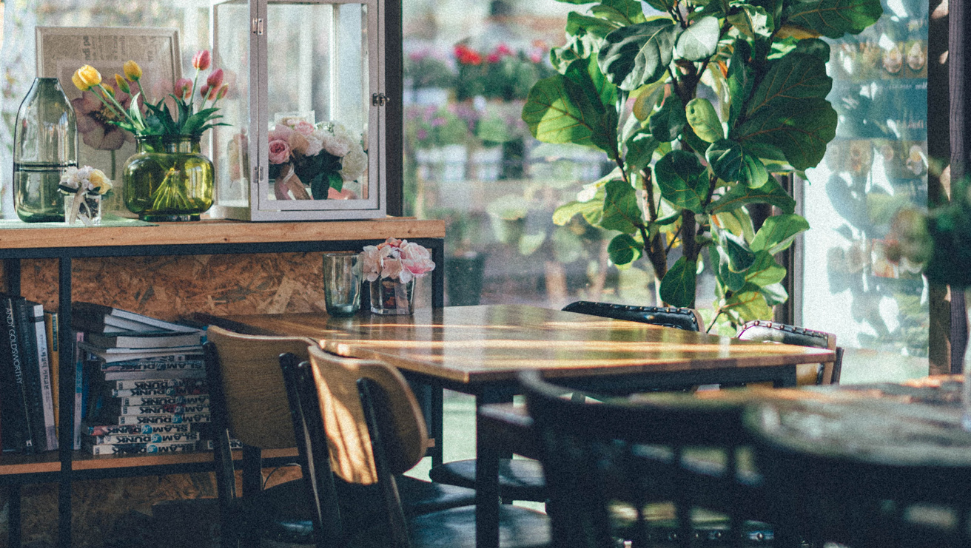 Mismatched chairs and reclaimed woods will give any space that salvaged feel, while reusing odd pieces that others might discard
What are the essential pieces you'll need?
When putting a room together, you'll need to incorporate the key components of any space – furniture, lighting and decorative items to really bring the style home.

Antique furniture and repurposed finds
It's the worn and well-loved furniture pieces that really give Decorative Salvage its 'salvaged' feel. Classic pieces could include a chaise longue with a spoon button back and all the worn, frayed elements that are a nod to the Napoleon III style it embodies, or plush velvet armchairs with ornate backs.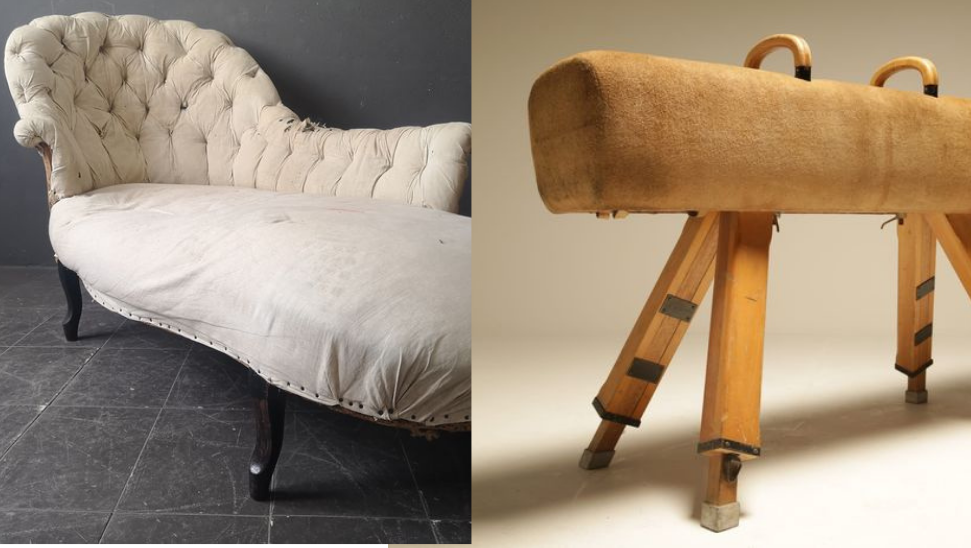 Left: an antique chaise longue. Right: a pommel horse ready to be repurposed.
But the real key is contrasting classic antiques with the hardier-edged finds that make for a gritty and distinct interior. This old Rolls Royce V12 cylinder engine has been topped with a glass surface resulting in a table that's clean-lined with a rougher feel, that looks more impressive when combined with furniture like the chaise longue. Equally, add a pommel horse to a living or entrance space and contrast with a soft, patterned rug that'll make for a bench seat like no other. "It is a broad church but these kinds of items are the key pieces in the Decorative Salvage genre", says William. "It's worth remembering you can always soften up textures with blankets, plants and cushions if you feel your space needs it too".
Industrial lighting and disused tools
Industrial style can encompass a swathe of pieces but its chief function within Decorative Salvage is to incorporate the cogs of industry into a quieter, calmer setting. Depending on how adventurous you want to go, there are a range of options. For those discovering whether Decorative Salvage is for them, opt for industrial lighting such as a pair of enamel factory pendant lights, a rusty metal ceiling lamp or even a pipe-style set of pendant lights. Pendants, especially larger ones, are a great focal point and can add a dash of industrial flair without it overwhelming the rest of your interior.
Left: Pipe pendant. Right: Apothecary cabinet soon-to-be spice cabinet.
If you want to push the industrial look further, consider repurposing old factory machinery and workshop tools. What might have once been an old butcher's hook can be turned into a coat hanger; meat slicers can be a retro touch while also being a practical addition to your kitchen; iron factory doors can become eye-catching ways to make an often bland room element interesting; and old apothecary cabinets with labels can be reimagined as a modern-day spice rack or storage for toiletries.
Salvaged paraphernalia
Perhaps the most important point of Decorative Salvage – and one that runs across its key characteristics – is not being afraid to use the unusual. This is a style that has a strong visual aesthetic, with its metal, rust and distressed wood features, and an equally strong purpose. It adopts the mindset that to truly be sustainable, we need to look beyond the item's original functions and give them new life.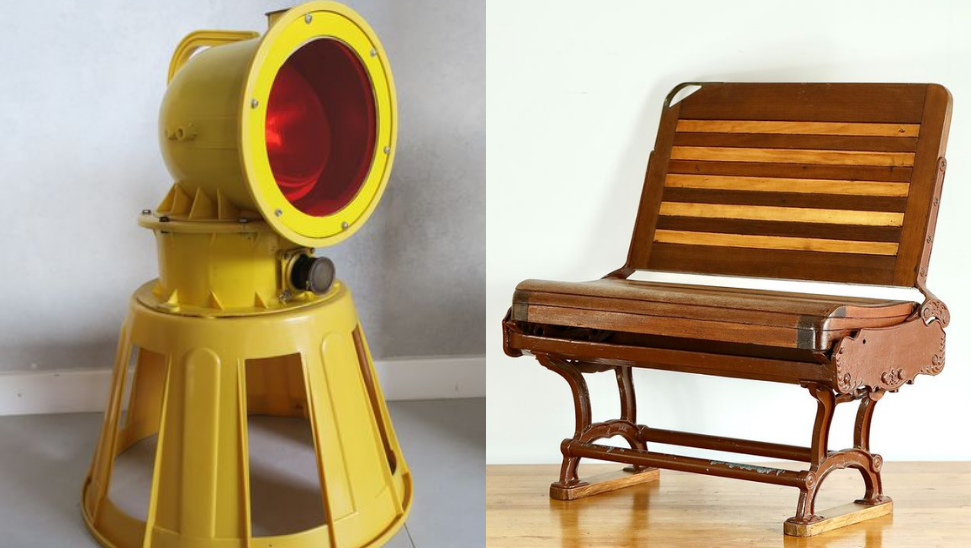 Left: A military lamp ready to become a statement piece. Right: A former Amsterdam bench and future furniture piece.
Road signage like old signposts and license plates are a great example of items that formerly belonged to the outdoors but can now serve as interesting, decorative features. They might also have sentimental value, whether they're the license plate of your first car or a sign of a location that nods to happy memories. Mannequins, military airport lamps and discarded city benches are some examples of the type of objects you can use in your home to dramatic effect, as artworks in their own right or simply as an original piece to fill up a dead space. And as for art, go for something bolder and unconventional like street art – often colourful, abstract and not normally found in your everyday home.
"We can all have beautiful things in our homes from furniture to lighting and rugs and art or wall decor but it is pieces like these, that we find, choose or are given, that have the uniqueness and story behind them to stay with us. These are the things that we connect with and that give us joy. They are very individual, personal and therefore rather subjective in many ways. But this is the beauty and wonder of this area of interior design".
____________________
Check out our latest Interiors & Decorations auctions for some inspiration, or register as a seller in these categories with Catawiki.
Discover more Interiors & Decorations | Antiques | Decorative Objects
You might also like:
How to style your home in Gothic Drama
How to style your home in Rustic Industrial
How to style your home in Wunderkammer