Last updated: August 2018
Thinking about becoming a seller on Catawiki? Here's all you need to know.
The advantages of selling on Catawiki's auctions
1. Specialised experts - Catawiki employs a team of over 240 experts who are all specialists in their fields. What makes them experts? They have the necessary training, education and experience; many of them have owned their own businesses, had their research published and are internationally recognised in their fields. They review every lot offered up for auction and curate every weekly auction. They are also always available to assist you with offering up objects for auction and will advise you on how to achieve the best results.
2. Swift and secure Sales - Catawiki auctions over 65,000 lots every week in over 600 auctions. And since nearly 40 auctions close every evening and new auctions start every Friday, you can sell your objects very quickly. Catawiki also has a secure payment system which makes transactions safe for both buyers and sellers.
3. Free to Offer up Lots for Auction - Creating a Catawiki account and offering up objects for auction is completely free. As a seller, you only pay a commission fee on the winning bid when your lot sells.
How to sell on Catawiki
Follow this step-by-step guide to selling on Catawiki. This will walk you through everything from registering for a free account to what to do once your object has been won at auction.
Step 1: Register for a free account
Now that you're familiar with the advantages of using Catawiki, we hope you're excited to start selling. But where do you begin? The first step is to register for a free account. You can do so here if you don't have an account already.
Start by providing us with your email address and choosing a password.

Provide some additional information including your name, address and telephone number.

A verification code will be sent to your phone. A screen should automatically appear where you can enter your verification code, but if it doesn't you can enter the code here to verify your telephone number.
Step 2: Determine what you can sell on Catawiki
Our team of experts select all objects to ensure that only the highest quality and most exceptional objects make it into our auctions. Catawiki looks for the following objects only:
Special objects. This means objects that are hard to find and that aren't available in an average store. Find out more here.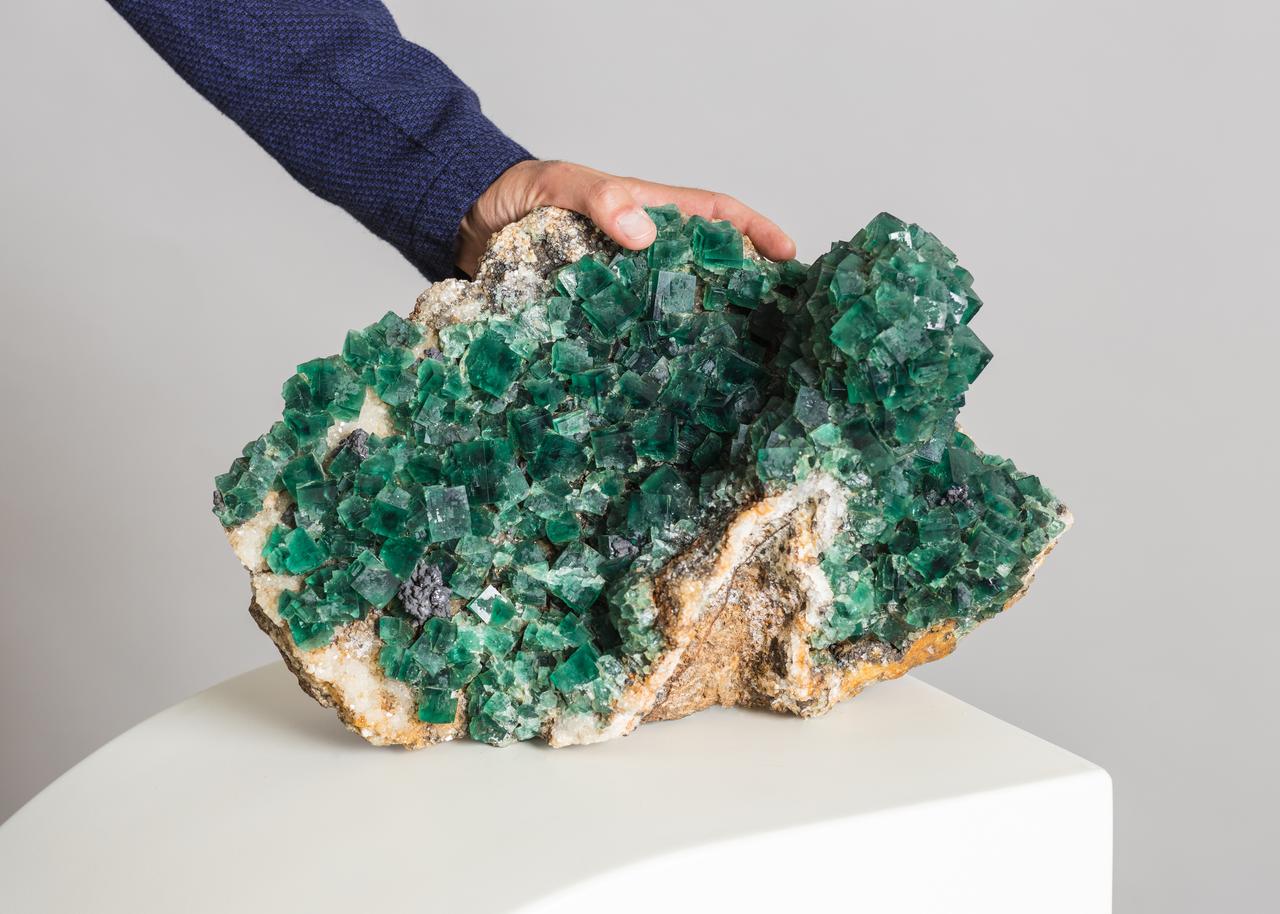 Step 3: Offer up lots for auction
Now that you have registered for a free Catawiki account, you can start offering up your special objects for auction straight away. Catawiki employs a team of experts who review each object or group of objects, referred to as a 'lot', offered up and curate the auctions. Here's how to offer up a lot for review:
1. You can offer up lots for auction in the lot creation wizard which can be accessed by clicking on 'Sell at auction' in the upper right-hand corner of Catawiki's website or found directly here.
2. The first step is to tell us what you'd like to sell. We'll suggest a few categories where we think your lot will achieve the best results. If our experts think it will do better in a different category, they will move it later.
3. Next you will create a title and write a description of your lot. When you click on each field in the lot description, you will be advised on the necessary information that should be included and provided with some examples.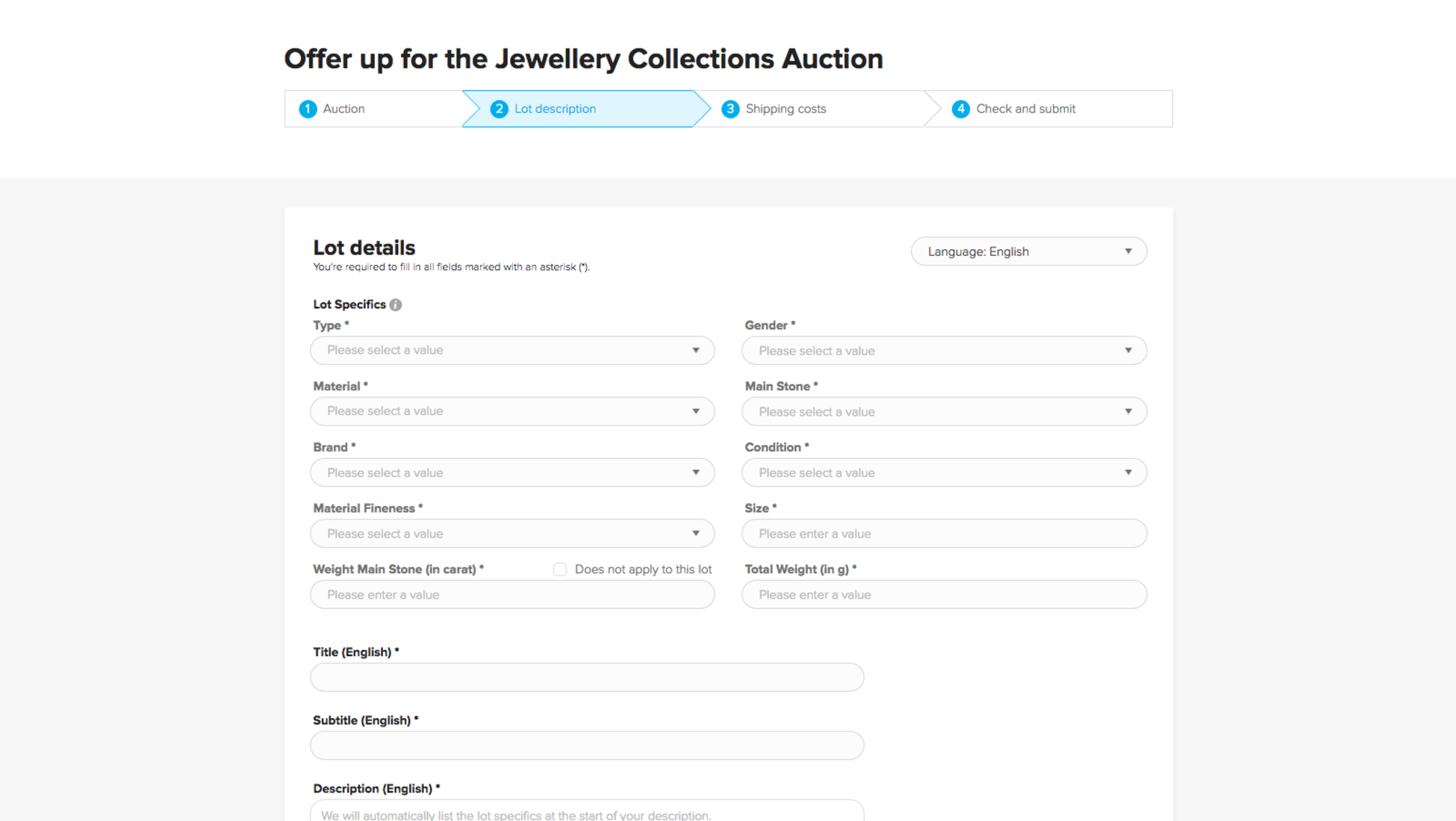 4. After writing a detailed description, it is important to add high-quality photographs. We have a few tips for you on how to take the best photos of your lot here. Better photos often lead to better returns, so this step is very important. Note: The minimum number of photos needed depends on the category. For example, a watch needs a minimum of 5 photographs - the front, the back, the two sides, and a photo of the whole watch. These specific requirements will appear when you create your lot.
5. Tell us what you think your lot is worth. Remember, the object(s) should be worth €75 or more to be accepted for auction. If you have items with an estimated value of over €200, it is possible to set a reserve price in consultation with our experts. If this minimum price is not met by the end of the auction, the lot will not be sold.
6. Next, you can set your shipping costs for various countries and regions. When researching shipping costs, a good idea is to start with your local shipping company and understand what are they offering in terms of local, European and international shipping prices, as well as their insurance and registered delivery options. Additionally, we suggest comparing their services and costs with private couriers such as FedEx or DHL who offer faster delivery and are more specialised in transcontinental shipments. We also recommend that you always use registered and insured shipment.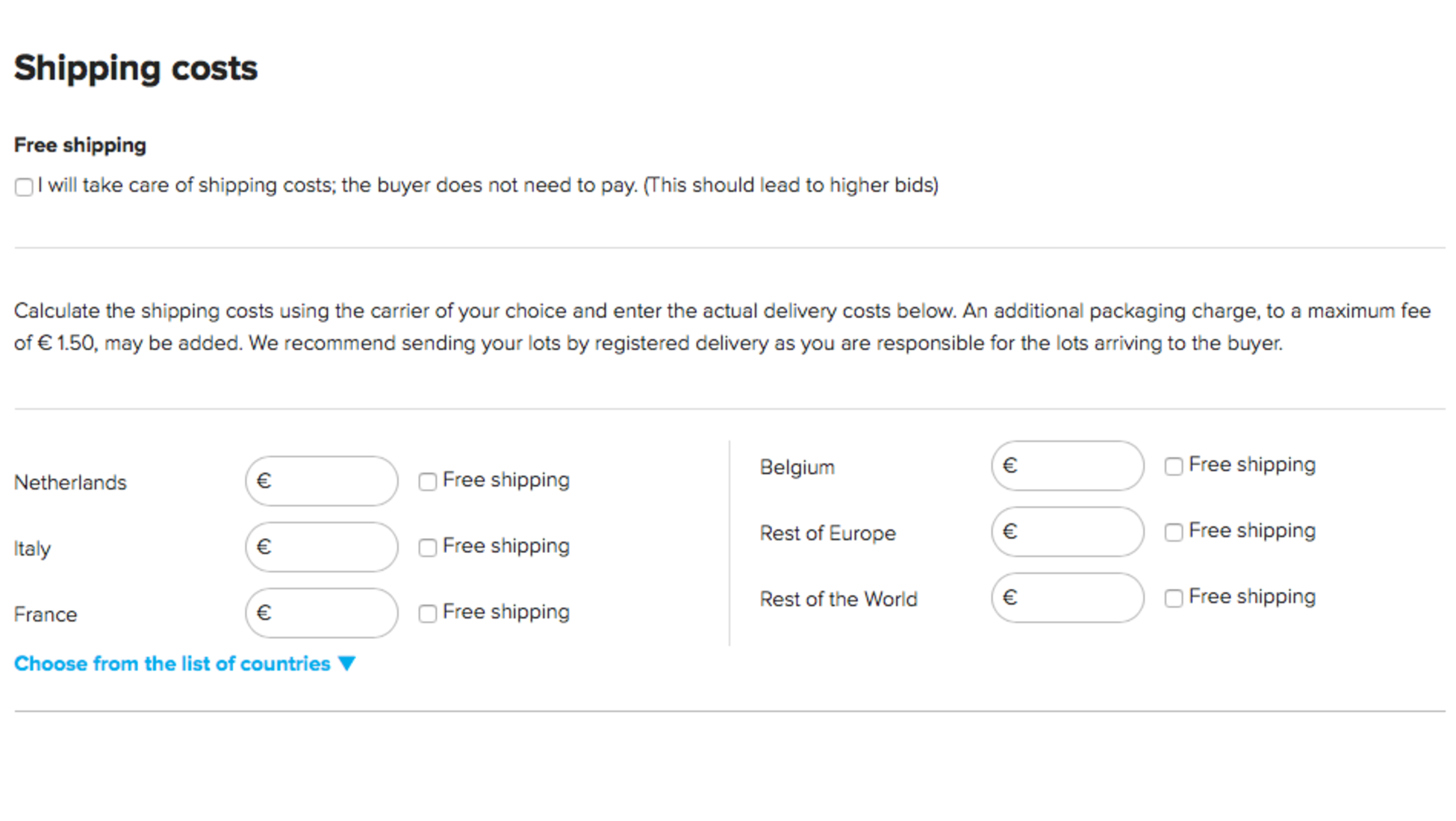 7. Once you are happy with the lot you've created, simply click 'offer up' and your lot will be put in the queue to be reviewed.
Step 4: your lot is planned for auction
Once our experts determine that your lot is suitable for auction they will approve it and plan it into an upcoming auction as soon as possible. When your lot is scheduled depends on a variety of factors. Our experts carefully compile the auctions and try to avoid too many similar lots being included at once, therefore your lot may be planned for a later date in order to achieve better results. Once your lot is planned for auction, you will receive an email notification.
Step 5: the auction starts
New auctions start every Friday. Your objects will be presented to millions of potential buyers from around the world and the highest bidder at the end of the auction is the winner!
Step 6: after the auction
As soon as the auction closes, the highest bid wins! The buyer will then transfer their payment and you'll be asked to ship the lot, or make it available for pick up, within 3 days. After shipment, the payout will be initiated. This way your money is kept safe until the transaction is complete. You will be paid for your lot approximately 2 weeks after the lot has been shipped. We deduct a commission fee of 12.5% of the winning bid which is reinvested in advertising campaigns and other marketing efforts to promote your lots.
Ready to get started?
Become a seller and you can start offering up your objects for auction immediately. All you need to do is register.
Any questions?
You can always consult our help page where you will find the answers to many frequently asked questions. If your question isn't answered there, however, please don't hesitate to contact our Customer Support team who are standing by to assist you.
Please note: We are continually updating and improving our lot creation wizard. Therefore when submitting a lot for auction, the pages could look different from the images in this article.