Written by Tom | Published on 15th November 2021
Even in today's digital landscape, the appeal of comics lingers on. Driven by long-standing collectors, readers loyal to their favourite characters and movie-goers hooked on the latest blockbuster adapted from classic source material—think any recent Marvel film—comics have proved their staying power. They have a long history of unrivalled illustration and captivating storylines, and tremendous literary value as a result. To commemorate 10 years since the first comic and object was sold on Catawiki, we revisited some of the most iconic—and at times controversial—editions and illustrations auctioned on Catawiki, with the help of comics expert Patrick Vranken.
The first comic book sold
For escapism and adventure, few things compare to Tintin. The Crab with the Golden Claws gets an honorary mention as the first comic book ever auctioned off on Catawiki. Sold back in 2011, this Frisian language edition is the ninth volume of The Adventures of Tintin by legendary Belgian comic artist Hergé. It depicts Tintin, the young Belgian reporter, and his dog Snowy attempting to track down an opium smuggling ring in Morocco.
Serialised in Belgium newspaper Le Soir from October 1940-1941 during the German occupation of Belgium—which fundamentally restricted Hergé's depiction of Tintin in order to avoid censorship from the Gestapo—it's since become a subject of commercial and critical attention. It introduces the much beloved, resident alcoholic Captain Haddock, whose substance reliance is either the strip's attempt at a dire warning or chief endorsement. Modern appraisals have since critiqued Hergé's handling and othering of indigenous people in this text and others—something Hergé has since regretted—but the comic remains a sought-after and subversive one for the times, with Tintin's cosmopolitanism a far cry from the real world context of Nazi occupation at the time of publication.
The one-in-a-hundred comic book
This Doris Dobbel first edition by Flemish artist Marc Sleen may not be one in a million (more like one hundred), but its rarity is undeniable. Allegedly, only 100 copies of the comic were printed, eight of those are known to have survived and three of them had lost their cover. This particular edition of the comic was the ninth to surface, after it was rescued from somebody's attic.
Beyond its limited print run, it's a valuable work in Sleen's repertoire, who remains one of the most prolific comics artists the world has ever seen. In fact, for a long while, Sleen even held the Guinness World Record for the amount of comics he produced, said to measure up to the height of the Eiffel Tower 12 times over. Dorris Dobbel was one of his many creations; billed as a gag comic, it centres on a butcher who attempts to continuously please his customers, win a neighbourly feud and get rich, all rather unsuccessfully. It's one example of Sleen's knack for satire and this particular edition still remains one of the highest-priced Dutch language comics ever sold at €16,500.
The most expensive comic book
Further proof that Tintin's appeal is unmatched, a French edition of Tintin in the Land of the Soviets went on to be the most expensive comic sold on Catawiki, at a staggering €50,000. A work that exemplifies Hergé's once controversial perspectives and engagement with the world—natural for a man whose 20th-century career spanned more than 35 years including WW2—its primacy as the first volume in the series means it's a must for collectors.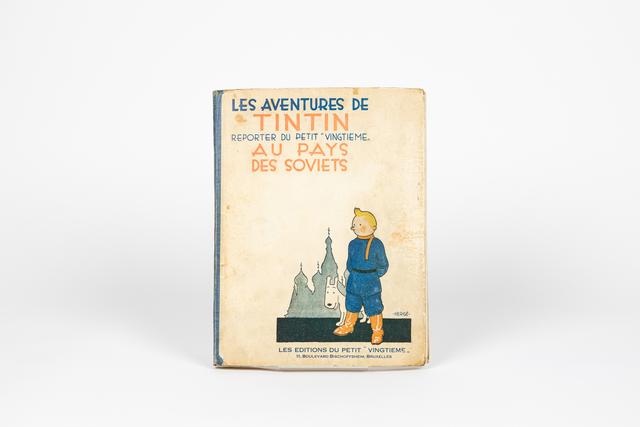 A French edition of Tintin in the Land of the Soviets

The comic depicts Tintin and Snowy reporting on and investigating into the Bolshevik government, which leads to a cat-and-mouse chase between Tintin and Soviet secret agents. Critics have panned Hergé's depictions of the Soviet state, which as it turns out were inspired by a pamphlet dubbed "Moscow Unveiled" by Joseph Douillet. The caricatured view of the Bolsheviks as the ultimate evil was in part influenced by Hergé's newspaper owner, Abbot Norbert Wallez, whose paper often pushed anti-communist views among others. And while even Hergé later remarked on the crudeness of the work, it set in motion the story of one of the world's most loved comic characters.
The most-wanted Spider-Man comic
Your friendly neighbourhood Spider-Man might be shattering blockbuster records in The Avengers and his own eponymous films nowadays, but the sale of Amazing Fantasy #15 back in 2019 was a reminder of the pull of rare US comics. It marks the first full appearance of Spider-Man and is regarded as one of the world's most-wanted comics.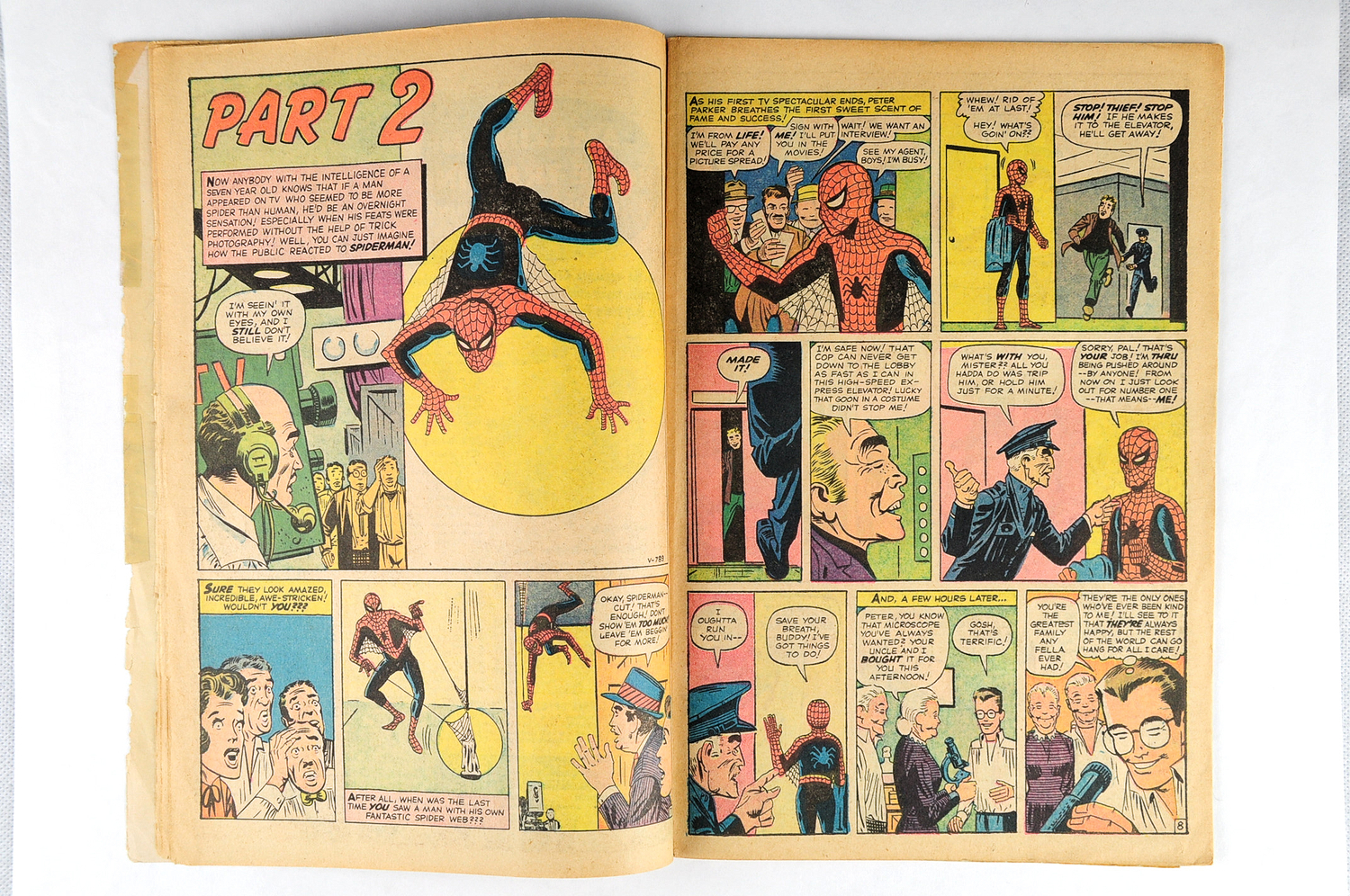 Amazing Fantasy #15

Why? Well, on the surface it's Peter Parker's genesis story and the place where it all began for our spidery friend. But beyond that, the comic signalled a new kind of superhero: teenagers. "Midtown High's resident wallflower" Peter Parker was your ordinary teenager navigating his way through school, friendships, bullying and the like. And while not everyone is likely to be bitten by a radioactive spider, Spider-Man served as proof of comics' ability to find the human in its heroes, and that they can be found in even the most unlikely of places.
The peace-promoting Hergé original
As a comic artist, Hergé's illustrations were in equal demand and this original drawing was no exception. A drawing from 1956, this is Hergé's attempt at conveying his wish for peace during the Suez Canal crisis and his underlying fear of war. What's notable about this particular artwork, however, was the greeting card that accompanied it. Tintin is depicted holding a spruce branch versus a sprig of holly and Snowy the dog has a bone, not an olive branch in his mouth. A simple illustration with massive appeal, this artwork sold for €21,000, testament once more to Hergé's skill.
The Golden age throwbacks
The Belgians dominated the comic scene for a long while until the French reclaimed a share of European comics beginning in the late 1950s. Up until then though, it was the Golden Age of Belgian comics, where Morris and André Franquin were household names. Original artwork is always en vogue and their work remains sought-after and illustrations like Morris' Lucky Luke and Franquin's 'Chateau de Champignac' drawings were some of the iconic artworks later auctioned off. The latter made a particular splash when sold; an example of an original drawing with the artist's notes, which if you look closely, has the much-loved Belgian comic character Spirou hidden within it. For the dedicated comic fan, try your luck at spotting the prankish Belgian.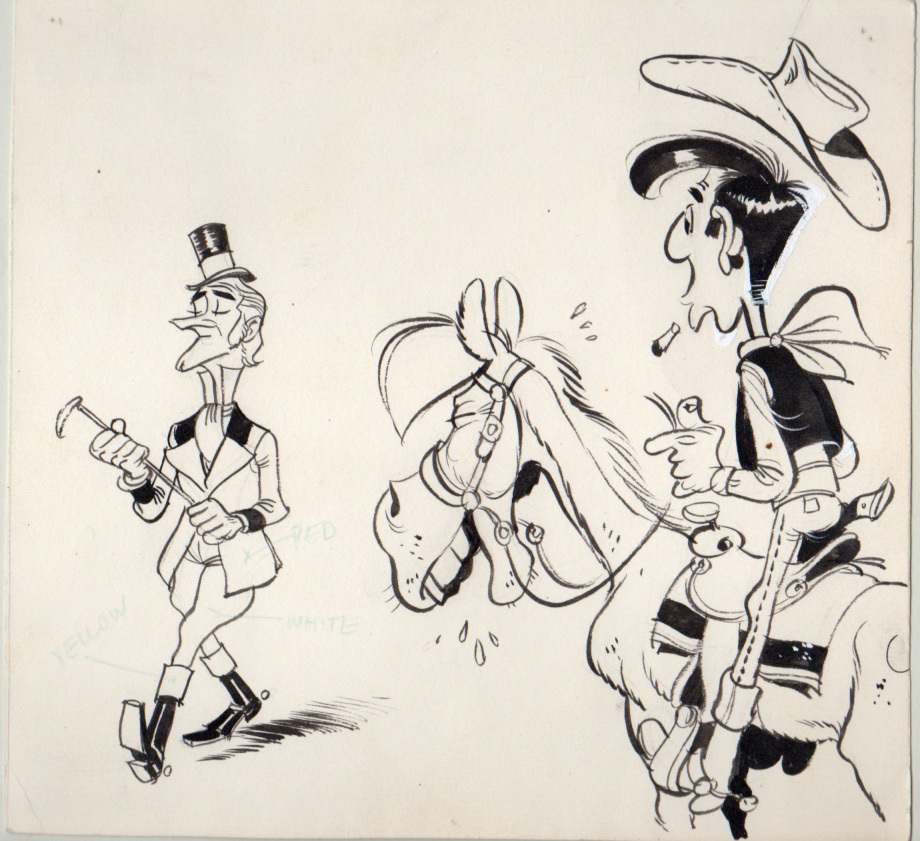 Lucky Luke original illustration
The mythical Suske en Wiske
No list of ours would be complete without Suske en Wiske; the Belgian comic series that became a sensation, especially in the Benelux. While plenty of editions have been auctioned off, the one that left its mark was this first edition of Het eiland Amoras. It was the second instalment in the series and the one that grounds Suske as a major protagonist in the series.
The story was published as a daily comic strip when Willy Vandersteen was establishing his reputation. It's an early example of his work and his revolutionary approach to publishing comics. Though the story centres on the mythical island of Amoras, the edition itself has taken on almost mythic proportions courtesy of its rarity, which might be why it was snapped up for €12,200 in 2019.
____________________
Celebrate 10 years of comics at Catawiki with a wide range of classic comic auctions to emerging creator showcases including Straight from the Comics Artist auctions.
Discover more Comics | Hergé / Tintin
You might also like:
How Spider-Man proved that teenagers can also be superheroes
The marketing genius of Willy Vandersteen
How Pilote reclaimed European comics for the French