Written by Tom Flanagan | 19th May 2022
Few contemporary sculptors have broken into the mainstream quite as impressively as Karl Lagasse. A renowned French contemporary sculptor as well as painter, his work has led to collaborations with the likes of Cannes Film Festival and Maserati, along with critical acclaim. He sat down with us to answer our questions about the genesis of his art and the chance encounters that continue to guide him.

What attracted you to art in the first place?

My mother is a great artist and a very productive one at that. She was in great demand but never wanted to sell her work. It was probably thanks to her that I became sensitive to art at a very young age. In addition to that, my strengths have always been in drawing and practical work. I started making my first collages at the age of seven.

Would you say you were born an artist?
I think we are all artists, whatever we do in our lives. There is a time when you have to be ready to leave everything behind and start. I've lived through difficult days. When I was young, I had to pick up bits of cardboard from the floor to make my first works. I worked a lot to get here. Then one day my mother said to me: "Sell your work, you have talent!".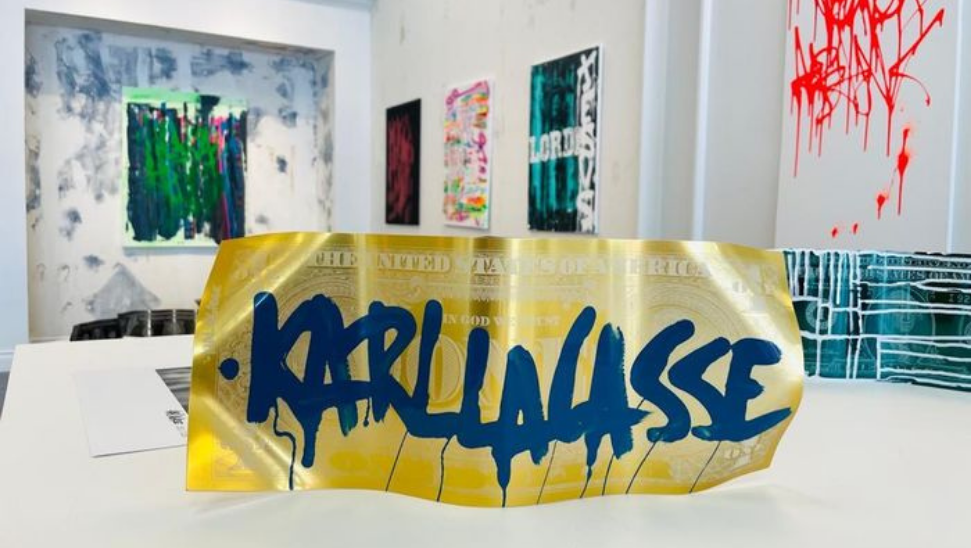 One Dollar by Karl Lagasse
I remember it like it was yesterday; I was 15 years old, it was in Antwerp, Belgium, and I was at the hairdressers! What I like about Belgium is that everyone is interested in art and there are many collectors. The owner of the hairdresser asked me for my portfolio with my creations and he ordered a collage from me. The work was two metres wide.
How did you break into sculpting professionally?
I had a decisive meeting with Yvaral, the son of the great painter Victor Vasarely, who advised me to combine my collages with my graffiti (my tags that I used to do in the metro). That's how I found my style at the beginning.
For sculpture, I met a lady in Montmartre, Paris, who worked with mosaics. She taught me the technique and I created my first 'skyscraper' sculptures; sculptures made of cut pieces of glass or ceramic and cement. I used to make small mirror sculptures that I sold for 100 euros in a shop window in Montmartre. One day, a very famous collector passed by and was interested in my work, which in some way gave me the encouragement I needed to continue.
Have you returned to skyscrapers, as a shape, in your work?
Yes, I created a skyscraper sculpture for the 65th anniversary of the Cannes Festival in 2012. It was a large column decorated with 220 archive photos supplied by the Corbis agency, on which all the actors present signed including: Matthew McConaughey, Nadine Labaki, Cuba Gooding Jr, Tim Roth, Zack Efron, Gad Elmaleh, Alexandra Lamy, Marie Gilain, Michaël Youn, José Garcia, Michel Hazanavicius, Bérénice Bejo and many others.
How did your first solo show come to life?

In Belgium I met the grandson of the greatest dealer and specialist of René Magritte: Isy Brachot. He really liked my work, so I showed him my studio. As it was his birthday, I gave him a work of mine which he put in his office. This work received many compliments from his clients and collectors, so much so that Isy Brachot immediately offered me an exhibition.

I only had a month to prepare everything and I worked hard until the last moment. On the evening of the opening, people flocked to see my work. By 10pm the gallery was packed with people. The first evening, all my works—collages, paintings, totems—were sold!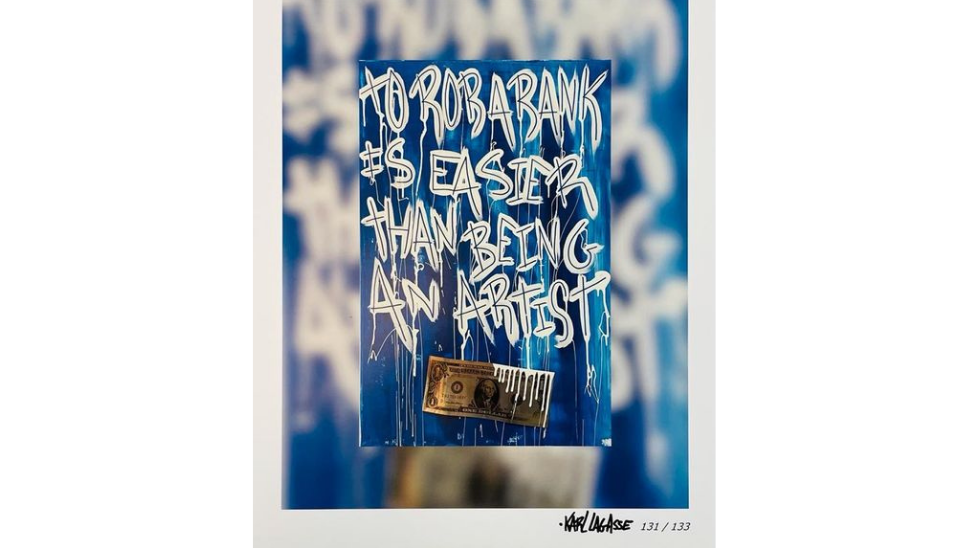 To Rob a Bank
by Karl Lagasse
Eventually back in Paris, I also began to show my work at the Opera Gallery, across their 12 galleries around the world.
You're known for your work on the 'dollar note' – what was the inspiration behind this piece?
In 2008, the George V metro station in Paris was being refurbished and all the advertising posters on top were being removed. I spotted some shreds of posters from the 60s and 70s. I thought it was beautiful so I made a series of photos of the details of all the posters. My exhibition at the Espace Cardin that year was inspired by this. I transposed these photos onto aluminium plates. I then started to work with the aluminium plates by folding and bending them. This led to another exhibition in Belgium. After a lot of technical work on these aluminium plates, chiselling, painting with mirror varnish and other reflections, the idea of the dollar was born.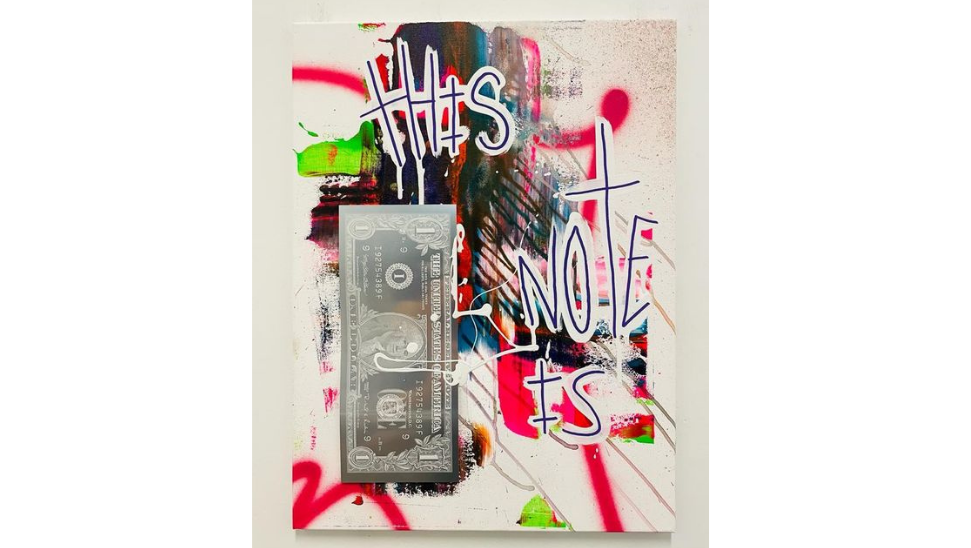 This Note Is
by Karl Lagasse
The first dollar of one metre work was made in 2009. This was sold at auction at Drouot for €1500, and then sales took off in galleries. Now the dollar has become my signature piece. My message behind this dollar is that you can make art with only $1. It is also a way of expressing my admiration for the United States and its slogan 'In God We Trust', which is written on the back of every note.
'In God We Trust' is a recurring message in your work. What does religion mean to you?
During my artistic and personal journey, I have asked myself many questions about the meaning of life. I've found answers in the Bible and in the Catholic religion. All my work has hidden biblical messages. Being an artist is a profession of faith.
It's one reason I want to share my success with others. I have been participating in many charity sales for years, with the next one dedicated to the association Rêves.
What do you think about the rapid digitisation of the art world (buying/selling online, NFTS)?
I think that NFTS are the continuity of video art and the future. And online sales are a better way to communicate with our collectors directly.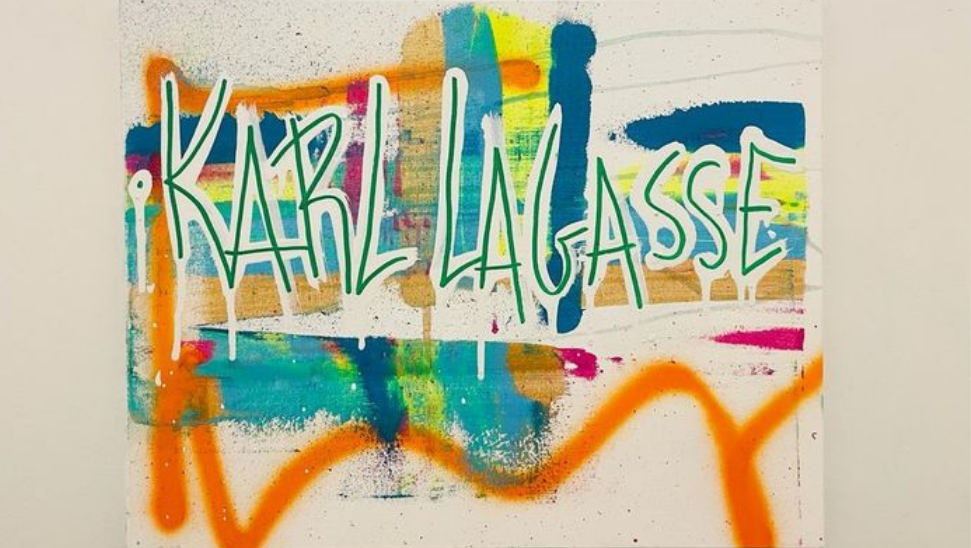 Karl Lagasse
by Karl Lagasse
Finally, do you have a project you are working on at the moment?
I'm working on several new creations that should delight my loyal collectors, as well as a gigantic 'One dollar' work in solid bronze at eight metres high, that will be permanently installed in a major city in the US. But this is a subject on which I prefer to remain discreet and not yet reveal what will be in store for my collectors. I have been working on it for four years already, I hope it will be a very beautiful surprise.
____________________
Explore Karl Lagasse on Instagram or in our contemporary art auctions. Or if you're a budding artist, register as a seller on Catawiki.
Discover more Modern & Contemporary Art
You might also like:
Attic stories: Studio Aesse's online art revolution
The universal appeal of Yayoi Kusama