Written by Tom | 25th October 2019
Art fairs are a wonderful opportunity to stumble upon a budding artist or even sell some of your own collection. Your first art fair, however, can be a lot to take in, which is why we asked three of our art experts – Michiel Vliegenthart, Zsuzsa Vermeij-Vermesi and Koos Weel – to share their own experiences alongside tips on things they wish they'd known before attending.
Could you tell us about the first art fair you attended?
Michiel: It was TEFAF (The European Fine Art Fair) in Maastricht, and I was a young and rather ignorant art lover attending with my parents. Seeing works by Picasso and Rembrandt for sale left me feeling a bit enamoured and with the urge to own a piece myself (even if that wasn't about to happen any time soon). It was a completely different experience compared to visiting a museum and it helped really kickstart my interest in high-end art.
Zsuzsa: It was a long time ago at PAN in Amsterdam. It was when I started studying art history and I visited art fairs regularly. It's so important to see plenty of artworks in real life and to begin developing your own taste and knowledge.
Koos: Growing up in the south of the Netherlands, I was also introduced to the European Fine Art Fair (TEFAF) at a young age. Going there felt like going to a museum for me. Over the years, I started to familiarise myself with contemporary art fairs which have a completely different vibe. There was always something really nice about attending; whether that was discovering the latest trends in art, watching the champagne-sipping gallery owners mingle or chatting with some of the artists themselves.
What are the things you absolutely should and shouldn't do as a buyer at your first art show?
Michiel: Have an open view and look with your heart, so to speak. Wait for a little 'spark' of feeling when you're browsing works and spend some time considering what exactly makes you feel passionate about a specific piece. Go with your intuition and don't just follow what's in fashion at the time, what influencers may advise or even what the best investment might be. The richest and most interesting collections in art history for instance, are usually compiled with the heart and not necessarily with the wallet.
Zsuzsa: Just try to see as much as possible. Talk with sellers, try to get flyers and catalogs for extra information, check the website of the fair (often there are readings by artists or other activities to join), and make the most of any opportunity to talk to an artist as they're your best resource when thinking about what to look for.
What are some common mistakes you see buyers and/or sellers making at their first art show?
Michiel: Only buying with the idea that this is an investment. You should be buying what you love, especially when it's your first time.

Koos: Art fairs go to great lengths to make an impression on visitors, so there's an emphasis on spectacle. And so I'd say the biggest risk is impulsive buying. Of course, it can be love at first sight when you see that amazing artwork you never knew you needed in your living room. But no matter how convinced you are, take your time to decide! The gallery won't stop existing when the art fair is over. Take a picture. Think about what it would look like in your interior and if you'll still love it in about a year's time. Put that gallery flyer in your pocket and see how eager you are to follow up on it when you return to the comfort of your home. Still excited? Then go for it!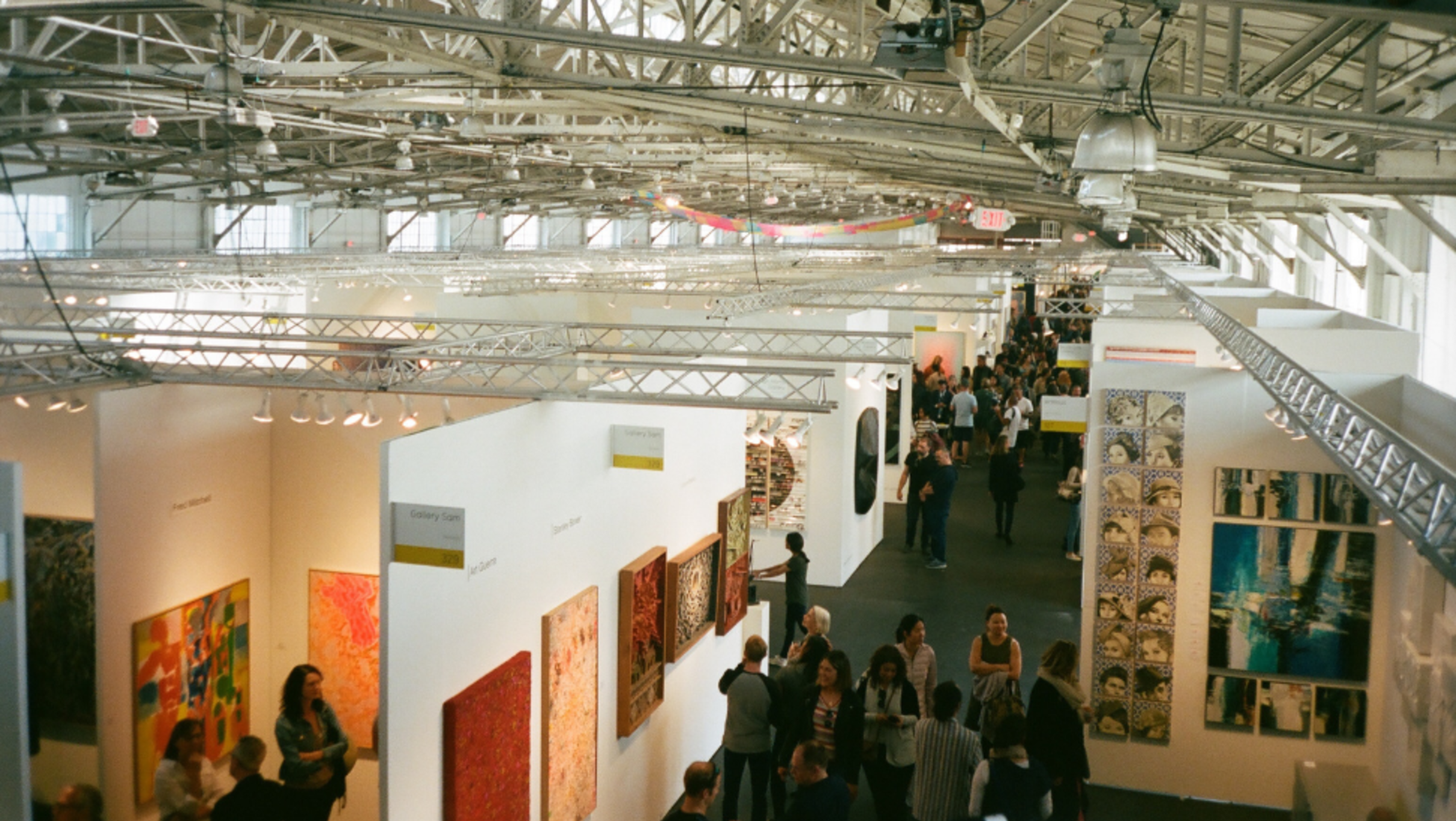 Take your time to understand what it is that makes you like an art piece and don't rush into a purchase
What are some of the benefits of going to an art show and buying/selling online?
Michiel: Visiting art shows, galleries and workshops of artists are vital to developing your knowledge, taste and preferences, which is especially useful when you buy online too. Getting an idea about the real dimensions, proportions and structure of a painting is also important.
Koos: While buying art online is considered to be the new way to go, the experience of visiting an art fair is something that can never be replaced. Some people are intimidated at the prospect of speaking to a gallery owner because they perceive them as unapproachable. But actually it's completely the opposite. Galleries rely on big audiences and they're not just there to connect to high-end collectors. In this day and age, everybody can do their research online and thus be a bit of an art expert themselves. Sure, at some fairs people tend to dress up and use fancy terminology, but there's no reason to be scared. This is your chance to see all those artworks in real life.
If you could go back to your first art show, is there anything you wish you'd known?
Michiel: The rise in value of works by Old Masters in general and some Modernists. While I don't buy for investment, the works of some artists have reached stratospheric prices in the past twenty years.
Koos: That the chaos is real! There are so many participants, so many demands and problems to solve in a short amount of time. I guess art fairs give you a good sense of what the art world in general is all about. From established well-known artists and galleries to upcoming new names. Some names withstand the test of time, some names will come and go.I love immersing myself into this dynamic side of the art world where both sellers and buyers go all in. But when you visit, join the conversation. Your opinion matters and will influence what happens next in the art world. After all, it's not just art critics and galleries that decide what the next big thing will be.
____________________
Check out the Affordable Art Fair Amsterdam auction or register as a seller with Catawiki
Discover more Art | Modern & Contemporary Art
You might also like:
How the S.M.S. portfolios made art more accessible
What's next for the Modern Art market?
Advice for street artists on how to sell your work online