Written by Tom Flanagan


Continuing our series of dedicated seller series, where we profile some of our most inspiring sellers, we visited Vicky Luk's Hong Kong-based store Winfast Watch & Jewellery in time for the Lunar New Year, to discuss her passion for luxury goods and what she's hoping the new year will bring.
Hong Kong – a city most commonly characterised by its crest of skyscrapers and winking bay, awash with noise, the frenetic pace of activity near unstoppable. Life in a microcosm – at least once upon a time.
2020 brought a change of pace as Hong Kong, like many other cities, went into lockdown. With it, industries that pulled in visitors from all over the world, such as the luxury market, suddenly found itself fighting to stay afloat. For small businesses like Winfast Watch & Jewellery, they were particularly hard hit, but years of obstacles had prepared them for this.
"We've learned that even when things get really bad, there will still be demand for luxury goods", says Vicky Luk, the marketing head for the family-run Winfast watch and jewellery dealer.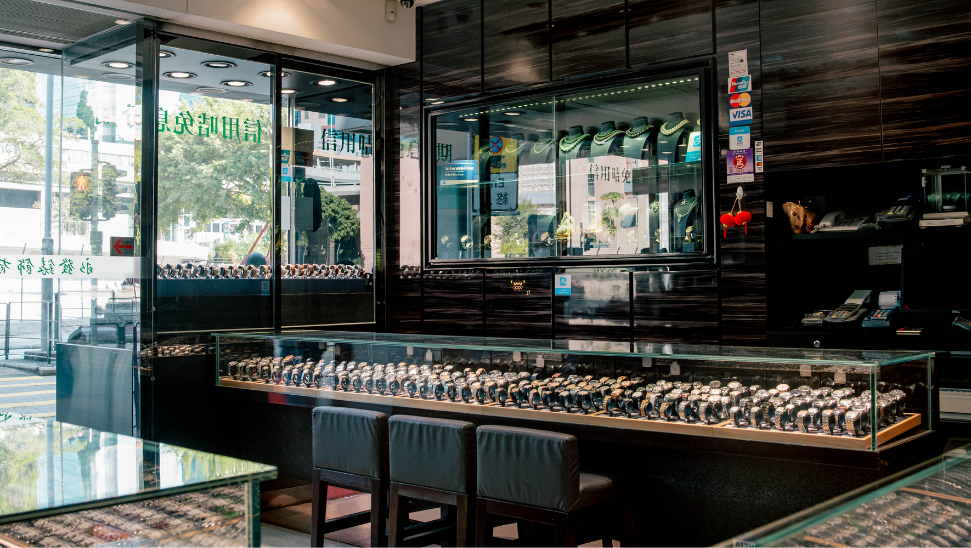 Based in Hong Kong,
Winfast Watch & Jewellery specialises in pre-owned watches and jewellery
"When we opened the shop, the company was registered on August 8th, 2008 and it was a really good day for the Chinese, as eight is considered to be a lucky number. However, we opened our store just a week before the Lehman Brothers financial crash. And then over a period of six years, we faced political unrest and the instability that came with it. Those years really affected the business. In 2019, the demonstrations hit us hard as one of our shops was right next to the police station. Half of the time we had to close because protesters were all around and people stopped coming to Hong Kong. When things calmed down slightly, we thought it was over. And then Covid hit. The whole luxury business has been dependent on people coming in and out and globalising the market. Now that's stopped because no one can go anywhere".
It's a litany of events in which even the most optimistic would be hard pressed to find a silver lining. But as the Lunar New Year draws near heralding in the Year of the Ox—regarded as a period of luck, prosperity and fortune in business—there's hope that things are set to get better.
Family love for luxury
Nestled in Hong's Kong's heaving Mong Kok district—an area that's previously held the record for the busiest in the world according to the Guinness World Records—is Winfast Watch & Jewellery. A small store home to rows of glinting, pre-owned watches and gem-studded accessories, it's the product of a family's love and dedication to luxury.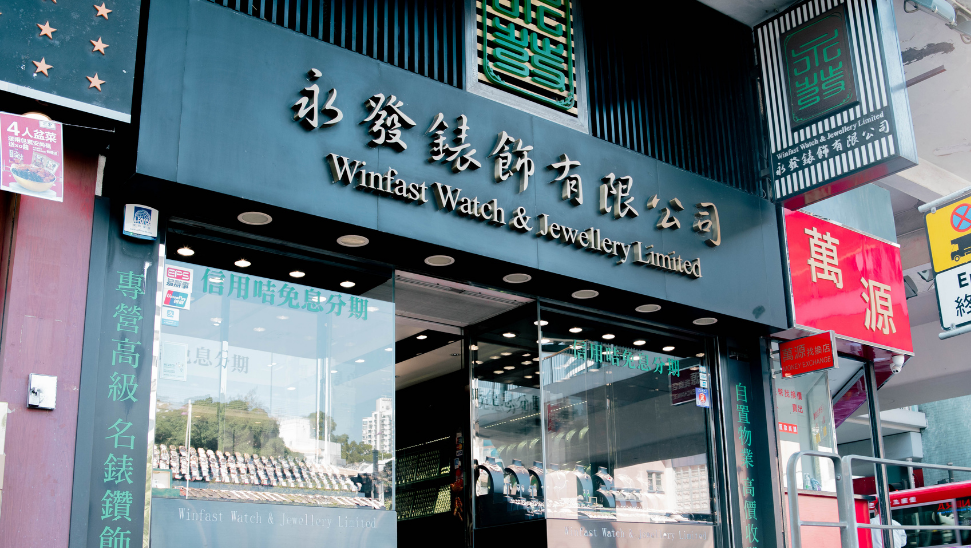 Winfast's store is located in one of Hong Kong's busiest districts – Mong Kok
"My father has been in this industry for thirty-some years, and after my MBA he asked me if I wanted to join him, and I said sure. I pretty much grew up in the luxury industry since my father had been in it for such a long time. I joined the business and I fell in love too."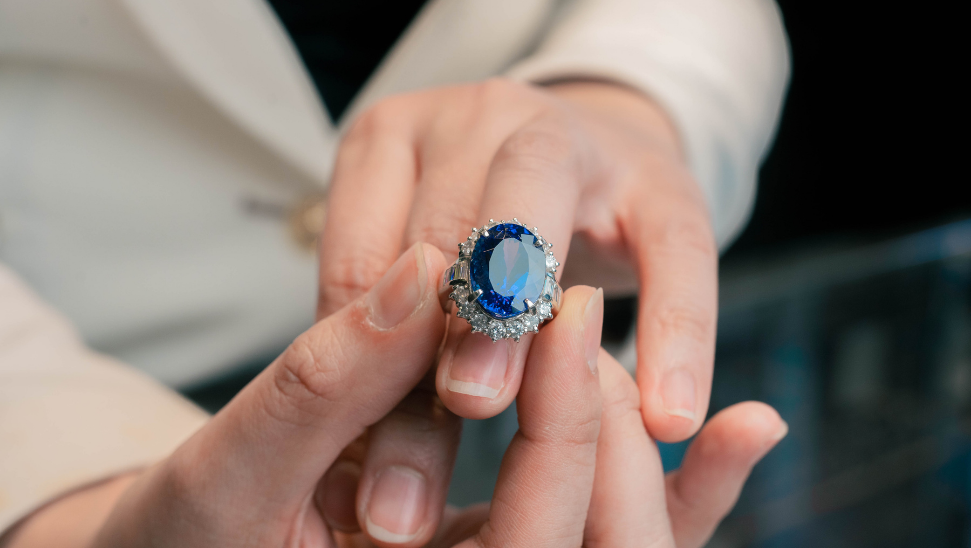 Vicky's notion of luxury has changed over the years. While it might not be a need, it does make you happy.
For Vicky, her time spent around gorgeous timepieces and jewels has reappraised her notion of luxury, especially during tumultuous times. "You'd think with everything that has happened, we'd have been hit harder as a business", says Vicky. "But I think that there will always be a market for luxury products, I mean, after the basic needs. We do need something else besides the essentials. Luxury products make me happy – or rather, they make people happy."
Pre-owned but perfectly premium
As far as what Winfast sells, there's no lacking for choice. Top watch brands such as Patek Philippe and Rolex all make an appearance, with pre-owned watches taking centre stage. The same goes for jewellery, where older, pre-owned pieces dominate displays. Luxury has always been a conversation dictated by exclusivity, newness and purity – for an object to be luxurious it is, in part, because it is rare, never touched and never owned. But Vicky explains that new generations and tastes are reinvigorating the concept of luxury.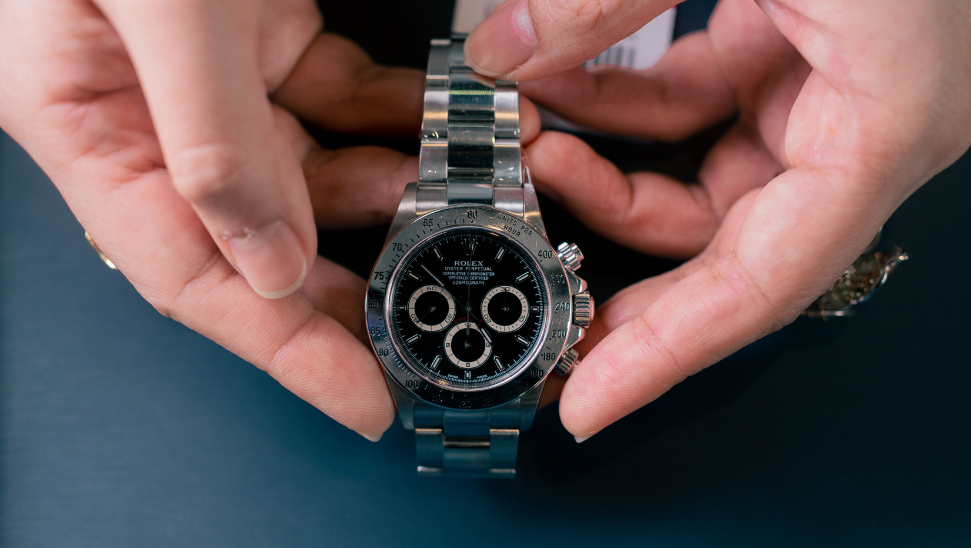 Winfast offers a range of premium pre-owned watches, including brands like Rolex.
"People really are starting to love pre-owned goods, at least here in Asia. The Chinese market has changed a lot. I would say that 20-30 years ago if you told customers this watch or piece of jewellery was pre-owned, they would say "Oh, these people like to wear dead people's stuff". But now the younger generation is changing that. They know that pre-owned doesn't mean unworthy, it just means unwanted. Investing in antiquity is a personal taste too – it doesn't bother me if it once belonged to somebody else or it's over 100 years old, I love it for that very reason. It's also really good value".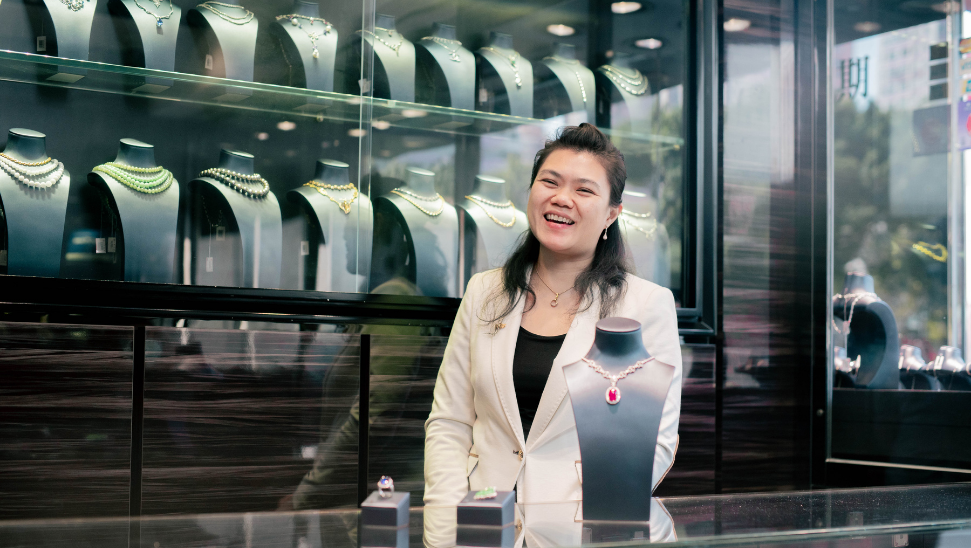 With a new generation of luxury buyers comes a new perception of what luxury means. Pre-owned is in.
In many ways, Winfast's focus on pre-owned is what sets it apart. That and the trust that comes with being a family business that has built up its relationships over the years. "In the beginning when our shop got set up, there weren't that many 'pre-owned' shops around. My father has established a fantastic network over the years and he is also a very knowledgeable person in the industry. So with his foundation, people really know us as being trustworthy and with a variety of suppliers. And in the luxury market, trust and choice are key".
Reaching new markets
It's been three years since Vicky joined Catawiki as a seller, but it wasn't until the past year when she started to make the most of its far-reaching marketplace. "Before Covid, I travelled every month to 3-4 different countries to do business – mainly the Asian markets. But when I couldn't do that anymore, I needed something to do. Business was very slow so Catawiki was a place for me to do something else, try something different. I started putting on more watches. The expert who looked after us asked me whether I could put on even more watches so we did. It was 5, then 10, then 15, and now I put up about 30 pieces per week."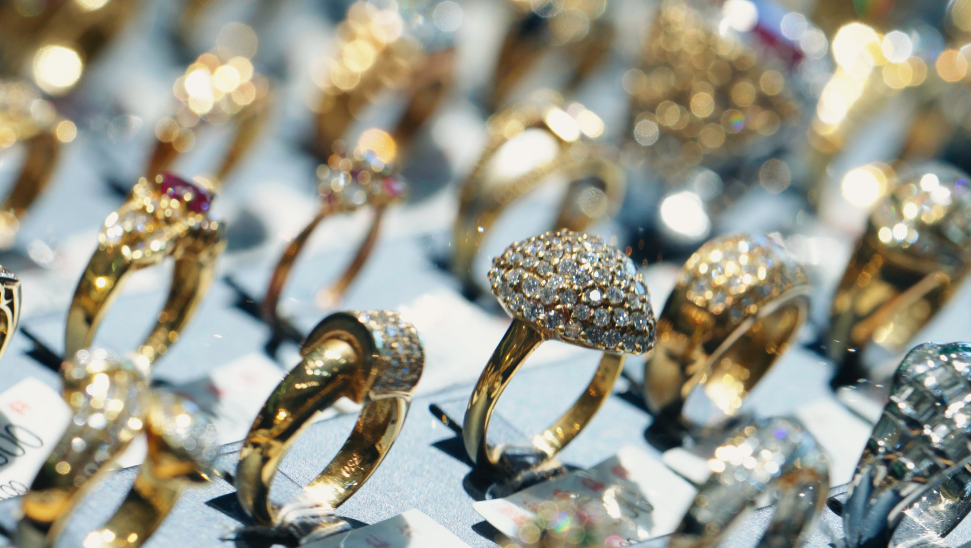 Winfast has been able to access new markets in a difficult year while on Catawiki,
For Winfast, Vicky says the benefit of Catawiki is less about revenue and more about exposure. "If you can believe it, I'm actually happy because even in these very different Covid times, people are starting to get to know us and we're actually reaching new markets, like Europe. It's a different kind of satisfaction when the watches I choose get auctioned. It's not just about the revenue, it is about getting access to new markets and getting to know what is popular there. The European market and the Hong Kong market are very different; whatever may be popular here may not be popular in Europe and the U.S. Take the Cartier Panther watches – they went out of style here in Hong Kong in the past few years but I've managed to sell my entire stock to European customers on Catawiki".
Luck in the Lunar New Year
Vicky's recent surge on Catawiki is a nod to the digital shift consumers and businesses will only continue to make in 2021. Apt in a year that at least for the Chinese calendar, is said to represent one of fortune, prosperity, and hard work. "Actually, it's symbolic of the boom in the market people are hoping for. That's why everyone is really excited about the Year of the Ox because that's what everyone is ultimately hoping for".
The Lunar New Year is especially important for the luxury market, as it's often a time where people give gifts to signal newness and hope. "We always wear new clothes, shoes, bags etc for Lunar New Year, and luxury products are a big part of this idea of "wearing new things for the new year"".
In the Year of the Ox, Vicky's hoping business continues to boom and that the time for wearing luxury accessories outside of your home comes soon
For a business that deals in pre-owned pieces, there's something vaguely poetic about looking ahead to the new year. Success for Winfast has come with celebrating the past but also embracing the new – pre-owned really becomes pre-loved, and these are objects, at least for Vicky, that are destined to find homes with people who truly love luxury.
"Especially for me, luxury is a part of my life. I might have kids now and less opportunities to dress up. But when I do go out with my friends again, I'll put on my jewellery and my watch. And for a moment, I'll catch a look at myself in the mirror and think, I'm happy".
____________________
Join our trusted community of creatives and collectors, and become a seller on Catawiki.
Discover more Jewellery | Watches
You might also like:
Attic stories: Studio Aesse's online art revolution
Attic stories: Welcome to the world of Thomas Eyck
Attic stories: Kim Meyer's lifelong love of radio