Written by Simone | 31st July 2020


Shaking and stirring a martini for friends during the holidays is one thing, but presenting it like you're Tom Cruise in 'Cocktail' is another entirely. A properly stocked and styled bar cart is a key part of that equation. Read what our experts have to say about creating your own perfect home bar.
The bar cart
Let's start with the basics: the bar cart. Pick one that fits your interior and personal style. You could go for a classic, like the bar in the shape of a globe, or an old airline trolley for kitschy, globetrotter appeal. Or for a more modern look, bar trolleys made of glass could be the way to go. And for those DIY enthusiasts, consider using reclaimed trunks as an option, stocking them full of liquor for a treasure trove of boozy goodness.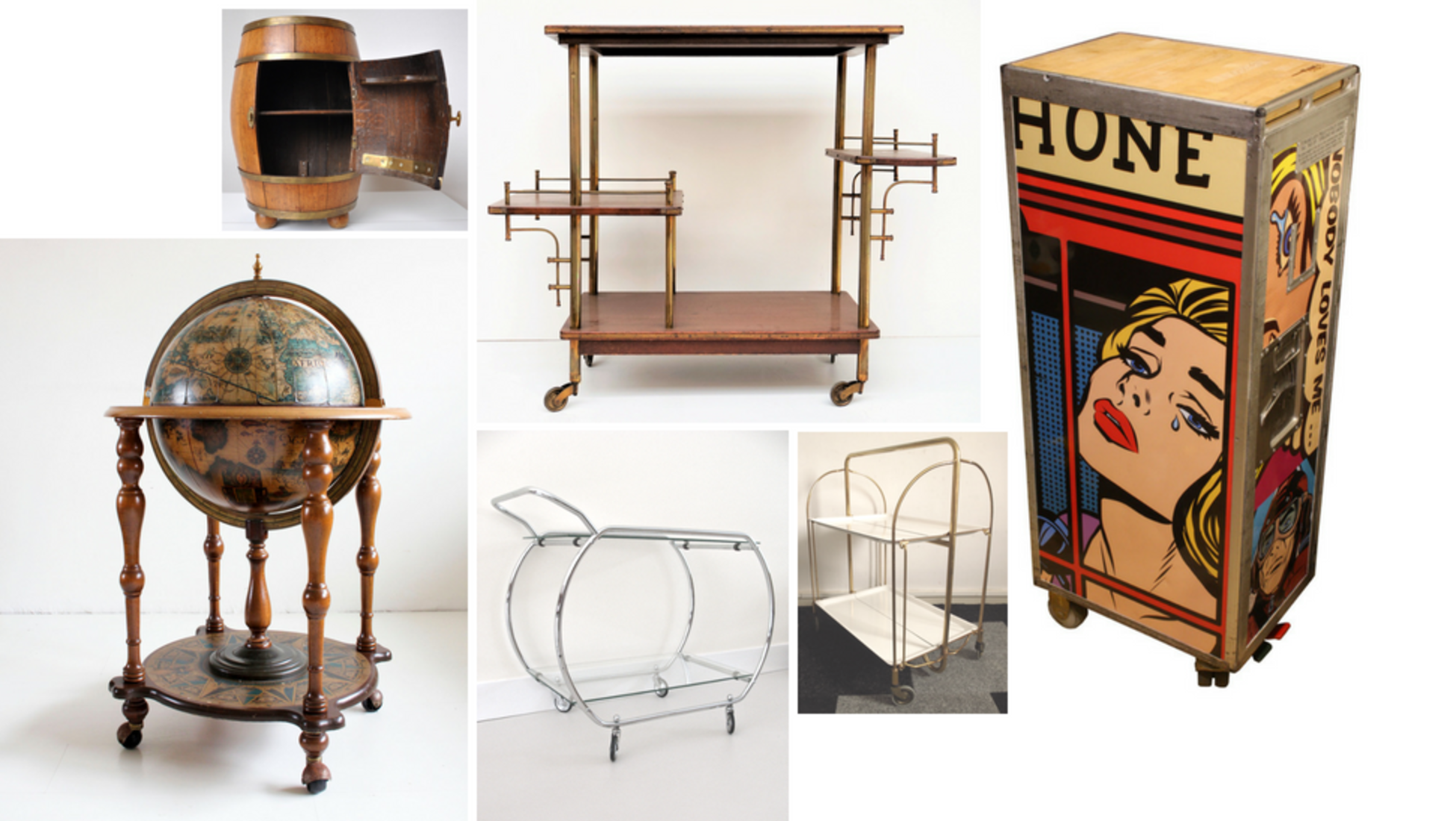 All of these items were previously in auction on Catawiki
Essential ingredients
Now you've got a place to store your liquors, you'll also need something to serve the liquor in. There's basically a different glass for every drink you can think of, so it's good to start with the basics, depending on your own taste and the eventual contents of your home bar. Start with some tumblers for whisky, tall cocktail glasses, some 'collins / highball' (the long, skinny glassware) for classic mixed drinks and maybe some shot glasses. A pitcher might also be a good addition, for making batches of cocktails. If you love mimosas, get your hands on some flute-type glasses and for other dapper drinks, some coupe glasses. A cocktail shaker is also a must.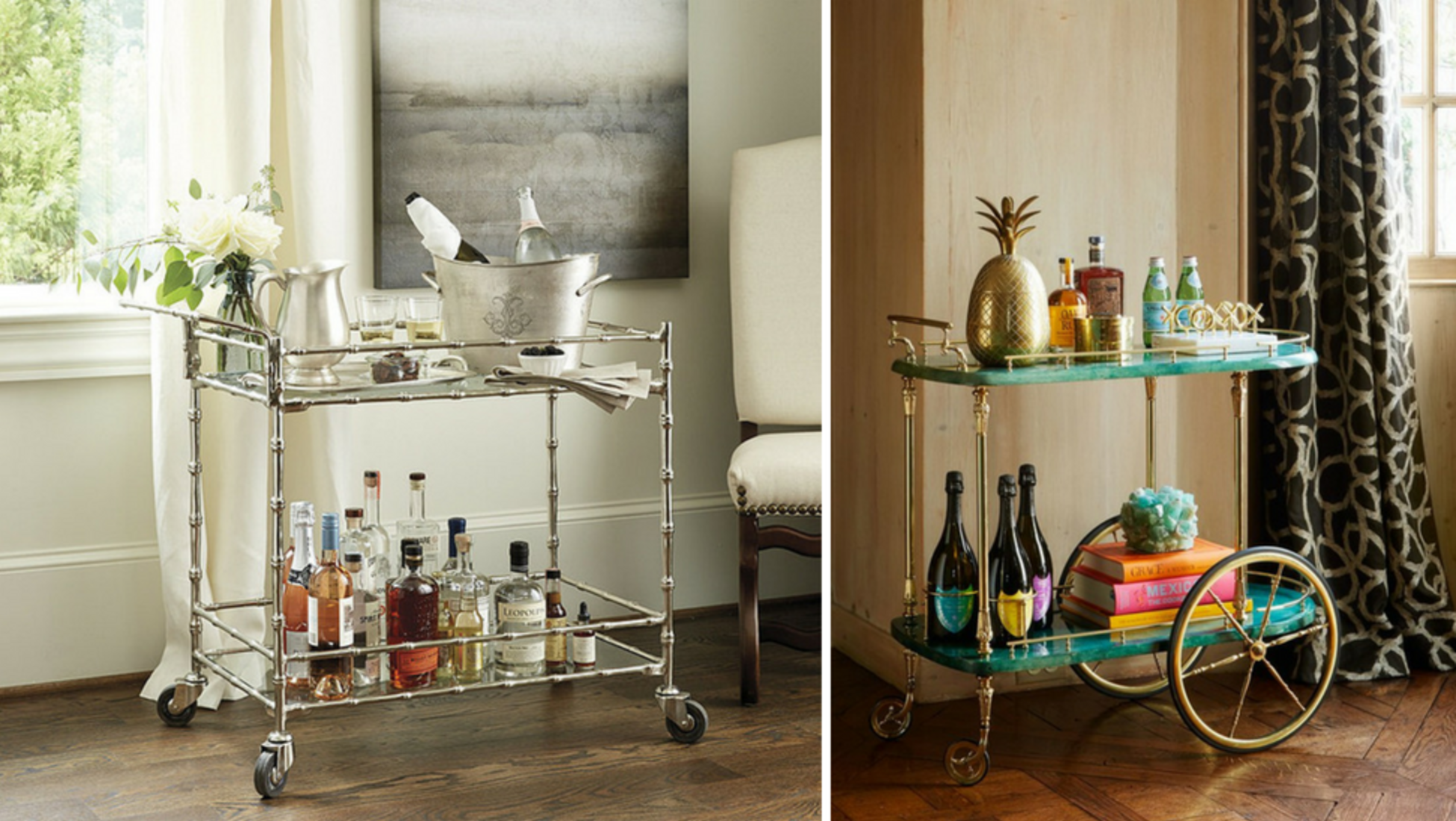 Examples of fully stocked & styled bar carts

Want your drink on the rocks? An ice bucket is not only practical, but can also be a very stylish addition to your bar cart. You could go for a simple silver bucket shape or take a more flamboyant route. The pineapple is a winner, and a classic ice bucket shape, but we've also had one shaped like a pomegranate and even like a knight's helmet up for auction. For a little bit of class made of glass, Murano has also made ice buckets.
Booze!
Now you have your cart and your accessories, you're almost set to get serve your drinks in style. There's only one thing missing: booze! Stock your home bar with the following essentials so you'll be able to make a wide variety of drinks: gin, rum, vodka, tequila and a couple of types of whisky. Invest in one or two bottles for special occasions. For a high-quality variation that's also beautifully packaged, opt for a Japanese whisky. Or if you're looking to impress friends with your whisky knowledge, stock up on Taiwanese whisky.
____________________
Fancy creating your own? Explore our home inspiration section. Or register as a seller.

Discover more bar trolleys | whisky | drinking glasses
You might also like:

How to style your home in Rustic Industrial

Bottoms Up! Why do we clink before we drink?

An Expert's Guide to Finding Great Cognac