Written by Tom | 20th November 2019
To the casual eye, bonsai is simply those small and gnarled potted plants, beloved by Japanese gardeners and Japanophiles the world over. But the word bonsai ('planted in a pot') denotes the art itself–a careful, precise and invisible artistry where trees are dwarfed in an extremely controlled manner in order to replicate the appearance of their much larger and older siblings.
It's an act of love and one that reflects some of Japanese culture's most integral aesthetic philosophies. In the spirit of this meditative and layered art form, we dug deep into the history of bonsai and how these little trees helped cultivate Japanese aesthetics.
Penjing to bonsai
While bonsai is in fact a Japanese art form, it originally derived from the Chinese art of penjing. The word penjing translates to 'tray plant' and it was around 706 C.E. that these containerised trees began making an appearance. Penjing is similar to bonsai in its creation of miniature landscapes, but where bonsai tends towards stylised single tree displays, penjing involves wild, dramatic landscapes with multiple natural features (rocky basins, tiny peaks) arranged on trays. These plants were often given as gifts throughout China, prized for their twisted appearances and size.
Penjing, however, was only introduced to Japan during the Kamakura period, when Chinese influence continued to permeate Japanese culture. This coincided with the introduction of Zen Buddhism in Japan and marked a pivotal moment in the evolution of Japanese aestheticism. Taken by penjing, the Japanese began growing their own trees; though these took on much simpler and elegant forms, inspired by the Japanese landscape which was smaller and altogether tamer than their Chinese neighbours'. Bonsai garnered mass appeal after the production of a play by aesthetician and playwright Zeami Motokiyo, who adapted the story of a samurai who burned his beloved bonsai tree to keep a travelling monk warm on a cold night. Fast forward a few hundred years to the 18th century and all social classes were growing their own bonsai plants.
In this period, an annual show in Kyoto began to take place dedicated to the art of bonsai, and around a similar time, a group of Chinese arts scholars congregated in Osaka to discuss the popular styles of miniature trees that were sprouting up. In order to establish these elegant trees as an art in their own right (and separate from the similar but deeper pot-based hachi-no-ki trees), the word bonsai was coined.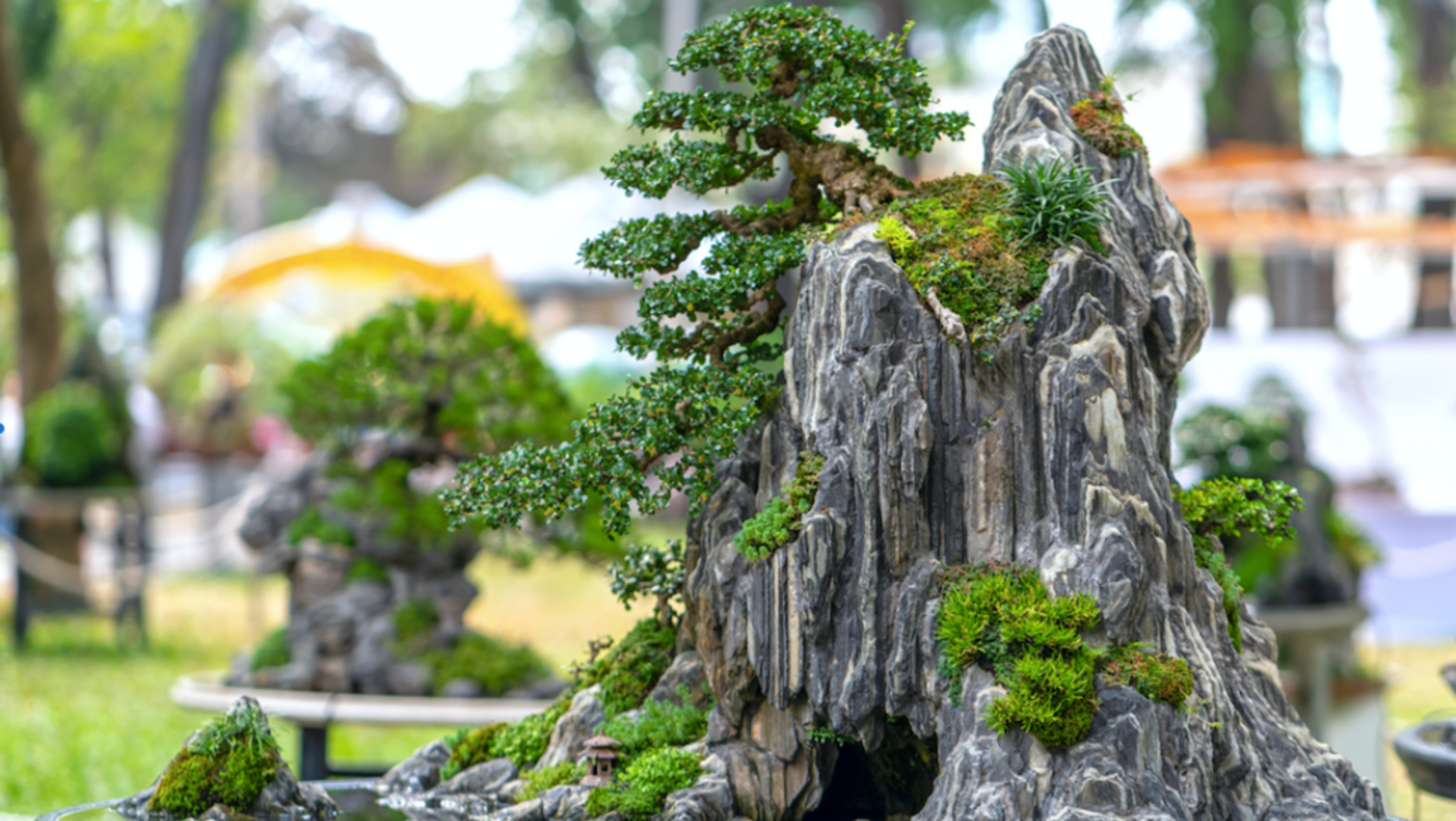 Penjing displays are wilder and more landscape-oriented than bonsai, complete with peaks and basins


Aesthetic principles
Bonsai trees are ruled by some strict aesthetic principles. While the ideal bonsai is a single tree, contained in a display, this tree needs to be shaped and designed in a way that its age is exaggerated. At the same time, there should be no visible evidence of a designer's work on the tree (no permanent markings that nature wouldn't otherwise form). They need to be a certain height and be balanced; not symmetrical (which is discouraged) but enough to provide an appealing shape. For instance, trunks shouldn't be too thin if their branches are thick. And once you manage to accomplish all of that, you just need to keep it up for years on end.
Wabi sabi
Bonsai plays a prominent role in Japan because it reflects and symbolises some of the country's core aesthetic philosophies. Formed from the tenets of Zen Buddhism, bonsai harnesses much of the faith's values. Growing a bonsai tree is linked to practicing diligence, restraint and discipline–it takes years (sometimes decades) of pruning and cuttings–which is why bonsai is considered an art more than a simple activity.
The philosophy of wabi-sabi is one example that is reflected in bonsai. Characterised by notions of imperfection, impermanence and incompleteness, wabi-sabi is a view that finds beauty in absence. Bonsai trees, with their gnarled barks, rough-hewn textures and twisted forms have a certain roughness and, some might even say, grotesqueness to them. With these trees, a branch that is slightly askew or misshapen doesn't detract from its beauty–it enhances it. Age is important too; where wabi-sabi finds beauty in transience, bonsai trees and their weathered looks help reinforce ideals of age and the irrevocability of time.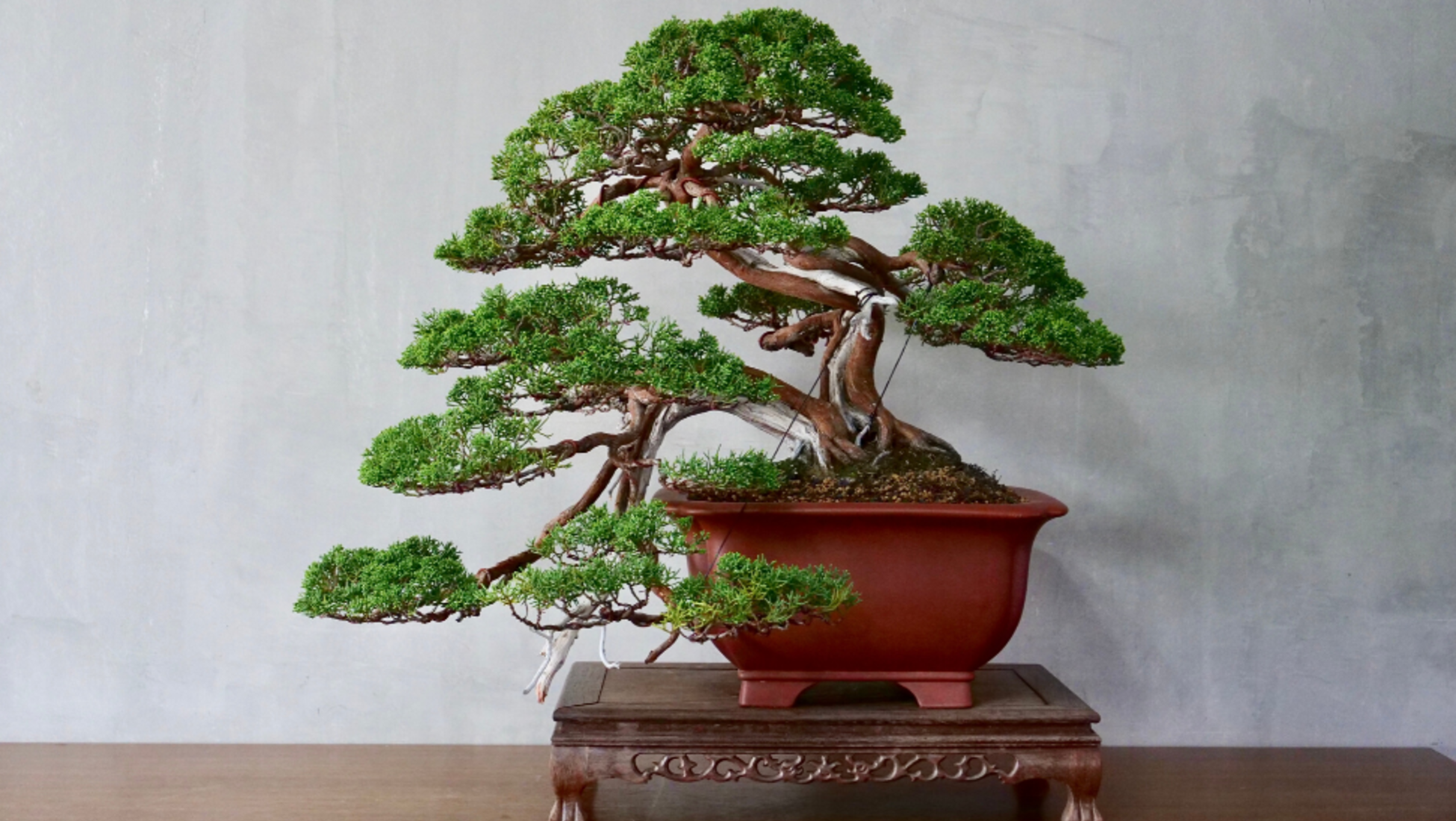 The twisted forms of bonsai trees are seen as a symbol of beauty rather than grotesqueness


Shibui/shibusa
Another aesthetic philosophy linked to bonsai is that of shibui/shibusa. A concept that centres on subtlety, shibusa is linked to unobtrusive beauty, the kind that isn't immediate or outlandish, but takes time to recognise. Strongly linked to shape and texture, there's a connection to balance–the harmony between restrained and recognised, softness and roughness, simplicity and complexity. Bonsai trees are a natural vessel for shibusa. In their tree form, they may look like simple miniature trees, yet years of constant pruning and attention are devoted to them (they're often referred to by owners as their 'children'). The pots the trees come in need to be pretty but not pristine, ornate but never overbearing–just pots, not perfect ones.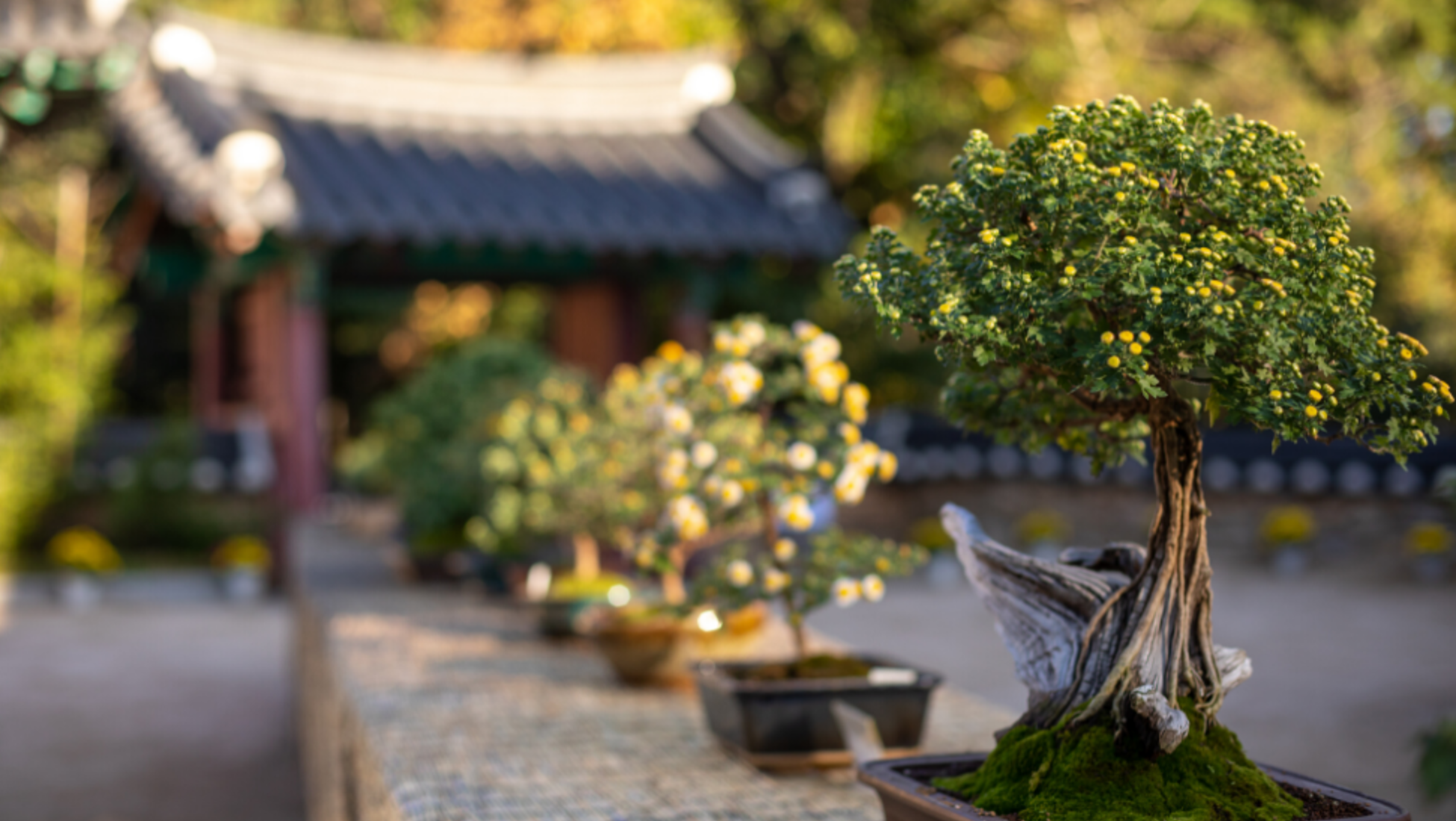 Bonsai trees are deceptively complex, which is considered to be another facet to their beauty
Bonsai is a dynamic art form and one that seamlessly blends horticultural skills with a bounty of Japanese aesthetics. It's a reflective practice and one capable of instilling mantras and attitudes that extend far beyond horticulture. Growing a bonsai tree is a labour of love, but as any bonsai enthusiast will tell you, it's a life of reward.
____________________
Explore our bonsai auction or register as a seller on Catawiki.
Discover more Plants & Bonsai | Interiors & Decorations | Asian Art
You might also like:
How to use antiques to take your garden to the next level

Everything you need to know about collecting Asian Art