Written by Tom | 19th May 2020
For many of us, our homes are becoming our workspaces. And while the romance of working from home may have disappeared, one thing that's always beneficial to have is a space we can be productive in. Whether you need quick design fixes, cosmetic touches or general organisation rules to live by, we've rounded up a few tactics to boost your efficiency at home in a heartbeat.

Follow the light
Sunshine isn't just great for looking luminous on Zoom – it's also proven to help you feel good too. Natural lighting can help boost your mood, alertness and productivity, so make carving out a light-filled space in your home a priority. Ideally, set up a desk close to a window which will keep your connection to the outside world and provide you with ventilation when you need it.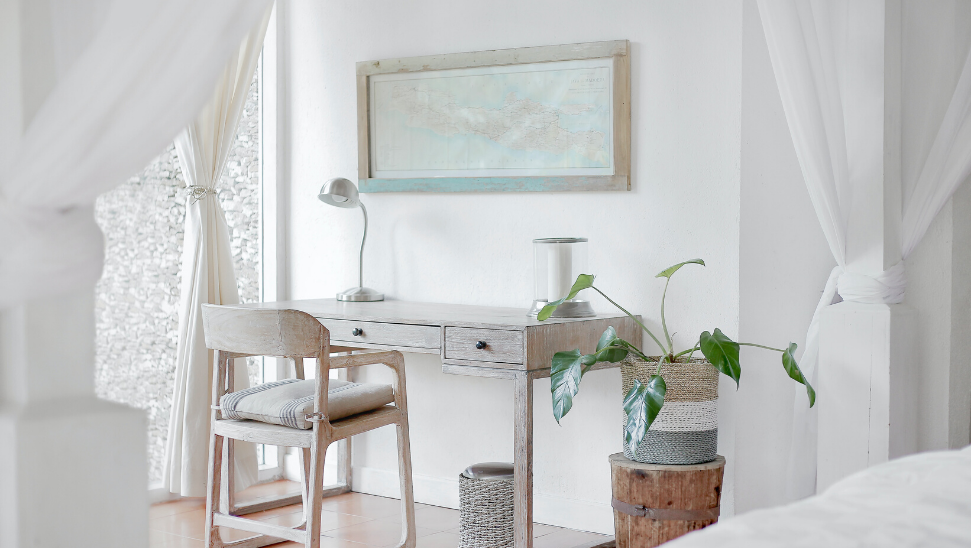 Bright spaces close to a window are said to have mood and productivity-boosting effects on you
Bring the outside in with a few pot plants or leafy friends for some extra visual appeal and company. If you don't have the option of working by a window, consider investing in a light simulation alarm that mimics natural light, or some dimmable lights that you can adjust based on your mood and needs. One thing's for sure – you won't be missing that office lighting.
Design for your body
Modern offices often come equipped with a range of features that cater to everybody's ergonomic needs, from standing desks to adjustable office chairs. At home, it's possible you were busy (and rightly so) investing in that lamp or sofa instead, but now's the time to reconsider whether your living space is set up for office work
There are plenty of affordable office chair options from major home retailers that will support your arms and back to avoid that post-workday ache. If you're worried about an office chair jarring with your aesthetic, we're with you. Instead, try a cushion on your normal chair or a memory foam one if you're willing to splurge a bit more. A footstool or computer stand can help mitigate a chair or desk that's too high or in the way.
Declutter and organise
Coming home to a hallway or console table groaning under stacks of leaflets and unopened letters is a familiar sight but now that your home is your office it's time to declutter. This means creating proper storage systems or simply stacking work documents and loose items away from your desk.
Create clever and stylish storage systems by building around your desk
Keeping your desk tidy and free from loose paper and clutter is an easy trick to help declutter your mind and focus on the work at hand (otherwise you might just find yourself thinking about tidying it all up during another video call). And don't just move your work paraphernalia– hide it. Out of sight is out of mind and it's especially important when you're trying to set boundaries between your work and home life. Keeping work hidden is a good reminder to tap into it when you need to and to tap out when 5 o'clock calls.
Amp it up
We've touched on brightness and plants, but go a step further and give it a good lick of colour too. It could be in the form of prints and posters, desktop memorabilia or painting a desk or wall in a well-chosen shade (restful blues and greens are said to help focus) but whatever you pick, it should be there to motivate you and help work feel a little bit less like, well, work.
Just because you're here to work, doesn't mean you can beautify it a bit
Forgo perfection
Whatever you decide to do, remember that your home is your home and it's important to treat it as such. Create boundaries and room to work where you can, but make sure you apply the same rules to your personal time too. Work gurus and the like champion the importance of breaks but arguably the trick is to make them meaningful.
All these tips are subject to each individual and what works for one person may not for another. But when you're selling from home one rule is always worth remembering – there's no perfect workspace, just make it work for you.
____________________
This is part of our regular series on how you can optimise your sales on Catawiki. If you're feeling ready, get started on uploading your lots!
You might also like:

Selling from home: how to boost storage quickly
Selling from home: your guide to creative packaging
Selling from home: how to sell in an eco-friendly way