Written by B | 18th June 2020 | Updated June 13th 2022


LGBTI+ people have loved and collected dolls for just as long as heterosexual cisgender collectors, but gay dolls have traditionally occupied an extremely niche section of the toy market. From curiosity to mainstream staple and highly valued collectables, this is the evolution of the gay doll, including the rise and rise of Ken – or at least Earring Magic Ken as he's known in some parts.
Creating the first gay dolls
In 1977, a former advertising executive named Harvey Rosenberg created the first openly gay doll: Gay Bob. Standing 13 inches tall, Gay Bob wore flannel, tight jeans, cow boy boots and had a piercing in his left ear. He was sold in a cardboard box designed to look like a closet, along with a leaflet detailing his other outfits, and collectors even had the option to purchase a second Gay Bob at a reduced price. Gay Bob's coming out was met with a mixed reception. While some fans were excited to add a new, relatively rare, doll to their collections, others were quick to deride Gay Bob as "gay propaganda" and conservative commentators voiced concerns that Gay Bob would lead to children viewing homosexuality as a normal part of life.
There were a number of factors that marked Gay Bob as an adult-only doll. For a start, Gay Bob had genitals – in contrast to the famously smooth crotches of Ken and G.I. Joe – and he was sold almost exclusively through gay mail-order magazines. At the time, homosexuality was still illegal in many of Gay Bob's markets and while owning a gay doll was not illegal, many considered homosexuality to be a taboo topic for children. This adult aura destroyed some of Gay Bob's allure for collectors, as the limited audience meant that Gay Bob lacked the friends, houses, outfits, pets and flashy cars of popular dolls like Barbie.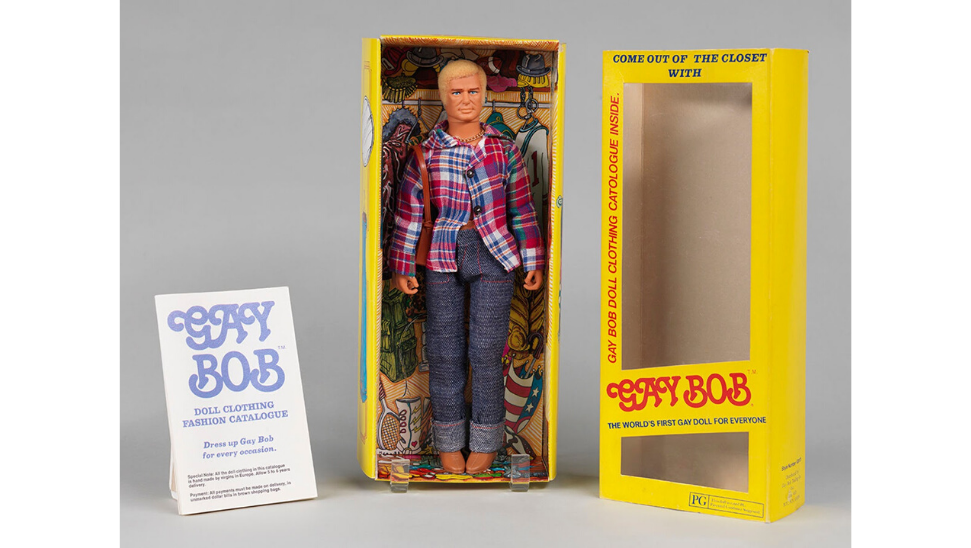 Gay Bob with his clothing catalogue and closet box


The doll that accidentally became a gay icon
The various attempts to create and market gay dolls to the gay market were met with some success but they missed out on the mainstream appeal that many doll collectors covet. A doll can be a reminder of childhood or an unfulfilled childhood dream – something that gay dolls marketed for adults are immediately excluded from. Doll collectors also form their own communities, excitedly updating their fellow enthusiasts on the latest doll to join their collection and sharing tips such as tracking down Sunset Malibu Barbie's pink sunglasses or a 1968 Twist n Turn Stacey doll. Once again, collectors of gay dolls have a much smaller community and so are limited in the camaraderie that a doll collection can bring. All of this goes some way to explaining the phenomenon of Earring Magic Ken.
In 1993, Mattel introduced the Earring Magic Barbie line: six dolls, all with "cool" piercings and matching human-sized earring for their owners to wear. Earring Magic Ken was supposed to be one of a crowd, an appropriately cool boyfriend to chauffeur Earring Magic Barbie around town and hang out by the Wet 'n Wild Barbie pool. Ken's new highlights, his lavender mesh vest, the earring in his left ear and the fact that he wore a silver circle charm around his neck (similar in appearance to a popular sex toy) meant that Earring Magic Ken was quickly hailed as a gay icon and rapidly eclipsed his girlfriend (who hopefully found love in the arms of one of her other Earring Magic friends).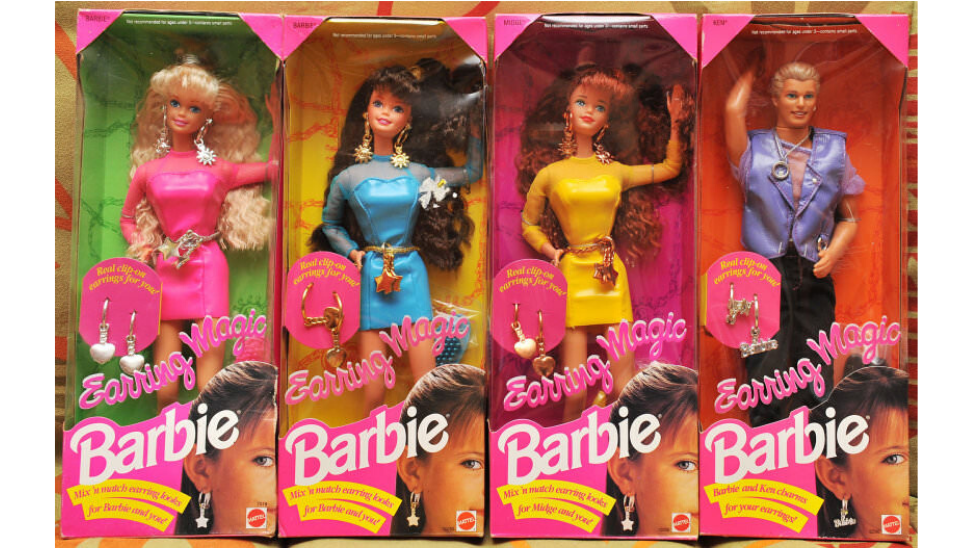 The Earring Magic Barbie line, featuring Earring Magic Ken and his lilac mesh shirt


It wasn't until 1997 that toy creators attempted to remedy the lack of accessories and friends that accompany more successful doll lines. Billy doll was created by a pair of artists, John McKitterick and Juan Andres, who wanted to draw attention to social issues that disproportionately impact the LGBTI+ community: gay visibility, safe sex, AIDS research and the need for diverse voices. The Billy doll line catered to a much broader audience than the Gay Bob dolls: Billy had a Puerto Rican boyfriend and an African American friend, he had coming out parties at exclusive (human) clubs and a dance music album, he appeared in galleries and science museums, and had a number of legal disputes. In 2004, McKitterick and Andres announced that the Billy dolls had performed their original aim of raising awareness and that the line would be discontinued.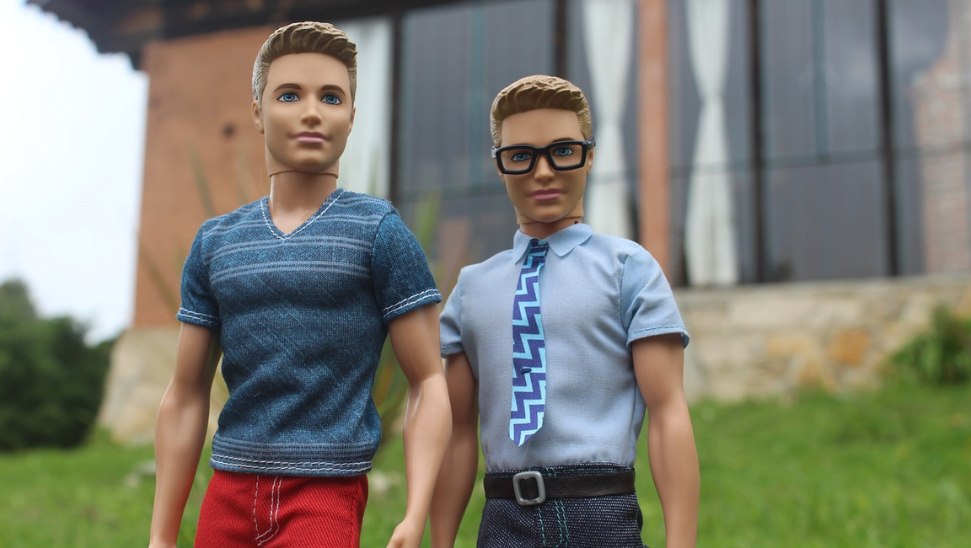 Ken has become something of a gay icon, at least in the toy world


Entering the mainstream
Even if Earring Magic Ken wouldn't have looked out of place in a gay bar, why were LGBT+ collectors so keen to claim him as one of their own? Especially when we consider that out-and-proud gay dolls like Gay Bob and Billy already existed.
To begin with, there's the issue of acceptance. Homophobic stereotypes that LGBTI+ people (especially men) are predatory towards children or that homosexuality is somehow obscene, meant that for a queer man, collecting dolls carries an extra stigma. Marketing gay dolls only to adults compounded this stigma and it's understandable that many LGBTI+ people would prefer to distance themself from those associations by focusing on mainstream dolls. The rise of Earring Magic Ken helped to combat these stereotypes, proving that a doll being queer needn't damage its commercial appeal. Similarly, enthusiasts have taken glee in retroactively identifying gay dolls, such as the dolls of celebrities like wrestler Darren Young, actor George Takei, singers Lance Bass and Jonathan Knight, which helped to further see gay dolls in a new light.
Recent years have seen a number of toy companies pick up on this tension and work to be more inclusive. In 2017, Mattel officially gave Barbie a girlfriend, Aimee, followed by the brand's first gender-neutral doll in 2019. And in 2020, U.S. department store Kmart released a line of gender-mixed and gender-neutral doll families. It's a positive move for doll collectors of all sexualities. A greater diversity of dolls creates more choice and LGBTI+ collectors no longer have to choose between collecting toys that they identify with and limiting the enjoyment they can take from the wider collecting community.
____________________
Check out our latest doll auction or register as a seller with Catawiki.
Discover more Toys | Dolls & Bears
You might also like:
A history of Star Wars in three toys
Why you should start investing in vintage toys