Written by Mariam Arcilla | Published on 2nd December 2021
We spoke to pioneer French journalist, curator and Beaux Arts magazine Editor-in-chief Fabrice Bousteau to discover how his approach to storytelling and creativity is anchored by endless curiosity.
Crossroads of creativity
"I have always been a journalist at heart," says Fabrice Bousteau, who describes his passion as "curiosity taken to the level of professionalism." Growing up in the small provincial town of Chaumont in Haute-Marne, east of Paris, Fabrice developed an interest in capturing overheard conversations between students and teachers at the school playground: "I wanted to write down what each of us were saying, mostly about what was going on in our lives," he recalls. The desire to put stories to the page led Fabrice to establish a school newspaper during his high school years: "I investigated, wrote articles, and asked my friends' opinions on current affairs."
Today, Fabrice is one of the most revered figures in the Western art world, having carved out a polymathic career as a journalist, curator, book author and arts editor — a feat that earned him a Commander of the Order of Arts and Letters award from France's Ministry of Culture in 2019. Best known as the Editor-in-chief of leading arts and culture outlets Beaux Arts magazine, Quotidien de l'Art, and Beauxarts.com, Fabrice is currently headquartered at the Beaux Arts office at Boulevard de la Madeleine in Paris, where our interview takes place. The inimitable Frenchman credits his career success to his ability to be at the "crossroads of creation and thinking" by bringing the public in congregation with new ideas and the emerging artistic talent behind them. A rewarding aspect, he says, is the "opportunity to meet young artists who aren't renowned yet," and to enjoy watching their careers rise.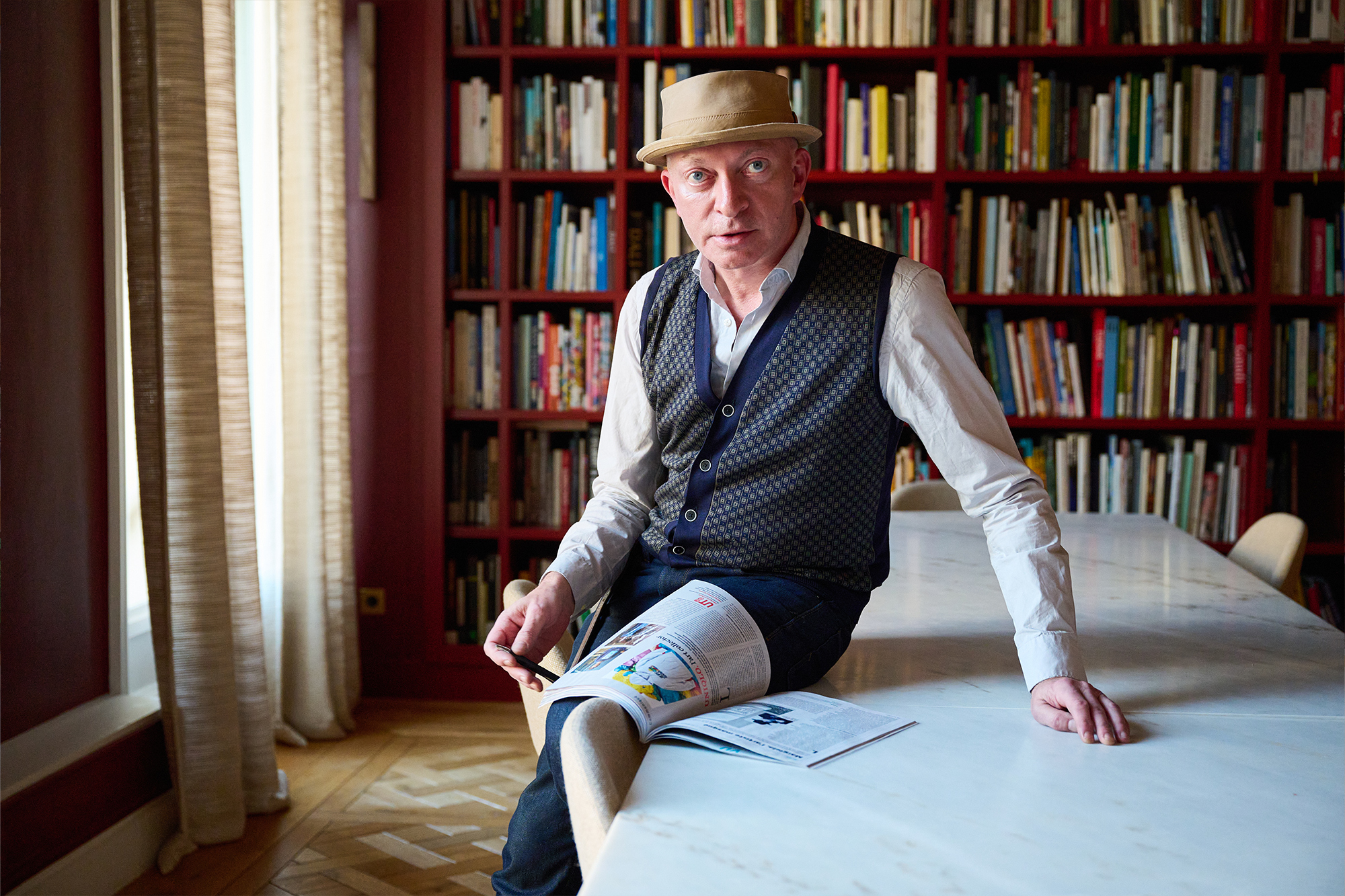 Fabrice Bousteau, Editor-in-chief of Beaux Arts magazine
Equally delightful is the feedback Fabrice receives from people who consume his trio of publications, especially readers who write letters or stop him on the street to inform him of articles that gave them a new perspective. "People would say to me: 'thanks to you, I discovered a universe that was completely unimaginable for me'," he exclaims fondly. "This is the most fulfilling reward, because it is about knowledge and sharing, and these are the principles—the very foundation of humanity."
From Fellini to the Modern Art world
It was during his first-time visit to Centre Pompidou, at age 15, that Fabrice first fell in love with art. He remembers coming across a filmic retrospective by Federico Fellini and the "amazing architecture of [Renzo] Piano and [Richard] Rogers." His awe continued at the Museum of Modern Art, where he was captivated by [Wassily] Kandinsky's seminal 1910 work Improvisation 14. The abstract painting "gave the feeling that the shapes were moving; that they were dancing," he remarks, "I realised that thoughts, movements and enjoyment could emerge from shapes, from a painting—from something that is two-dimensional."
Throughout his career, Fabrice stayed true to his fervour to combine discovery, discussion, and the distribution of those ideas through writing and curatorial roles. Fabrice steered the Abu Dhabi Art curatorial program for seven years and has profiled countless internationally-renowned artists across the years, including Xu Bing, Martin Creed, Shilpa Gupta, Angelica Mesiti, and Raqs Media Collective. In a 2016 interview with The National News, Fabrice compared curating to being a DJ because "we have to select artworks that create a song for the audience and a rhythm."
The 333rd painting
Interestingly, it's this rhythmic belief that led Fabrice to collect art himself. Deciding to buy a Joseph Crépin painting at the FIAC International Contemporary Art Fair became, for him, a pivotal moment. During a television interview at the fair, Fabrice was asked to discuss five of his favourite artworks on show. This propelled him to relay Joseph's remarkable life as a plumber, whose short but prolific painting career began late, during his 60s. "As I was telling the story, I told myself, 'why don't I buy this painting?' And so I bought it. And that was an eye-opening moment in my life as a collector."
Recounting the tale, Fabrice explains that a few months before the Second World War, Joseph started to hear voices in his head summoning him to create 300 paintings. Voices that promised the Frenchman that "the world would be healed" once this mammoth series was achieved. "Joseph finished the 300th painting exactly on the day of the armistice, which he could not have foreseen," Fabrice says with bewilderment. "When a bomb hit a building, the only flat in the building that wasn't destroyed was the one that had a Joseph Crépin painting hanging on the walls." The spiritually-tapped artist continued to paint until his death, under the guide of these voices. Fabrice pauses, before revealing: "I have his 333rd painting at home, which I don't move."
Beaux Arts
As the art world delves deeper into hyperdigital arenas — holographic exhibitions, metaverses and NFTs abound— Fabrice recognises that, for his publications to continue thriving, he needs to remain at the forefront of emerging technological trends. "Beaux Arts has always adapted itself to the digital world, step by step, bit by bit, pixel by pixel," he says proudly. For instance, Paris lays claim to being the city with the most-staged exhibitions in the world—more than its New York and London counterpart—but it is not without its setbacks. A constant clash of art calendars means Fabrice is "always running from one exhibition to the next...I can't even see 10% of the shows!"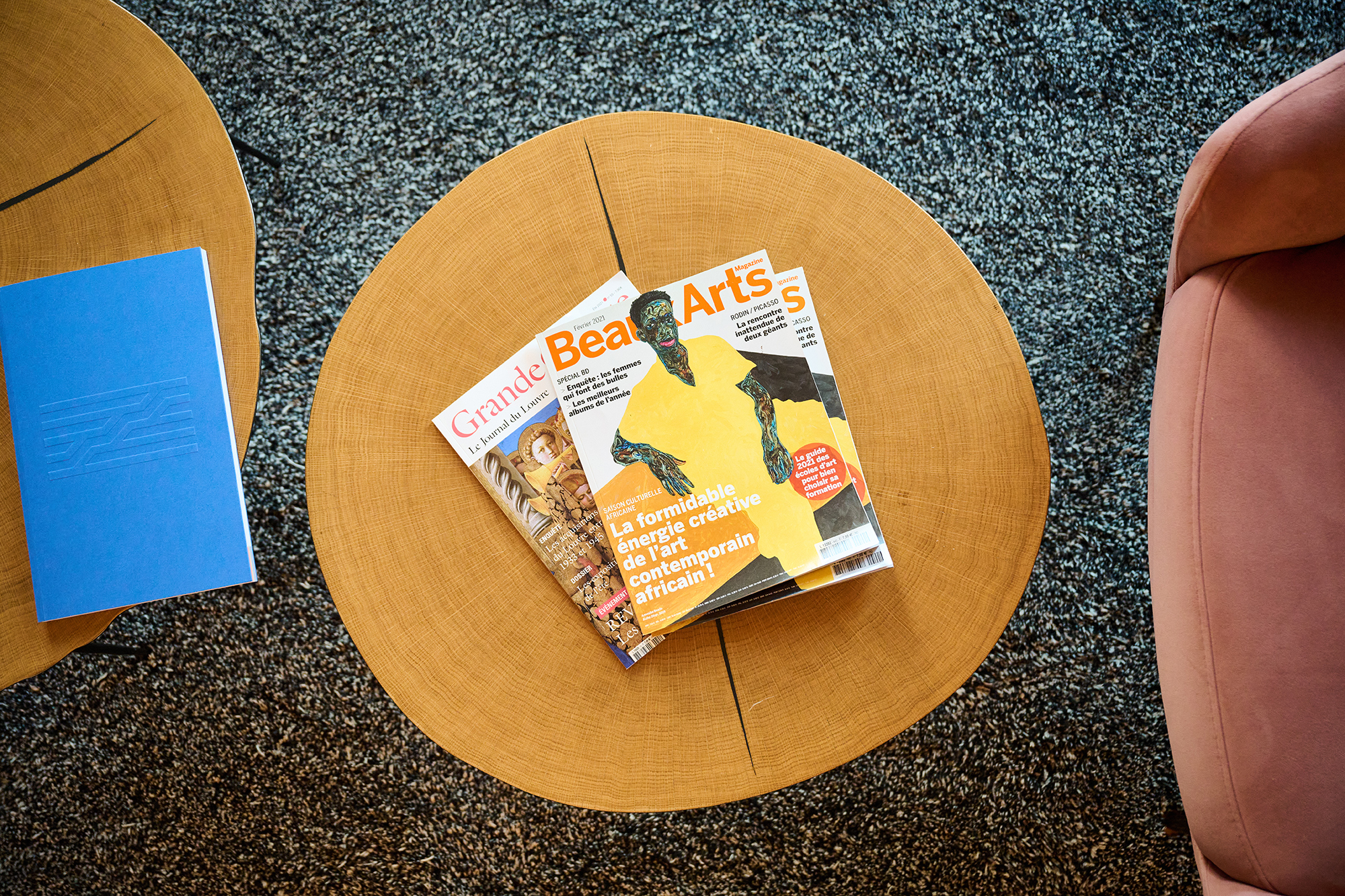 Copies of Beaux Arts magazine
To counter the geographical limitations, Beauxarts.com introduced "a video memory of all those exhibitions, in very short formats, to allow as many people as possible to see them, but also to take an interest in them in a context where we are faced with such a colossal flow of information and we have to adapt." This flexibility is especially vital for collectors, critics, and art lovers because "we are required to be everywhere, because the flow of information considerably increased; the number of exhibitions and of artists considerably increased."
As a trailblazing outlet, Beaux Arts continues to explore thoughtfully-crafted stories through ventures like creative partnerships. In late 2021, Beaux Arts teamed up with Catawiki to launch the Roaring 20s' auction, which takes its namesake from the cultural and industrial revival that arose in Western society during the 1920s after the World War. "Given the unique characteristics of Catawiki—having such a wide range of objects offered on the platform—this could create a common thread, linking the 1920s to the 2020s," Fabrice posits.
The Roaring 20s
The 1920s, particularly in France, was an invigorating decade referred to as 'années folles' or the 'crazy years' that gave way to a slew of visionary trends and ideas. Optimistic and future-focused, Catawiki's 'Roaring 20s' theme, then, is inspired by the notion that, "after all that we have been through [with COVID]," Fabrice predicts, "we are going to perhaps witness a new period of creativity." As we edge out of a post-pandemic climate, he welcomes a forthcoming time of "limitless creativity, excitement, and enjoyment," where—much like the post-war boom that heralded change and growth—people will begin to realise again "that anything could happen, that everything was possible."
Speaking of time, Fabrice reveals that the auction theme inspired him to have newfound appreciation for a special object in his personal collection: a 1970s antique Longines watch he bought from an antique dealer a decade ago. "It's called a 'mystery hand watch'," he beams, "which means that when you look at the dial, it's very flat, very beautiful, very thin—with little blue dots of light that are visible. I bought it from an antique dealer about ten years ago. And actually, reading the time on it does require some effort! The watch hands are a bit strange, so you really need to project your own mind in order to be able to tell the time." He sagely adds, "That's a true paradox: to have to take time to find out what time it is."
Towards a digital world
In paradoxical fashion, Fabrice muses that the contemporary world has been, for several years now, "living in two worlds at the same time, not parallel — but simultaneously—in a digital world and in the real world," he says, exemplifying that "while I'm talking to you, I can also read a text message or send an email." In an increasingly digital-dependent era, where online realms and the real world rapidly collide and intersect, Fabrice relishes in the coexistence of being able to "switch from [purchasing] a book or a work on paper to a virtual work of art" and "from buying in a physical shop to purchasing on a digital platform." This is why, Fabrice says, "online sales will continue to dominate the consumer world post-pandemic."
Looking ahead, Fabrice believes technology has the capacity to be a change-agent for a better future. While the climate crisis continues to be an urgent global concern, it's important to still reach for tangible hope. The good news, he says, is that "scientific research is so exponential, that the energy, the quantum universe is so disproportionately important today, meaning anything can happen in terms of technology. It could happen that we may suddenly discover a connection with extraterrestrials who would also happen to be art collectors and even artists!" Evoking the child-like curiosity that turned him into a cultural icon, Fabrice's piercing-blue eyes brim with hope: "I look at this world like a child, and I think that we should never lose this attitude of the smiling child— always hoping for anything possible to happen while being able to imagine the worst."
About the author
Mariam Arcilla is a writer, editor, arts marketer, and creative producer based in Sydney, Australia. Since 2006, she has collaborated with artists and institutions to turn radiant ideas into exhibitions, publications, dialogues, and resources. Mariam has held senior roles in artist-led initiatives, museums, galleries, creative agencies, and government departments. She currently works at 4A Centre for Contemporary Asian Art, a leading Australian arts and culture organisation that elevates Asian voices through cross-cultural programs, research, and advocacy. More info: http://mariamarcilla.com/


____________________
Relive the Roaring 20s with our dedicated Interiors & Decorations auctions.
Discover more Interiors | Design & Vintage
You might also like:
The state of contemporary design, as told by the designers shaping it
A brief history of Dutch Design
The changing world of photography through the lens of a gallery owner