Written by Tom Flanagan | 21st June 2022
We predicted craftsmanship would be one of the biggest trends of the year as more and more people revert to handcrafted, quality goods over mass-produced ones to style their homes. Craftsmanship though, is more than just using traditional methods to design; it's also about establishing a closer more tangible relationship to the things we own. To understand this more, we spoke to crafter and seller Cristina Vallejo about her journey with crafting goods and why all of us can learn a little something from the handmade.
You've spent a lot of your time and career working with traditional crafts such as weaving – what drew you to these in the first place?
I spent my childhood traveling by car around Spain with my family. We used to stop in the villages to learn about their customs, about their crafts. Those experiences and what I've learned about my country's rich and varied culture have remained in my memory.
One thing you've spoken about in the past is daily objects and their relationship to memory, emotions and humans. Could you expand on what you mean here?
I am interested in everyday objects, the relationship we establish with them, the value that each one assigns to them, how they form part of our lives, how we identify with them or not. Objects must communicate and convey emotions. With the current speed of consumption, there is no time for the objects to generate a story that prevails in the user's memory. My intention is to offer durable products that allow us to use them for a longer time.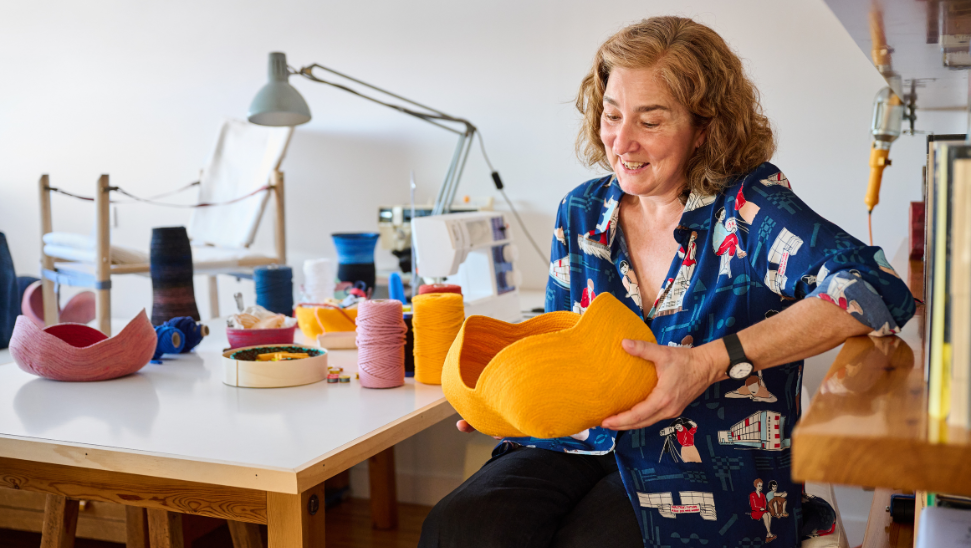 "Objects must communicate and convey emotions", says Cristina.
I believe that handmade objects are capable of reaching people in a deeper way, of transmitting beyond what we perceive with the naked eye. In a digital and globalised world, they allow us to recover what is close, what is tangible, what is different, they connect us with our place, with our history. Craftsmanship implicitly carries the accumulated experience of years of development that connects us with our past, with our memory and makes our bond with the resulting work greater and more lasting.
You've commented on the relationship between your experiences and the designs you create – do you believe all design is personal?
Design is analysis and synthesis. It means observing what surrounds us. It implies looking at the world and being alert to detect needs and to ask questions in order to make us reflect. In my opinion, that way of looking is personal.
There's an increased focus on craftsmanship in the design world – why do you think that is and do you think craftsmanship still has a role to play in a fast-modernising industry?
In an increasingly virtual world, crafts allow us to form close relationships, to experiment a tangible reality. Handmade work brings us closer to the human scale. But it also allows us to recover the awareness of time, and therefore to stop and reflect. Besides, in a globalised and fast-consuming world, craftsmanship offers us individualised, unique work.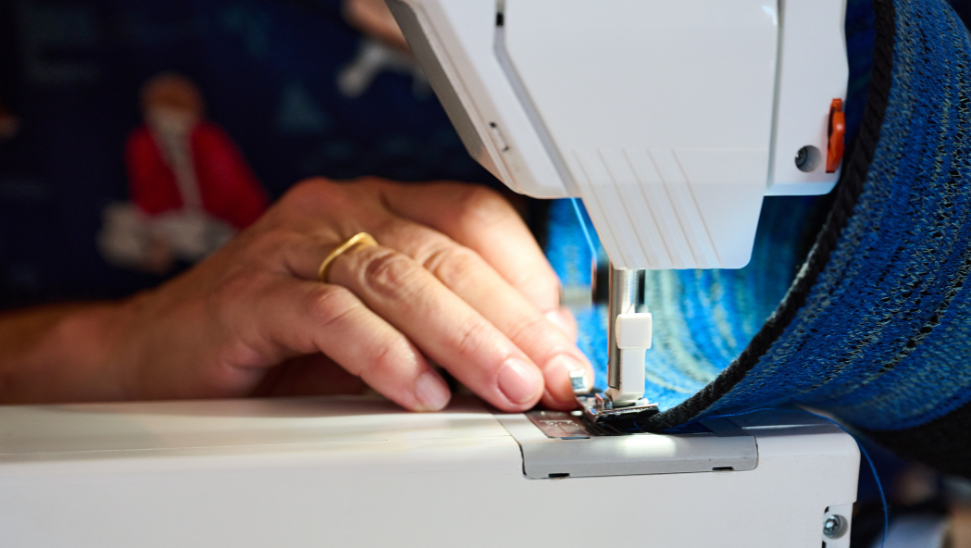 Buying craft is a way of placing yourself in a specific cultural context and enabling an appreciation of a history or culture that needs preserving.
Crafts are associated with the material. Material that has palpable expressive qualities but also immaterial that has to do with what they transmit to us regarding the place, our history, time, work, a type of ethical consumption. These immaterial values ​​of artisan work are what draw/grip design an even art.
Incorporating aspects of craftsmanship can suppose a position in the current world, a form of protest, an intention, a critical attitude. Material culture has importance by conveying conceptual or critical content.
What do you love about craft and design?
Craftsmanship is closely connected with the material, with its environment, with a slow pace and a more human scale. It is capable of providing that immaterial value to the design object, and therefore manages to connect with the user in a deeper way.

I enjoy working with my hands. I need to touch the material, feel it to transform it. I am interested in the dialogue that occurs between it and the manual process. Handwork is slow. That time involved in the process allows me to listen to the material, to know its qualities to get the best out of it. This proximity is embodied in each piece.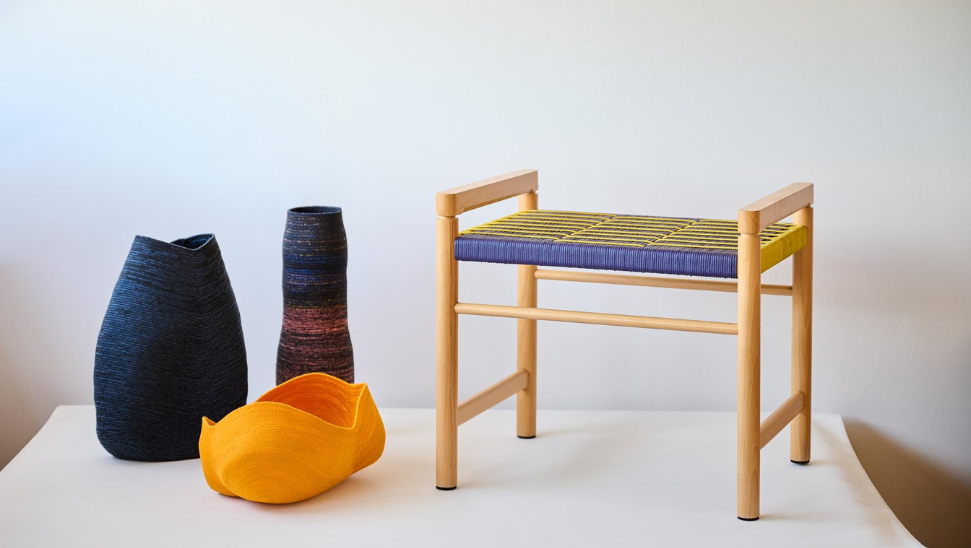 Design is beautiful but also a choice that reflects how we look at the world.
Design is everywhere, wherever we look we will find something that has been designed by people to make our lives easier. But I am interested in design not only as a tool with which to generate functional objects, but also as an attitude, a way of looking at the world to reflect and generate debate in order to add meaning to it.
Could you tell us about the inspiration behind your business Elsur?
ELSUR emerges as a common place for things that I like, that interest me, such as design, everyday objects and the Spanish culture. Most of my products are reinterpretations of others that have traditionally been made in Spain. My intention is to offer a new and current way of looking. I would like to be able to reach people with my products in a deeper way. I want to offer quality, unique and durable products.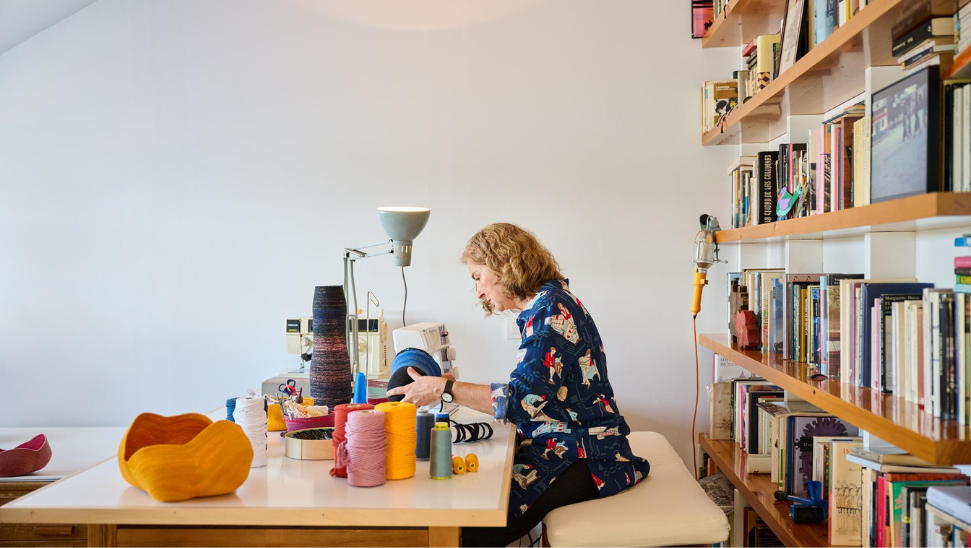 Communicating the story of her product is equally important as the object itself, according to Cristina.
I would also like the story behind each product to capture the attention of users in such a way that they would like to have them close in a special way and permanently. I would love to communicate, through what is in the manual process of the object, part of the history and the place where I live.
How did you become involved with online auctions and how has it impacted your business?
In October 2021 I was invited to participate in the Lake Como Design Festival showcasing the RSC armchair that I have designed. The festival collaborated with Catawiki in an exclusive auction in which all the products on display were put up for sale. Since then I have participated in several auctions, all related with crafts and contemporary design.
For me, Catawiki is an open window to the world, it is an opportunity to reach a very large number of clients in a very short time. To make my work known to clients around the world. I think it is a new sales channel that takes advantage of new technologies and a new audience used to buying online. Also from a public interested in collectable design products, in unique pieces. On the other hand, it's also a way to meet new designers, to keep up to date with new proposals that allows me to learn.
Finally, for anyone who's less familiar with craft or design in general, what would you say to encourage them to support traditional and local crafters?
I would encourage support for both traditional and contemporary crafts. Both are necessary and complementary. Craft is conveyed through the materials, the mastery of their crafting, the environment, and time. Craft establishes a connection on a deeper level between the craftsperson and the object itself.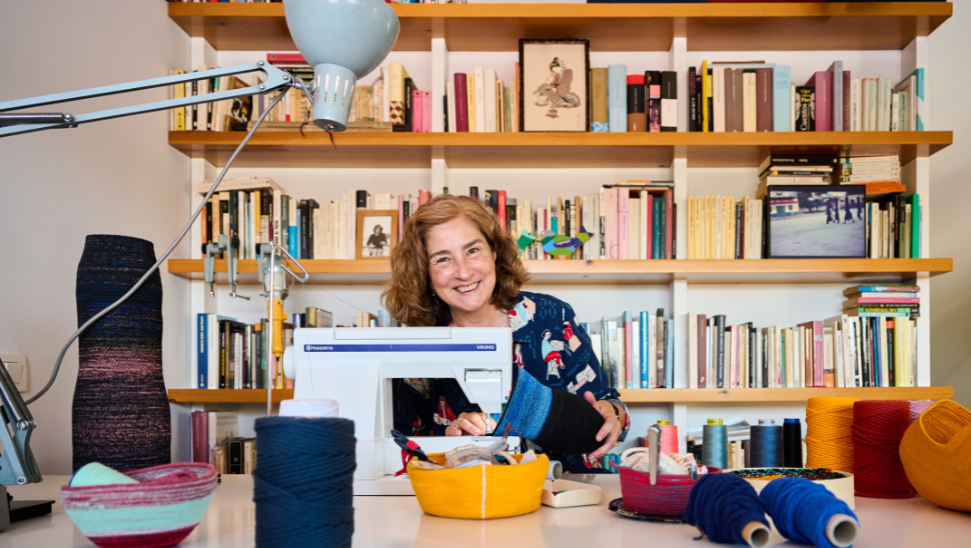 To Cristina, craft is about connection.
Craftsmanship could be understood as something well done, which can be extended to many fields, and therefore craftsmanship is valued not only for the result of the object but also for its impact on our lives. In some way, whoever buys handicrafts becomes a custodian of the culture of the place, the one that singles us out and identifies us.
_________________
Explore handcraft in our latest Design auctions, or register as a seller in these categories with Catawiki.

Discover more Design & Vintage | Interiors & Decorations

You might also like:
How to style your home in Modern Craft
How to style your home in Decorative Salvage
Breakout trends from the contemporary design world