Written by Tom Flanagan | 18 October 2022
Rugs have been around for thousands of years and remain one of the most enduring aspects of any home. The original floor piece and an easy way to pull an entire room together, they're also sensible additions to any energy-conscious space for their warmth and durability. Expert in Rugs Richard Ebbers and Senior Category Manager for Interiors Anna Denise Floor lend their expertise to the essential guide to decorating with rugs.

Rugs are a regular feature in homes the world over and for good reason: they're stylish, varied, soft (mostly) and warm. For each individual, the draw of rugs will differ but the appeal remains.
"I see it as a piece of art on the floor", says Senior Category Manager Interiors Anna Denise Floor. "A rug is beautiful, but also very practical and lasts a long time. It can give any space a clear identity and atmosphere. As 'The Dude' from The Big Lebowski said "it can really tie the room together".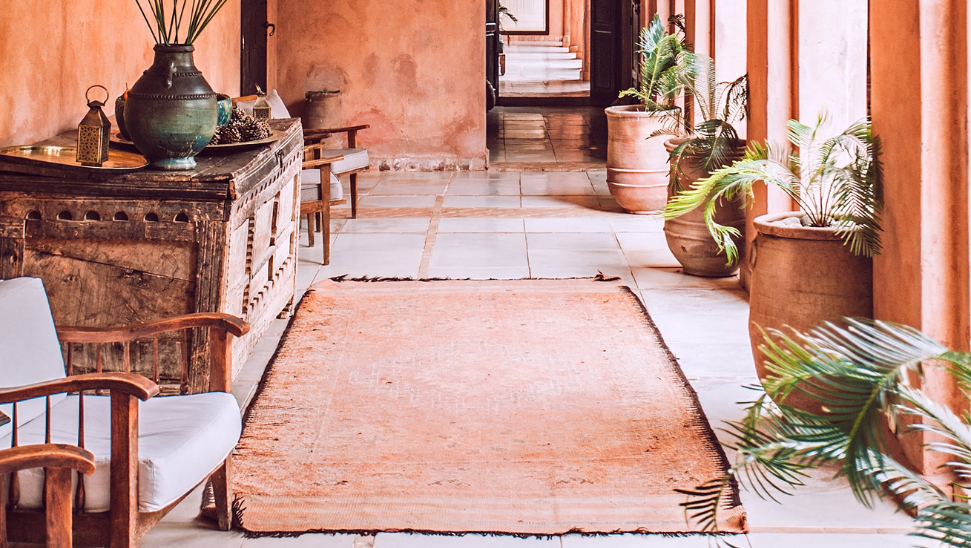 A rug isn't just a floor piece – it's a piece of art
"A rug is comfortable as well, especially in the colder months. With global warming and gas prices on the rise, a rug can help you insulate your room and keep it warm for longer. Not only will your feet thank you, your energy bill and the planet will as well".
The origins of rugs
Rugs date back to ancient Persia, though the world's oldest carpet suggests that rugs predate even this. "The Pazyryk carpet is the oldest-known carpet in the world and is now on display at the Hermitage in St. Petersburg," says Richard. "It was found in a tomb in the Altai Mountains in the late 1940s, however, it was knotted around about 500 BC".
"This was by no means a simple design. The rug is finely knotted at about 360,000 knots per square metre with a beautiful geometric design. Because this is already such a sophisticated carpet you can assume that carpets have been knotted for much longer. But little is known about that. Older rugs have not yet been found".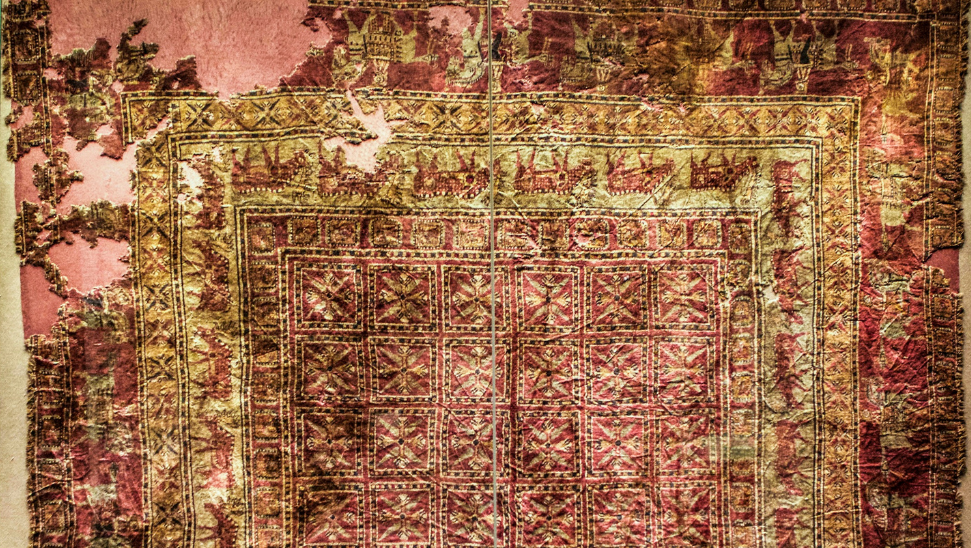 The Pazryk carpet is the oldest in the world. Wikimedia Commons.
Fast forward a few centuries to the late 19th century and it was Persian rugs that made a splash in Paris – then already competing for the title as the global capital of style.
"Persian carpets started featuring at world exhibitions such as the one in Paris. And people fell in love with these works of art. A handmade rug became a must have for the upper class in Europe and later in the USA. European companies like Ziegler&Co and Petag started their own carpet workshops in the then Persian cities of Tabriz and Arak. From that time on, the Persian hand-knotted rug (as well as Turkish, Chinese, Armenian) became an unmissable part of our interiors''.
How to pick a rug
Rugs are there for comfort and to beautify a room, but picking one that's suitable is often a deliberation. Richard explains that it's all about knowing your space and your taste.
"There is no arguing about taste and there's a huge range of choices to cater to each particular one. Whether that's high-pile berbers, woven kilims or sleek modern designs. Ask yourself what is beautiful in my home? That's a question everyone will answer differently. My main tip: start with the size of the rug. It sounds very clinical, I know, but it's so important as it will dictate the style of your space and how much you want your room to be led by the rug.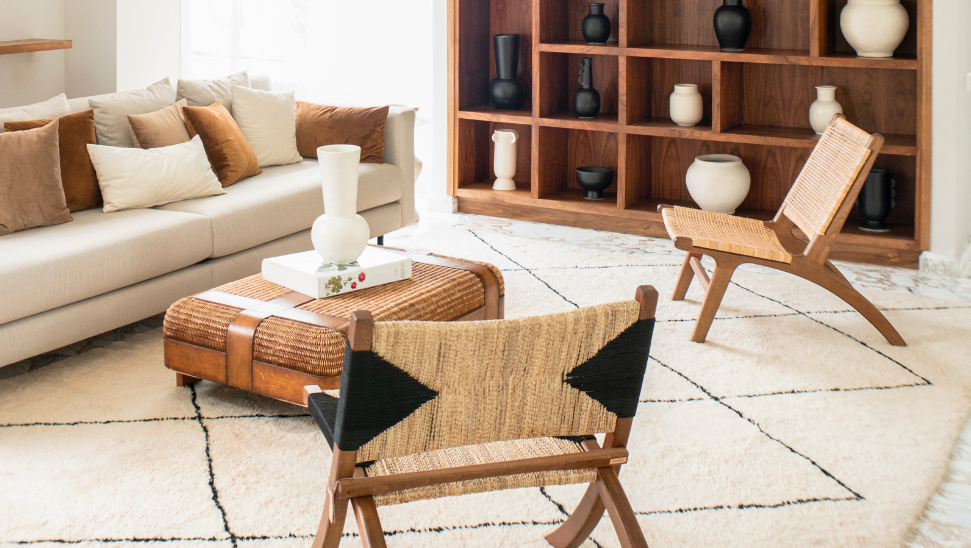 A berber rug has become a popular choice among contemporary and minimal style homes.
"To figure out how large a rug should be, lay out old newspapers in the place you have the carpet in mind for. That way you can see what a 3 x 2 metre carpet will do on that spot. And then it's just about buying something you fall in love with. The first pick is almost always a good one."
You needn't just stick to one rug either. Often having multiple floor pieces is a great way to fill up a space and mix up your style. "Think of a nice thick berber for the wintertime and a beautiful kilim for the summer. In many countries, they will swap out the rugs between seasons to make the best use of the space. In summer, you don't need a warm woolly rug; in Italy they'll often change out these rugs to lighter, more breathable woven rugs".
"Also, think about using rugs to decorate seasonally, something few people think about. Consider a classic red one for festive seasons, a yellow one for spring and a general patterned rug for all other parties and celebrations".
Types of rugs
You may not realise it but rugs have distinct ways of being made. Take the kilim vs the traditional rug. These two floor pieces are popular choices for many, but are often misconstrued and represent distinctive crafts in their own right. "A rug is knotted, a kilim is woven", says Richard. "A kilim is without a pile so it is thinner than a carpet. And it has nothing to do with land of origin.
"Many also people think the kilim has a more modern look. But the technique of weaving a kilim is simpler than knotting a carpet (a carpet is actually a kilim with a row of knots between each weft). So you can assume that this was done earlier and that the kilim is an older type of floor covering than a rug with pile. Because of the technique used, kilims are generally more geometric in design. The weaving technique used makes it more difficult to create round shapes".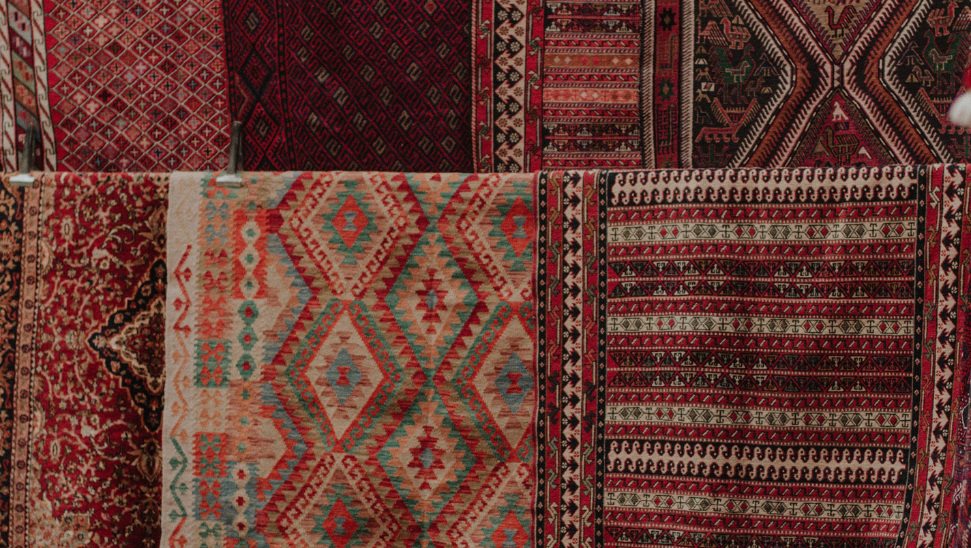 There are a whole host of rugs and carpets to choose from, from berber rugs to kilims
Beyond that, you have berber rugs, nomadic carpets and work shop rugs, says Richard. "Berber rugs represent the opposite of a kilim; these are North African rugs that are thick, high-pile and very comfortable. Then you have nomadic carpets vs workshop rugs, like Tabriz vs Qashqai. This is my opinion the most important difference in rugs.
"The artists behind nomadic rugs are often talented makers. They use only their own materials, pictures of everyday life, and surroundings for inspiration. There is no drawing of what they want to create. The carpet is in their mind.
"Workshop rugs are all about the designer. Everything is thought out. A perfect drawing, the right colours, materials, the right number of knots. Everything is measured to perfection. This is then knotted by the most experienced craftsmen".
Materials and design
Again, there's no right or wrong choice when it comes to rugs but there are a few components such as material and design that are important to consider when buying.
"I think everything has to be right", says Richard. "Good materials, such as good wool and dyes. A nice design, the right colour combination and a good number of knots per square metre to match the drawing. This gets a bit technical so ask the person you're buying from. It must be neatly knotted and finished. In addition to that, it should lay flat – so no bumps or rivets.
"But when it comes down to it, all the things above are irrelevant. In the end, I think it's all about one thing: whenever you look at the carpet, it should make you happy. I have an old heriz under my desk and that makes me happy every day."
Consider texture and material when picking your rug.
Anna Denise agrees. "For me, a rug is about comfort and how you experience a space. Aside from how it looks, it's a tactile experience. Think bare feet on soft wool, for example. But it can also really influence the way a room sounds. It's not something people think about but without rugs (or art for that matter), spaces can sound hollow and empty. With a rug, sounds are softer and more pleasant.
"In short: adding a rug changes the way you experience your space visually, physically and sonically. Think about this when you consider buying a rug for your house - what spaces need a bit more softness to it in any of these aspects?".
How to care for your rug
Something that's often forgotten but widely asked about is exactly how to care for your rug. "Daily care is easy", explains Richard. "Use a vacuum cleaner. Vacuum with a smooth nozzle. not with brushes. Have you spilled a liquid on it? Pat your rug dry with white kitchen paper, towels or another cloth that absorbs the liquid. Is the stain still visible? Wet with lukewarm water and pat dry. And repeat this as often as necessary.
"I recommend that everyone take their carpet to a good carpet cleaner after a number of years. This is normally six to eight years but it depends on how intensively a carpet is used. To ensure the carpet is free of dirt that your vacuum cleaner can't reach, and if small repairs are needed.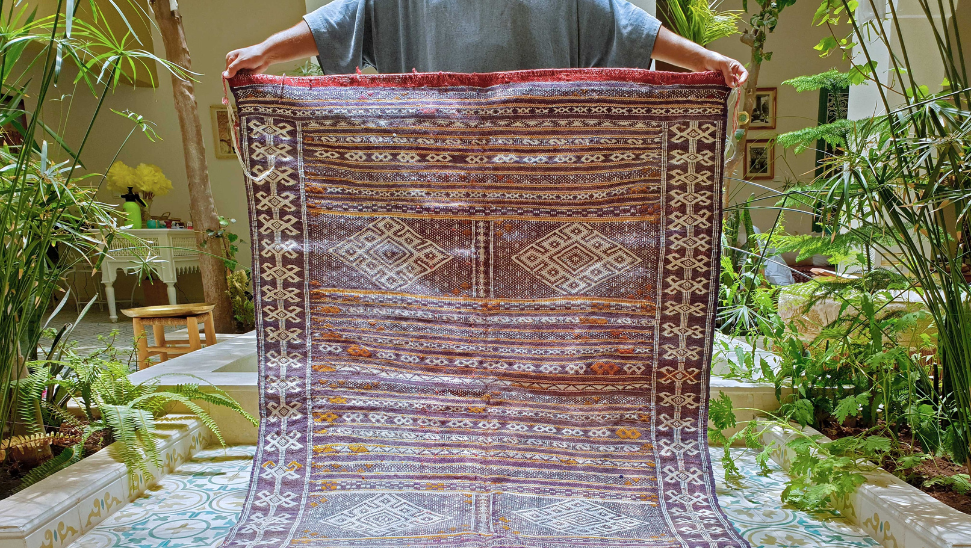 Air out your rugs and take them to a cleaner after a number of years.
Rugs are a wonderful accessory to any home. And as Richard explains, they're a fascinating case study of design we often overlook and a reason to pay mind to the world beneath our feet.
"In Iran, just about every village and town has its own type of carpet. The different tribes have their own rugs. And that brings us to this: the world of carpets is such an incredibly vast and diverse one. Every day you see something new and learn something new. And it just goes on and on. Every year, new things are invented, something completely new, or something from the past is revisited and given a new look. What a fantastic world".
_________________
Check out our latest Rugs auctions and find a magic carpet or rug of your own. Or register as a seller.
Discover more Rugs | Interiors & Decorations
You might also like:
How to style your home in Decorative Salvage
How to style your home in Gothic Drama