Written by Tom Flanagan in collaboration with Thuli Mlambo-James | 31 October 2022


For those that love sci-fi and fantasy, Afrofuturism is an enthralling visual aesthetic that goes beyond simple fantastical depictions and moves art into fresh cultural commentary. It's a term used to describe an aesthetic centred around black identity that draws from science fiction and mythology as a means to articulate the plurality of the black diaspora's experience. Think of things like Janelle Monae's Archandroid album or Black Panther's world of Wakanda, all of which are inspired by Afrofuturism. We asked curator and museum founder Thuli Mlambo-James to speak on the origins of Afrofuturism and the contemporary artists bringing it to life.
In your own words, what is 'Afrofuturism'?
In short Afrofuturism is a reclamation, ownership over black identity and narrative, through art, culture, science and political resistance. It's a way out of the racial norms and stereotypes through black imagination.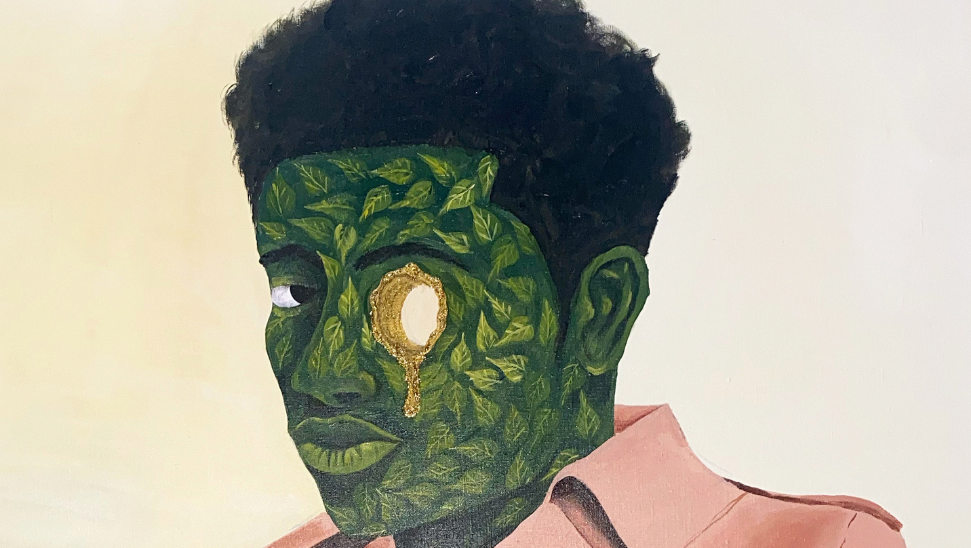 A decision I choose to make by Jervis Agoe Cassius (2022)
It allows black people to see their lives more fully, emotionally, technologically, artistically, temporally and politically than what the present allows. In short, I'd say it's a reaction of rejecting Eurocentric dominance and normalisation.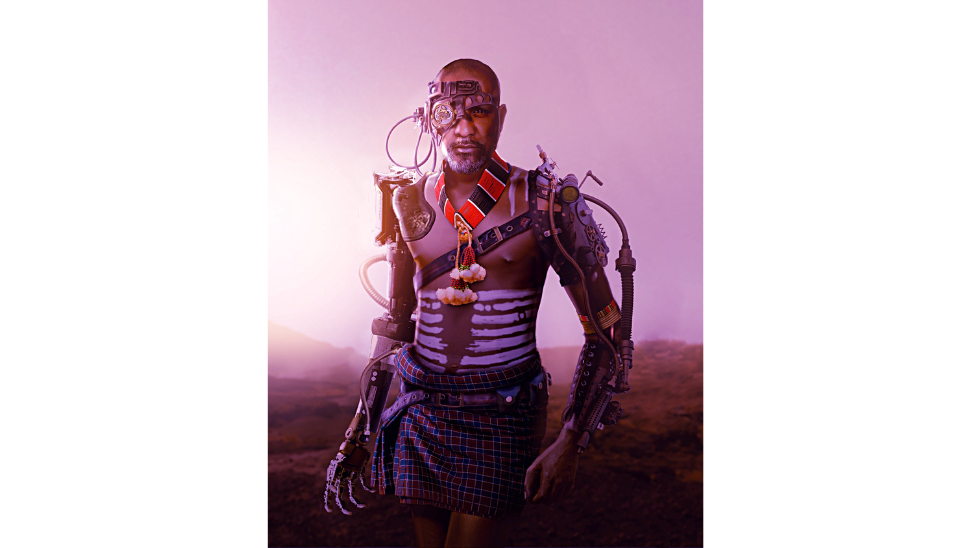 Serengeti Cyborg by Fanuel Leul. Wikimedia Commons
Why do you think African artists and creators have been drawn to the speculative and sci-fi?
I think Black artists & creators have been drawn to speculative and science fiction, as a form of demystifying what the early sci-fi writers have portrayed about black bodies. Their portrayal was that of black bodies being decentralised to society and largely invisible to projected future worlds. So Black artists have eagerly grasped the speculative fiction as imaginative space within which to rethink problematic past and rewrite providential and liberatory futures.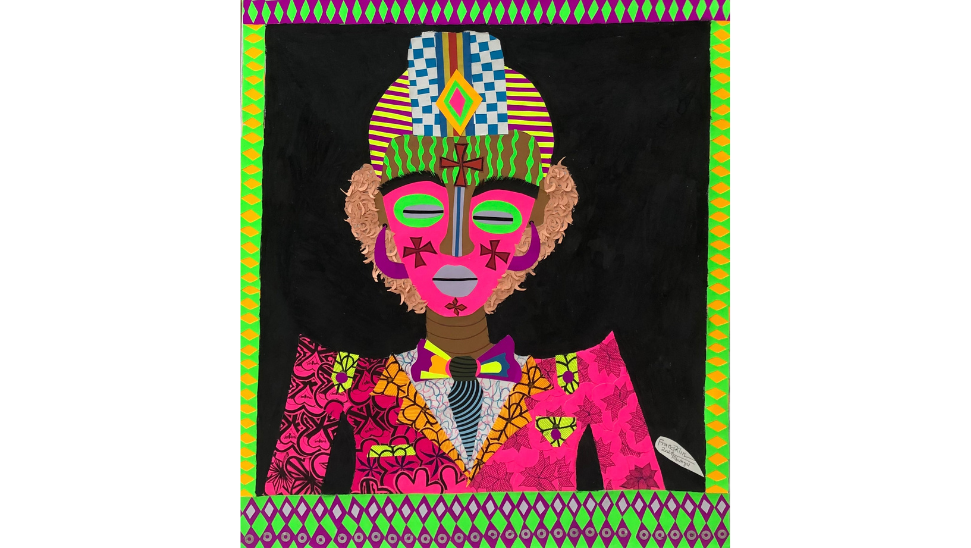 Général masqué by
Francklin Mbungu Wabonga (1972)
How does Afrofuturism in art distinguish itself from science fiction in both content and purpose?
Afrofuturism in Art is used to imagine counter-futures free of Western, European dominance, but also as a tool to implicitly critique the status quo. In this instance in art, it is the black body and black presence that assumes centre stage.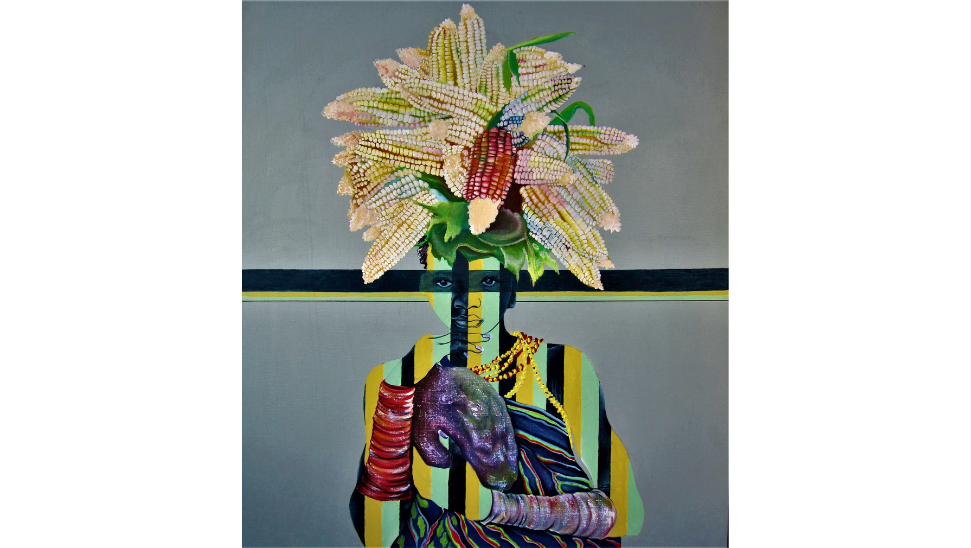 Untitled by
Alida Ymele (1994)
What do you seek to showcase and share in the work you oversee and curate?
I seek to share art that brings meaningful contribution to the advancement of the contemporary art discipline. I would also like to create a space of conversation around the art itself and the subject matter.
Computer Brain by Trésor Chérin (2020)
Who are some of the artists you're enjoying right now?
Simone Leigh (USA)
Her work is fascinating, inspirational, and significant to the current era and future. I enjoy how she explores race, gender, and identity politics within her practice and her boundless imagination draws me deeper into her work and practice. Especially the way she portrays and depicts Black women, and characterises them as these powerful, majestic but also feminine individuals too.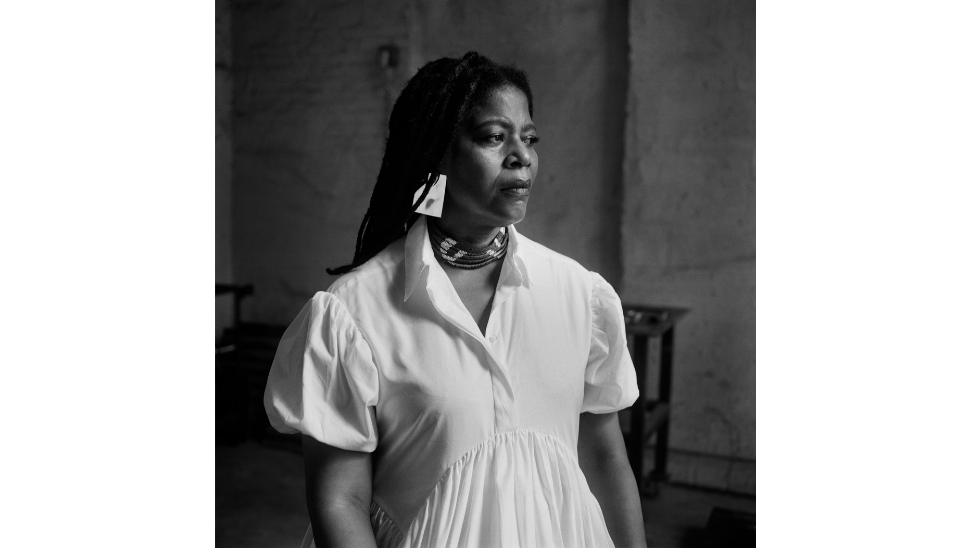 Simone Leigh. Wikimedia Commons
Larry Achiampong (UK)
He works in film, sculpture, installation, sound, collage, music and performance. Drawing on popular culture and his communal and personal heritage, in his work he explores ideas surrounding post-colonial class and post-digital identity, gender, cross-cultural and the deeply entrenched inequalities in contemporary society.
Bogosi Sekhukhuni (South Africa)
They are a conceptual worker, artist and designer offering considerations on cultures and histories of technology. Working across a range of media such as sculpture, video, set design, furniture design and performance, emergent technologies and repressed African spiritual philosophies. Sekhukhuni develops approaches that think through the mechanics of futurity.
Bronwyn Katz (South Africa)
Her work is important in reflecting not only an individual voice, but rather akin to a condition, I find her work to be Afrofuturistic in a sense that it questions the issue of the past, present and future. Bronwyn works in sculpture, installation, video, language and performance. In one of her exhibitions she engages with the idea of land as a repository of memory, reflecting on the notion of place or space as lived experience, and the ability of the land to remember and communicate the memory of its occupation. I also find her use of Afrikaans language in titling of her work very important, taking ownership of the language as well as using it as a political tool, which is very important in South African history and context.
Cyrus Kabiru (Kenya)
He is a self-taught painter and sculptor and his intricate sculptural works push the boundaries of conventional craftsmanship, sculpture, photography, design and fashion. His work is unique, eccentric and imaginative and appropriately captures the Afrofuturism movement, where he fashions and refashions waste, recycled, and found materials into various forms. He is best known for his C-STUNNERS, which has been an ongoing work where Cyrus creates and wears artistic bifocals. His art imagines a future that defies the concept of modernisation.
____________________
Explore Afrofuturism in our contemporary art auctions. Or if you're a budding artist, register as a seller on Catawiki.
Discover more African Art | Modern & Contemporary Art
You might also like:
Attic stories: Studio Aesse's online art revolution
The universal appeal of Yayoi Kusama
Navigating the unspoken: the importance of taboo art