Written by Tom | 6 July 2023
Seasons change all year long but what if summer never left your home? Enter Mediterranean style – an evocative interiors trend that harnesses the warmth and ease of southern Europe without the travel. Expert in Interiors Francisco Álvarez reveals everything you need to know about this sunlit style and how to work it into your home.
What is Mediterranean style?
The clue is in the name but it's more multifaceted than you might think, says Expert in Interiors Francisco Álvarez. "Mediterranean style belongs to an inspiring and optimistic interior, opened and guided by nature and light, deeply characterised by the aesthetics of southern European countries along with northern African and western Asian influences," he explains. "It's about evoking the atmosphere of a villa's shaded patio, protected from the sun yet still bathed in light. It's a space to enjoy an alfresco meal with friends at a long wooden table, dressed with white table linen and hand-crafted ceramics from Morocco."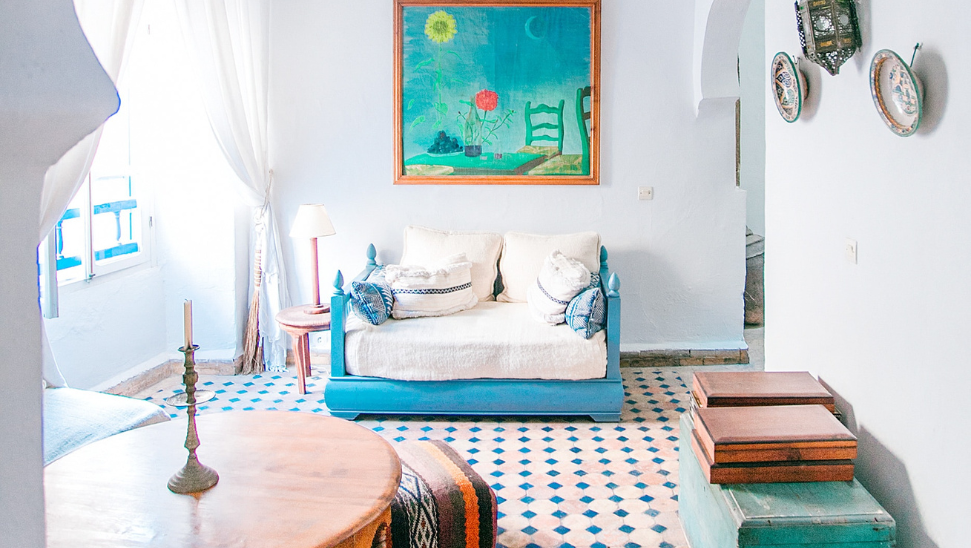 Bring in the light, always.
Ultimately, it's evocative in where it comes from and where it points to. It's a style that celebrates nature as much as it does nurture; combining the indoor-outdoor living of water features and sculptural olive trees with soft textures like Berber rugs and custom fabrics. "The Mediterranean house invites us to take a seat in a pair of vintage wicker chairs in an Italian garden, hearing the sounds of the water coming from a fountain," says Francisco. "It is a sea-view terrace in a bright house, where colourful Moorish fabric pair with Versace cushions."
What are Mediterranean style's major influences?
Mediterranean style is steeped in history. After all, it takes its cues from the architectural advances of the great ancient civilisations that ruled the continent and whose influences are still felt today.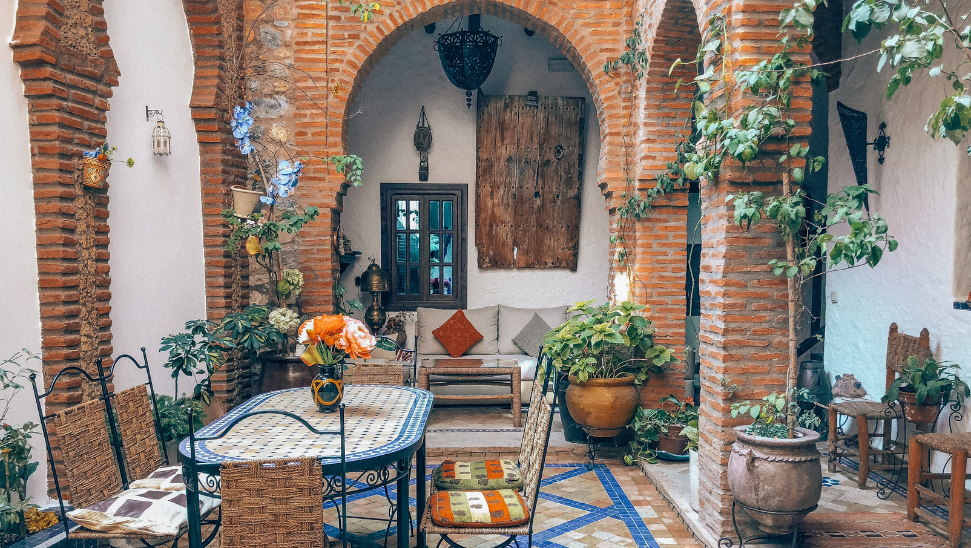 Indoor-outdoor living is a key aspect to the Mediterranean home
"There are some obvious major influences in Mediterranean style homes," says Francisco. "First of all, Italian style; which draws inspiration from buildings during the Italian Renaissance. Also, typical southern Spanish and Greek architecture will be a key point on this topic: like beach villas, country houses and colonial style. Both share an indoor-outdoor living concept, like spacious and open-plan setups that place importance on gardens, patios and verandas. Finally, look to northern African areas, such as Morocco, Egypt or Turkey, which prioritise cosy, atmospheric and intimate interiors, marked by textiles, handcrafted furniture and pottery."
What are its main colours and materials?
Think warm, earthy hues says Francisco and plenty of texture. "Mediterranean interiors are heavily marked by natural sunlight and warm tones in colour scheme," he explains. "Decor should use natural and noble materials such as ceramics, stone, wood, wrought iron and textiles. Interior touches like white stucco walls, terra-cotta floor tiles, stone details and a white-and-blue colour scheme as a main palette are all options."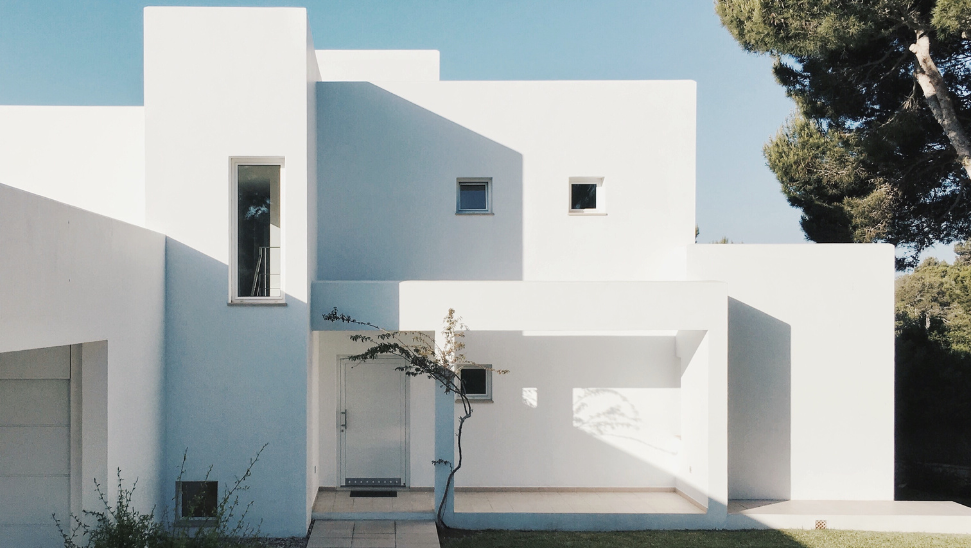 Go minimal on the outside and brandish colour on your interiors


You'll like it if…
You're the kind of person who spends the year aching for summer and the months following it planning for the next one; prefer warm earthy hues to colder colours; and loves texture and eclecticism over clean-cut minimalism.
What are some of the essential pieces you need to create this style?
Vintage ceramic lamps
Lighting is central to any interior and Mediterranean style is no different. Because so many Mediterranean homes rely on natural light, this style rests on low-lit, sparse lighting that favours table and floor lamps rather than overhead, sculptural pendants. Think vintage lamps from the 70s, says Francisco.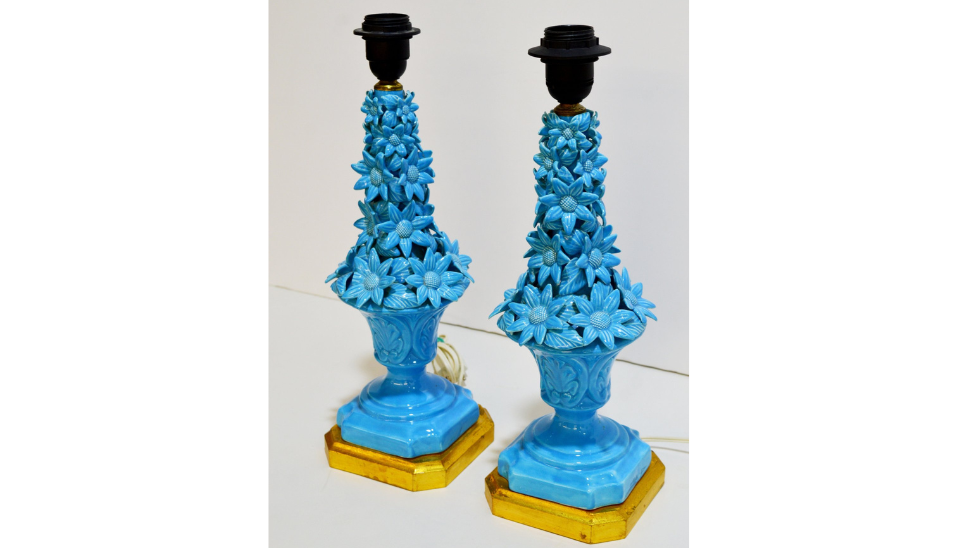 Ceramic lamps from Manises
"Consider a pair of vintage table lamps for your Mediterranean interior," he explains. "These [pictured] are beautifully handcrafted in Manises near Valencia, in a bright blue with intricate floral decoration. These types of vases were very popular in Spain during the 60s and 70s, and have now become real collector's items among decorators."
Outdoor furniture
Indoor-outdoor living is essential to Mediterranean style so that means incorporating decor into any outdoor space you have – whether that be a garden, terrace or a small French balcony. "Outdoor furniture is an important part of a Mediterranean home. Patios, porches, gardens, balconies and even pools are an extension of indoor spaces.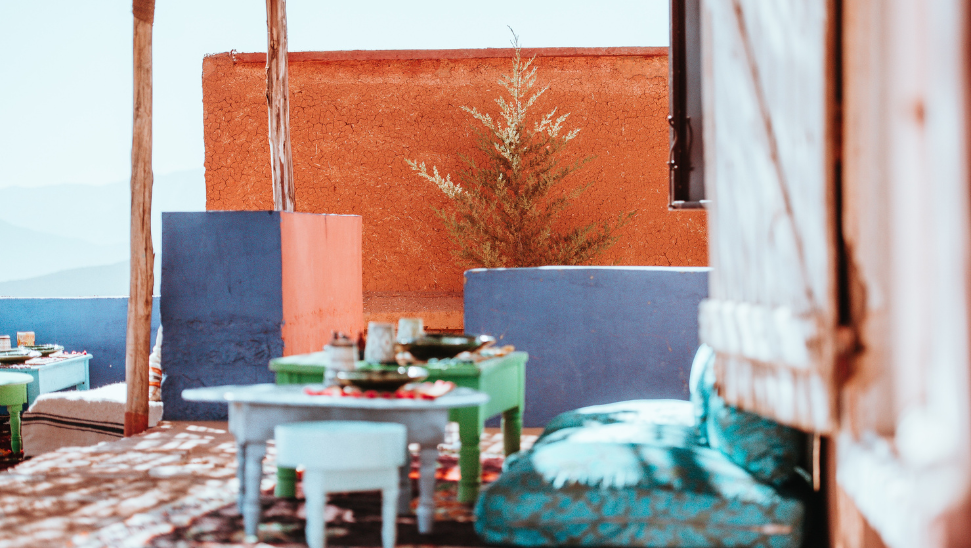 Get rugs outdoors for a cosier alfresco feel
"Think a Morocco kilim under a big white marble table on iron legs; some classical busts of ancient Roman emperors placed next to a Picasso lithograph; a vintage French wall tapestry for any free wall space; or even a 60's Spanish gilded sun mirror reflecting the light coming from a tall Blackamoor lamp." If you're in doubt about what approach to take or after something a little different for your outdoor space, look to antiques or crystals to style your garden too.
Traditional pottery and glassware
Earthenware is another must for Mediterranean style and for anyone that's ever sat out on a sun-baked veranda or shaded riad in Marrakech, they'll know why. Pottery is a constant reminder of the Mediterranean's rich cultural history, eternal summer and its earthy textures and designs are detailed, colourful and peerless. "Spanish traditional pottery like terracotta is a great example of how handcrafted ceramics and craft are surging in popularity for a stylish, contemporary Mediterranean interior. We will be able to move ancient furniture, special objects, and traditional folk pottery clay-ware… from past to future, bringing them to a new interior concept.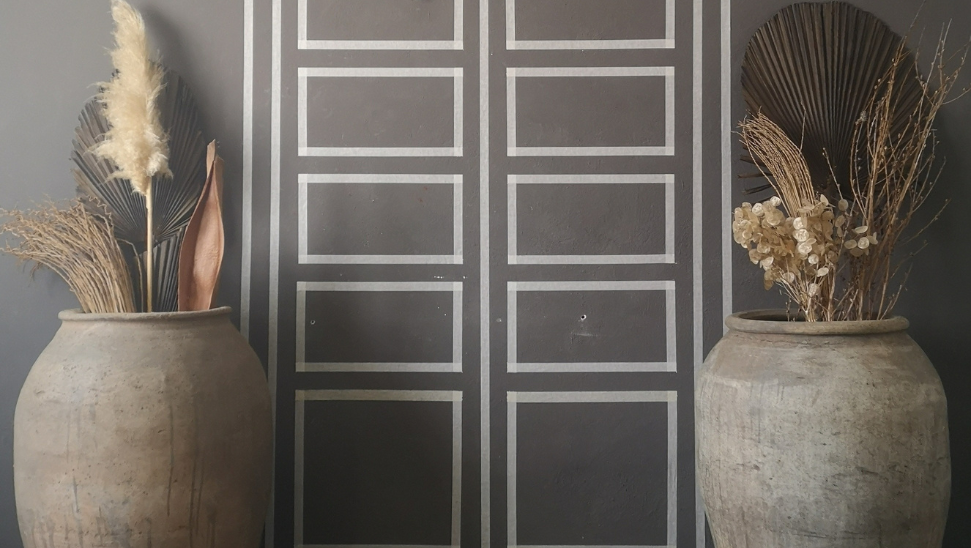 "Tinaja" used as water vessels; an example of folk pottery clayware tradition from Castellon in the Valencia region
Otherwise, look to glassware like iridescent Murano vases which are wonderful additions to any empty shelves, which pair well with an antique bargueño (a type of wooden Spanish desk) and a large Venetian mirror.
_________________
Check out our latest Interiors & Decorations auctions or register as a seller in these categories with Catawiki.
Discover more Interiors & Decorations | Design & Vintage
You might also like:
How to decorate with rugs in your home


How to decorate your garden with antiques


How to style your home in Gothic Drama