Written by Tom | 24th November 2020
The 70s was a time of both economic upheaval and progressive change. Space travel, sexual liberation and female empowerment all began to take flight during this period. These seismic shifts helped inform some of the decade's most memorable objects. From Star Wars merchandise to glam-rock records, if you're looking to give the gift of the 70s, then these special objects are the place to start.

Star Wars merchandise
The 70s marked an age of space travel that made galactic expeditions depicted on screen as gripping as the ones happening in real life. Enter Star Wars – one of popular culture's most defining space operas. 1977 saw the release of the original film which would spawn not only a highly successful franchise series but a staggeringly popular merchandising world. Since then, Star Wars merchandise has become an integral part of the film's universe and serves as a perfect gift for recapturing the jedi heyday of the 70s.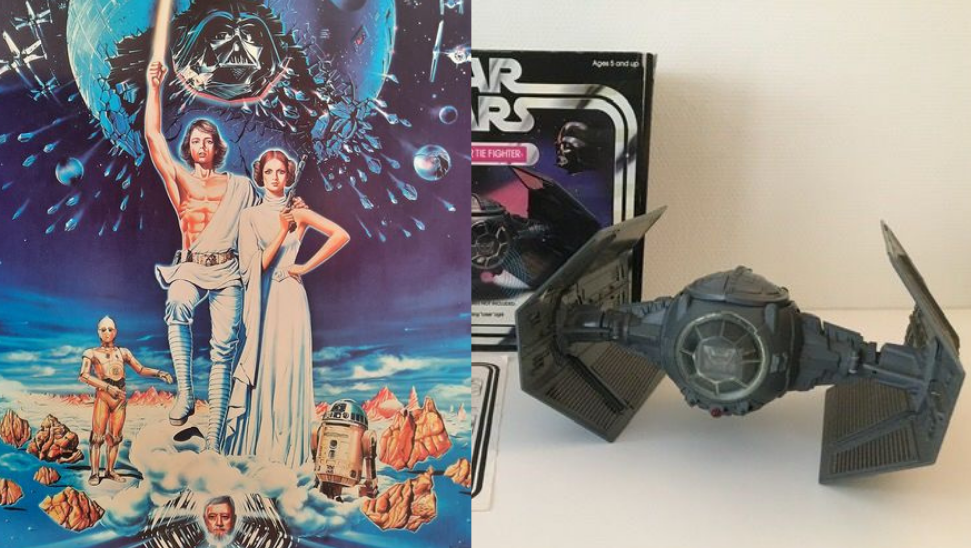 Original movie posters and Tie Fighter models are just some of the potential gifts.
For the toy lovers, Star Wars trading cards are perennially popular and a great gift for anybody stuck indoors for the holiday season. Beyond that, miniature R2-D2 toys, a Star Wars Lego set or a vintage Darth Vader Tie Fighter model are only a few of the many objects available. And for those sci-fi fans looking to capture some of the franchise's universe, opt for a framed movie poster of a Star Wars film – a celestial gift that's a true earthly pleasure.
Space age design
There was virtually no escaping the space craze in the 70s and that included in your own home. While space age style had been fashionable in previous decades, the 70s put its own twist on it. Fluid shapes, and atomic design served as the base, but injections of bright colours like burnt orange, mustard and cherry reds helped give home furniture the 70s look.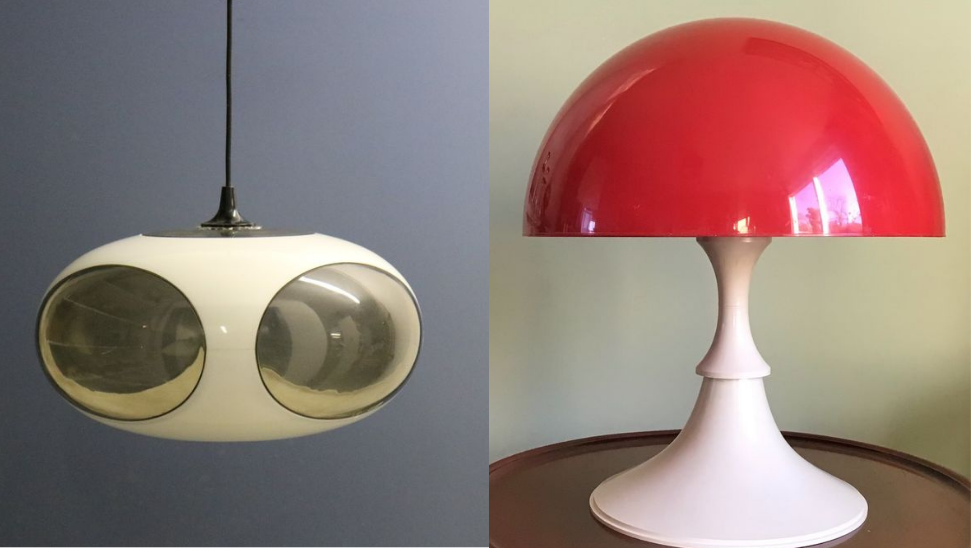 Space age design is eclectic – opt for a bug eye hanging lamp or a compact mushroom table lamp for your dose of whimsy.
There's arguably never been a better time to spruce up your interior or give a decorative object as a gift. Try a retro yet fantastical hanging bug-eye lamp, or for a smaller lighting fixture, a mid-century mushroom style table lamp which is whimsical and stylish. White plastic is another big component of this design era but that doesn't mean it's a boring material. Opt for white framed armchairs fitted with colourful upholstery. Or for the design aficionados, an Eero Saarinen classic such as the Tulip chair which captures the spirit of the 70s, although it was first imagined decades earlier as something of a futuristic vision of its own.
David Bowie and Fleetwood Mac records
Every era has a soundtrack, and David Bowie and Fleetwood Mac defined the sound of the 70s. On one end, the world was witnessing the rise of glam rock with Bowie spearheading that movement. Head to the other, and you'll find the unmistakable sounds of Fleetwood Mac, who released their iconic Rumours in 1977, which would later become one of the best-selling albums of all time.
Records or radios are endlessly nostalgic and gratifying.
Recapture the 70s with a vinyl record of Bowie's The Rise and Fall of Ziggy Stardust and the Spiders from Mars or gift the honeyed vocals of Stevie Nicks with a 'Dreams' record. If you want to go beyond the music, there's always the option of the memorabilia – think framed gold records or tickets from past concerts. And if you're really looking to treat somebody, an old vinyl record player or a tube radio is a great way to take any listening experience to nirvana-like levels.
American choppers and muscle cars
If the 70s was an era of liberation and freedom, then few objects symbolised this better than the chopper bikes of the United States. The release of Easy Rider in 1969 helped propel the chopper into the global conscience where it became a symbol of exploration, new terrain and defiance.
For motorheads, choppers and muscle cars are still symbolic of an era of freedom.
Motorcycles have always been something of a rebellious symbol, drawing in countercultures and ostracised individuals, which makes ideal gifts for those rebels in your life. These long, low bikes are a stylish ride for those desperate to be on the open road once more. And if the bikes are out of your budget, motorcycle memorabilia and gear, such as helmets, motorcycle books or vintage manufacturer emblems are also an excellent choice. Meanwhile, American muscle cars are an enduring symbol of the 70s – powerful, unorthodox and a perfect, extravagant gift for escapists.
Boots and bohemian fashion
The 70s saw no bounds for fashion. Fuelled by the burgeoning hippie movement of the period, sartorial choices were a celebration of the mood at the time: riotous, experimental and colourful. Bell-bottom trousers, floral print shirts and turtlenecks were all in mode.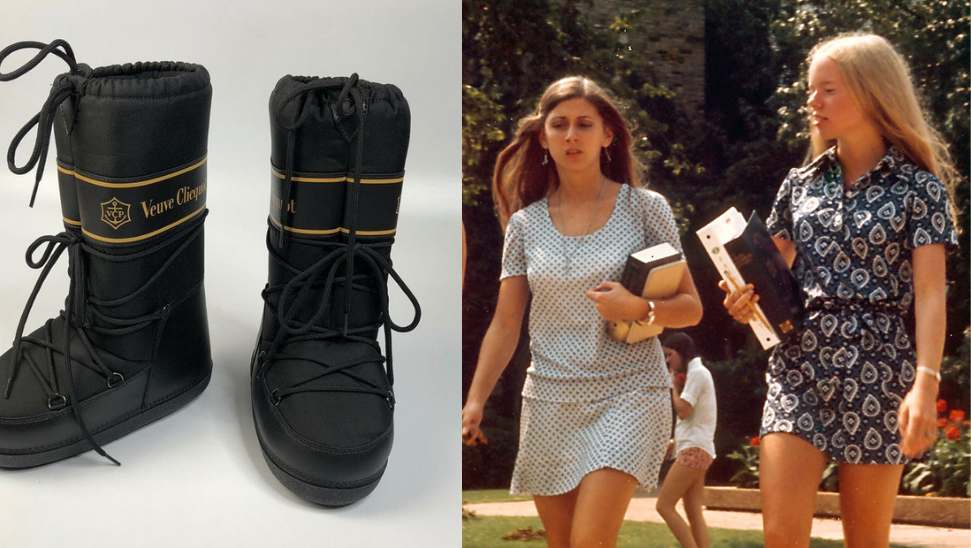 Moon boots are a marmite fashion choice but indicative of the 70s. A floral-printed miniskirt or dress is an equally timely gift too.
But one particularly notable time capsule of 70s fashion are moon boots. Inspired by mankind's adventures through the cosmos, these boots were originally designed in 1969 as an après-ski boot. Yet their puffed-up, metallic and conspicuous aesthetic made them a hit with A-listers in later decades. They've become an example of retro-futuristic footwear, perfect for anyone who finds themselves in a chilly northern climate towards the end of the year.
____________________
Get into the gift-giving spirit with our 70s themed objects or register as a seller with Catawiki.
Discover more Movie Memorabilia | Interiors | Vinyl Records
You might also like: