Written by Tom | 12 May 2023
For everyone who loves retro design and collectable items, kitsch style is for you; where Nintendo items, HiFi pieces, bold-coloured furniture and movie memorabilia take centre stage in your interior.

What is kitsch style?
From contemporary to boho, antique to gothic, there's no shortage of styles that wow. But kitsch is all about returning to the things you love to collect and giving them not just a place in your home but a spot that embodies decorative appeal. Consider the Star Wars memorabilia you've been collecting for years and move them to a few open shelves behind your desk at home. Or let those Pokémon trading cards or NBA sports cards you've accumulated shine as framed pieces of art – create a collage as one piece or split the cards across multiple frames for a gallery wall effect.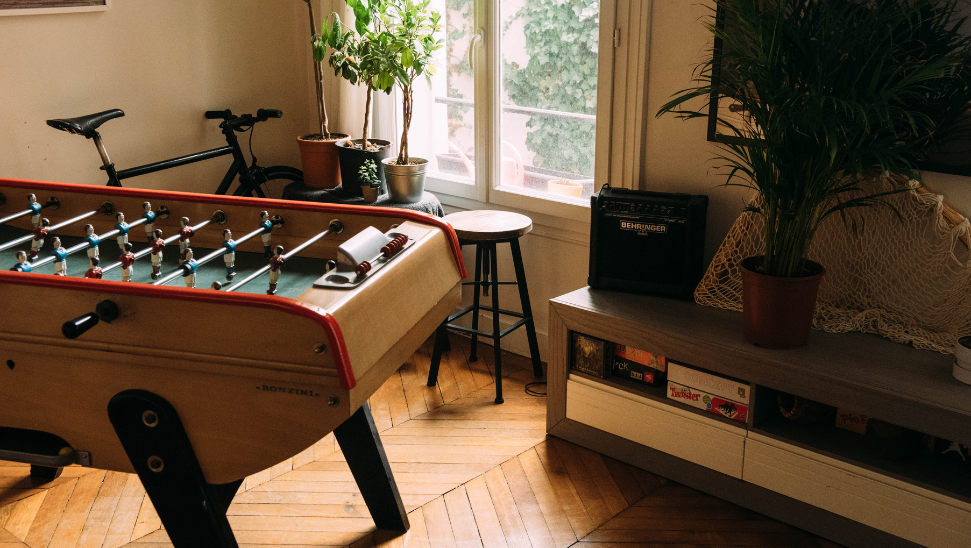 Gaming in all its forms is a big part of kitsch style so invest in traditional games like table football for decorative appeal and even some fun
It's also a style that celebrates passion and all things camp. Think posters of Barberella or The Godfather, glam-rock records and soul, and any toy you thought was in the past taking pride in its place on a desk or cabinet. Kitsch style is buoyant, colourful and wonderfully chaotic.
You'll like it if…
You love things outside of the mainstream, you're not afraid to show your idiosyncrasies in your decor and you're a firm believer that the best way to memorialise the past is to show it.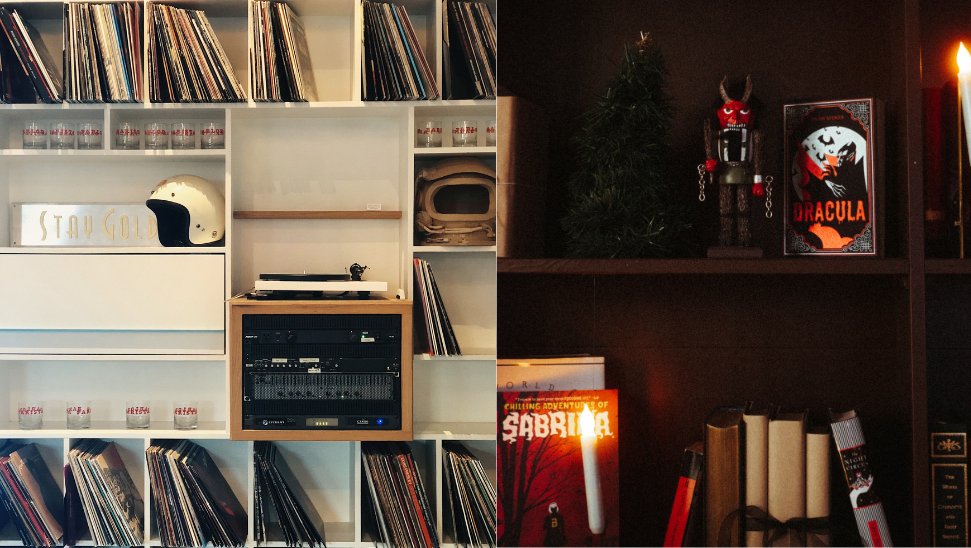 The odder the better when it comes to kitsch decor
What are some of the essential pieces you need to create this style?
Video game merchandise and HiFi
Whether you've been inspired by video game characters of old or simply the Super Mario Bros movie, Nintendo and all things gaming are a sure way to capture a bit of kitsch. For those who fell in love with the NES and SNES, these are as much great platforms to have around when you have people over as they are retro decor. Pair them with a mid century console table for a 20th century design redemption.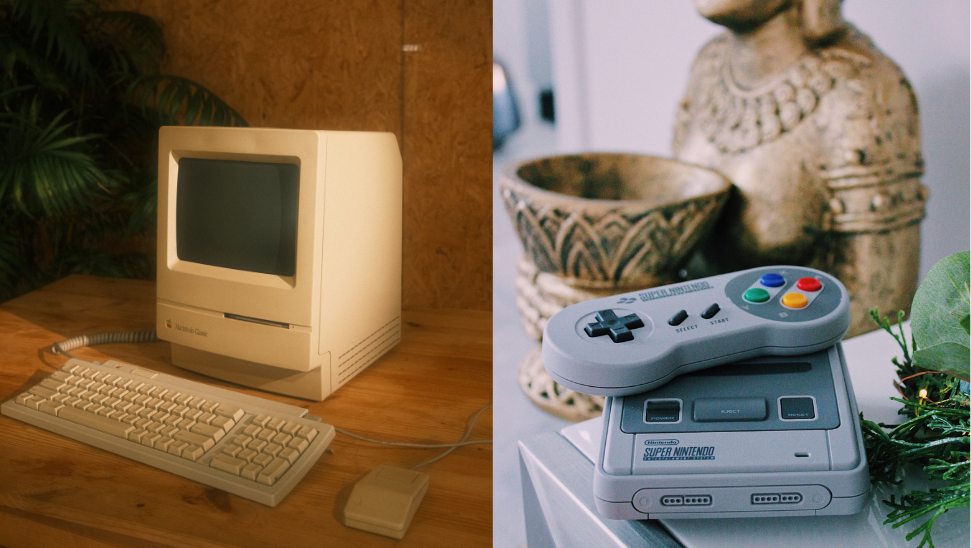 Keep your Super Nintendos out on display and even old PCs are fun, retro additions
Music isn't to be forgotten about either. If you're a vinyl collector, keep those nearby a classic record player which provides a suitably atmospheric aesthetic and sound – whether it's Beatles records, Detroit soul or David Bowie.
Pop art and posters
Kitsch style is part retro, part kaleidoscope and part subversive – and nothing says at least two of those three than pop and street art. This is a great way to pull in elements of the rest of your design; like if you had Star Wars toys dotted around a room, why not opt for a classic Star Wars poster like The Empire Strikes Back? If your taste in films is more classic, look to The Godfather for flair, or Barberella for glitzy sci-fi campness.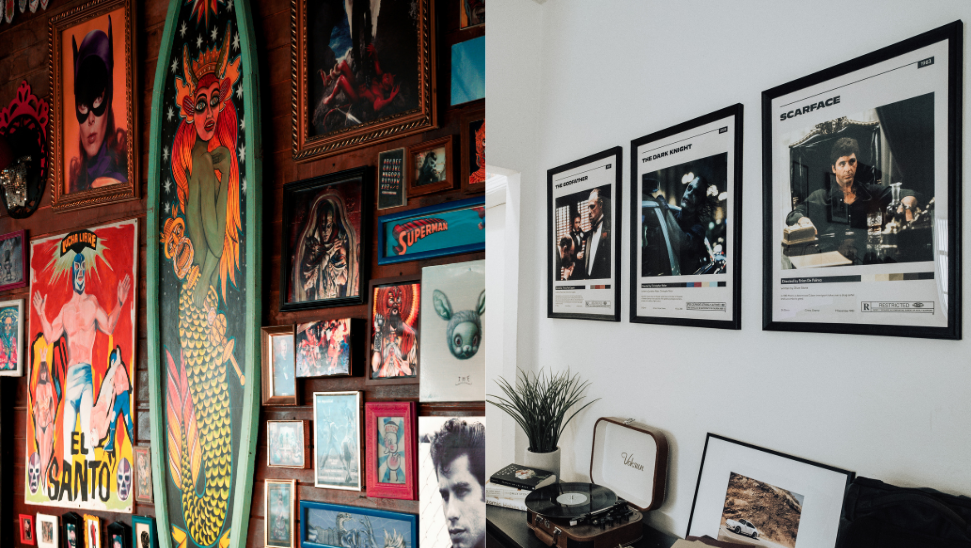 More is more with kitsch style so amp up the colour with pop art and movie posters
Otherwise, consider street art that brings in a colour and verve that's unmatched. Opt for wall-to-wall canvases and hang pieces behind your desk or TV for impact. Old favourites like Banksy check the box for name recognition but newer artists like Karl Lagasse and his sculptural flourishes are one way to add serious credibility and panache to your space.
Toys and trading cards
Arguably the central tenet of kitsch style, toys and trading cards are here to make a Toy Story-esque return to the fore. Whether it's LEGO, Barbie, Hummel figurines or Steiff Bears, let these figures take pride of place on any surface you can find. Whether that's your office desk, a shelf, a side table or made into a display of their own, bring back the retro eclecticism when these are on show.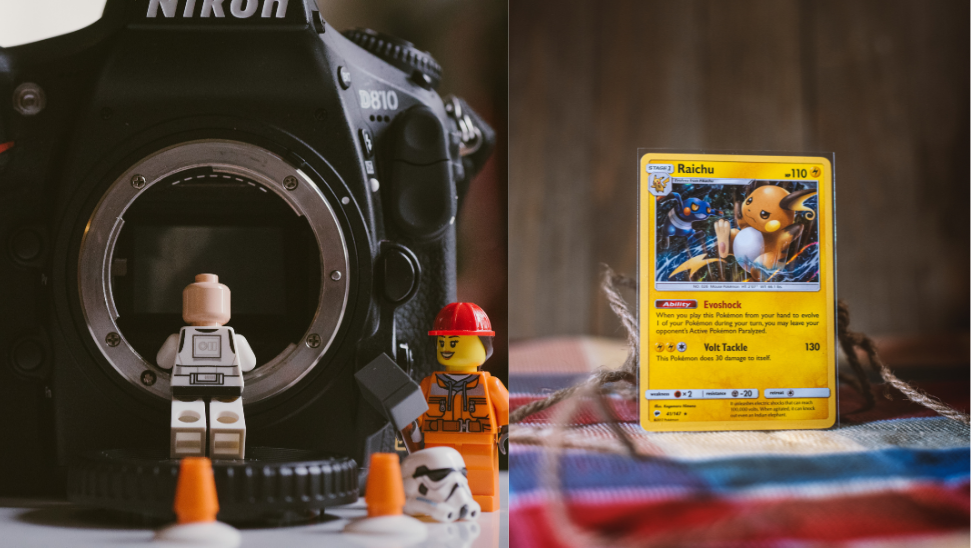 Don't hide those trading cards away – be inventive with toys and cards in your interior
As for trading cards, many people rightly keep these packaged away, but there's a way to protect them and take pride in them. Try framing a collection of your favourite Pokémon cards – maybe that rare Raichu? – in a series of miniature frames for a space, empty wall space that needs livening up. Or for anybody with a glass-topped desk, arrange them beneath the glass for museum-like appeal.
_________________
Check out our latest Interiors & Decorations auctions and the Craftsmanship auctions, or register as a seller in these categories with Catawiki.
Discover more Interiors & Decorations | Design & Vintage
You might also like:
How to style your home in Decorative Salvage
How to style your home in Gothic Drama
Breakout trends from the contemporary design world