Written by Beulah | 23rd May 2019
Art Nouveau is one of the most intriguing art forms to emerge from the early 20th-century. The wide range of objects, styles and artists make building an Art Nouveau collection an exciting, challenging experience. Here to offer some advice, reassurance, and useful tips: we've spoken to Art Nouveau experts Marjolein van der Slikke from DECONAMIC and Michel Karis from Catawiki.
Over a hundred years later and our appetite for Art Nouveau continues to grow. Jewellery, glass, ceramics, furniture, posters, prints, books and lamps have all experienced a surge in popularity.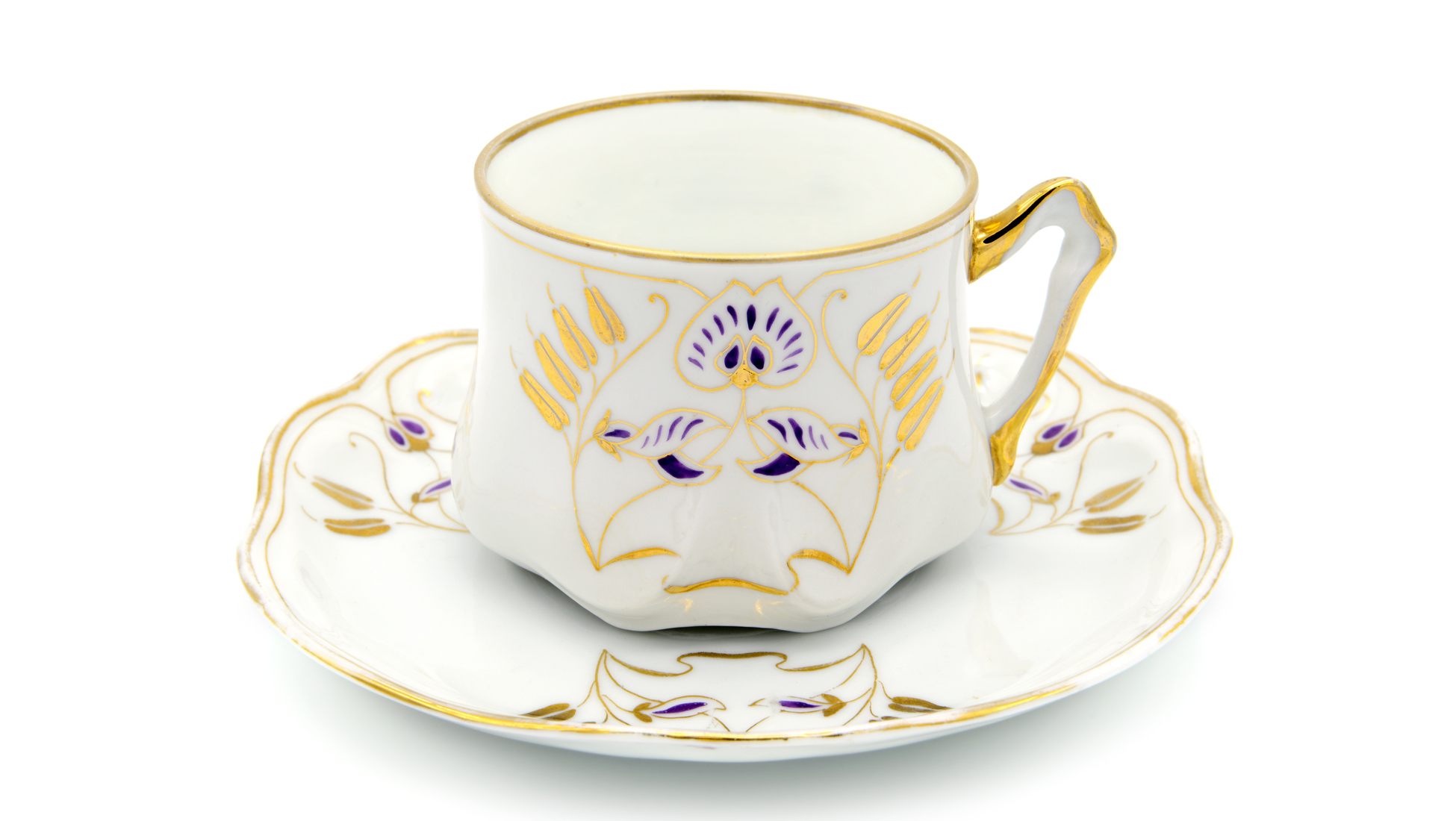 An Art Nouveau coffee cup, featuring the familiar flowing lines, floral motifs and regal palette.

What does the market for Art Nouveau look like today?
Marjolein van der Slikke: The Art Nouveau style was only popular for a short period and many items were lost in the last century. So it is clear that there are not a lot of items on the market anymore. Original, good quality items in perfect condition are sought for by collectors worldwide.
Rare, signed pieces are desirable so interesting as an investment. When clients ask me what a good investment is, I always tell them that, in my opinion, the best return on investment is the smile it puts on your face when you look at it!
Michel Karis: The emergence of the Art Nouveau movement was a spectacular Big Bang among artistic and commercial circles. Talented artists and designers from all over Europe were working closely together with skilled craftsmen and they used valuable materials to create the most beautiful objects.
Works of art [created from 1890-1910] have a strong appeal to a broad audience. International auction results show us that good quality and rare items still make new price records.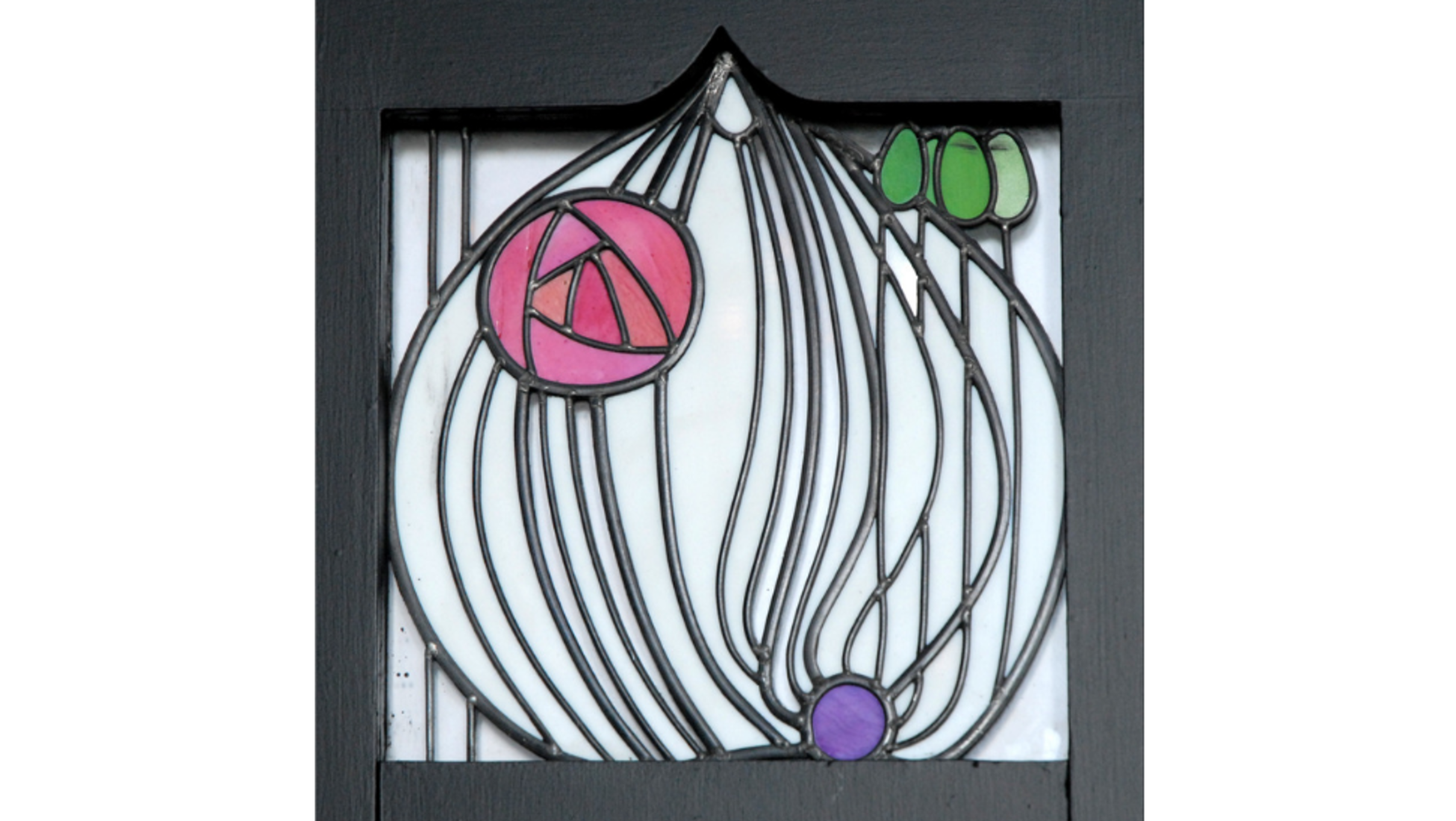 Window for the House of an Art Lover, by Margaret Macdonald Mackintosh (1901)

What are the best items to invest in and do you have any tips for new buyers?
Marjolein: The best is to learn about the items you want to collect; to visit musea, fairs and antique shops, read books and get informed before you buy. When you see a genuine object that you can afford and that you are falling in love with it…that is the one to buy!
At the moment we see a lot of interest in bronze sculptures, candelabra and Art Nouveau bronze lamps. We used to sell a lot of silvered en pewter items in the past, now we see more interest in bronze items. Clients prefer the warm colours and patinas.
I am very happy that today clients are more interested in several styles instead of staying limited to one…people have more eclectic, warm interiors these days. They are not afraid to mix Art Nouveau, Art Deco, design and other antiques with modern furniture or art.
Michel: In general the best long-term investments are the 'big names', [however] within the Art Nouveau movement there are some local sub-movements like Wiener Secession and the Glasgow School which are always in great demand. The benefit to new collectors is that many pieces from these 'sub-movements' are still available locally.
As Art Nouveau was comparatively recent, many pieces are still in the hands of private families and estates. Unlike many design and art forms, the ability to collect Art Nouveau objects is not greatly impacted by your geographical location.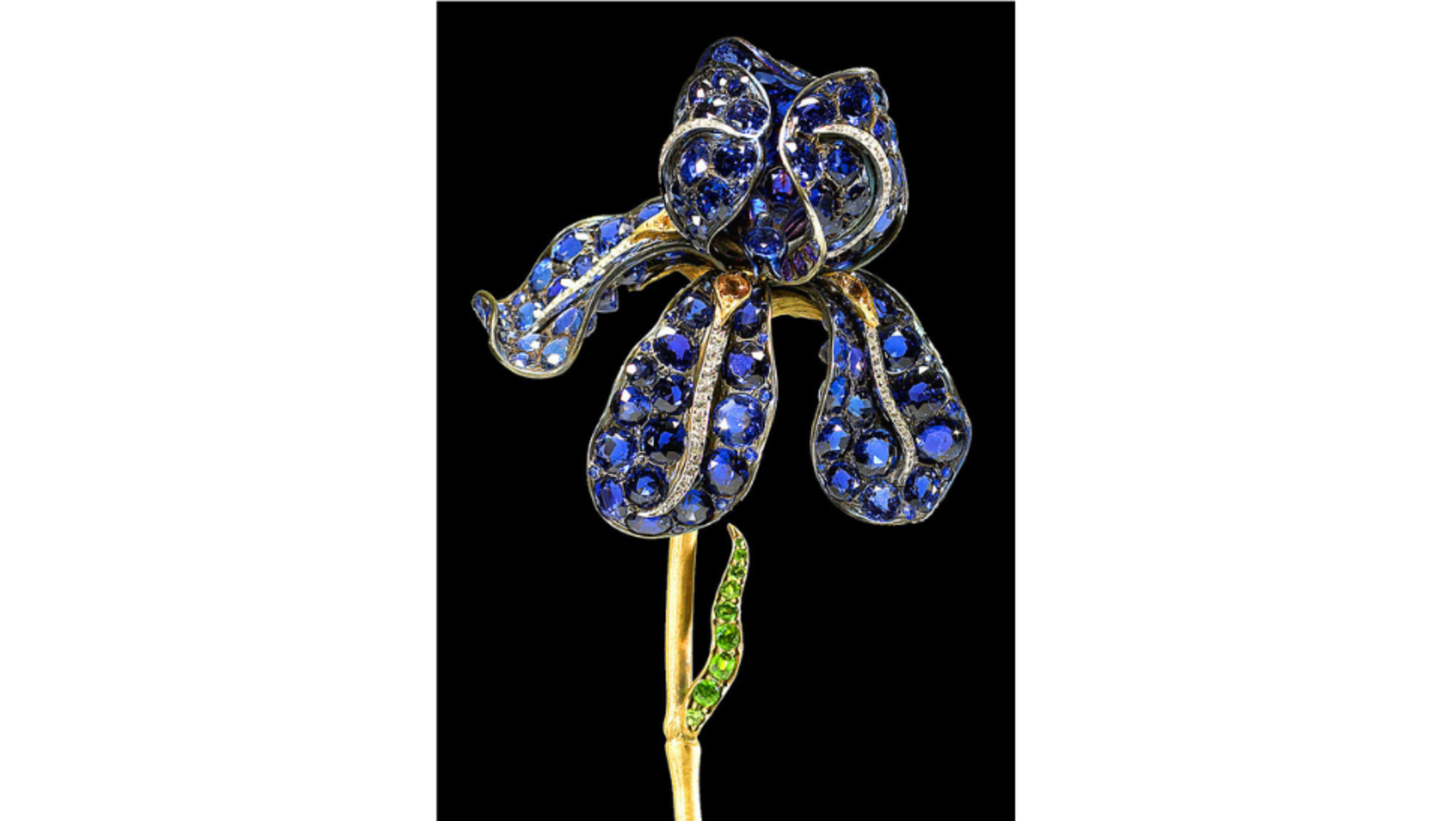 Corsage ornament by Louis Tiffany (1900)

How can buyers ensure that the items they bid on are genuine?
Marjolein: We have been working as antique dealers for such a long time already, many items went through our hands so you develop your eye and "feel" for what is genuine. Of course, we have a lot of information, books and we visit exhibitions in Belgium and abroad, so the learning process never stops. But if you don't have enough experience as a buyer, you better rely on serious dealers and ask for a certificate of authenticity.
Michel: With rare and special items pieces the provenance (history of the item through the years) is very important. New collectors are advised to look for a fine detailed execution and use of the best materials for the higher end pieces.
For the lower end items, it's important to have at least some traces of use of the object itself... Oriental inspired works and bronze female figures are traditionally very popular amongst Art Nouveau collectors, [and therefore] these works need extra scrutiny to ensure authenticity.
____________________
World Art Nouveau Day is on 10th June! Many events are organised for the occasion, you can find out more on the topic and activities via wereldartnouveaudag.nl a dedicated Art Nouveau put together by Olga Harmsen. At Catawiki we love Art Nouveau and offer new items every week, so make sure to follow and check out our weekly Art Nouveau auctions.
____________________
Discover more art nouveau & art deco
You might also like:
Expert advice: how to collect Lalique glass
How Art Nouveau inspires Marleen Deiters