Written by Tom Flanagan | 1 November 2022
A new year, a new set of things to look forward to. That means objects, interests and things you never saw coming. In case you want a little bit of guidance, these are our expert predictions for the biggest trends to watch out for in 2023.
Say goodbye to the ordinary (No Norms, No Rules)
Normal is all well and good but sometimes it's worth going beyond the everyday. 2023 is about embracing that and all things special. Think Banksy or an NFT piece for your latest artwork or a touch of Moschino and Margiela for your wardrobe. A sculpture might seem like a piece for a museum or garden but why not bring in a Grecian statue as a statement hallway piece. Or take inspiration from Sottsass' kaleidoscopic furniture and accent your living space with waves of colour for a home that commands attention.

This goes beyond art and extends to fashion too, says Expert in Fashion Luise Hack who explains that 2023 is all about letting go of outdated rules. "Gender-specific collections are just not relevant anymore, fluidity has become a must. This is exemplified in the SS2023 runways, through the extensive implementation of sheer fashion for men, trompe l'oeil prints and both male- and female-identifying models wearing the same pieces."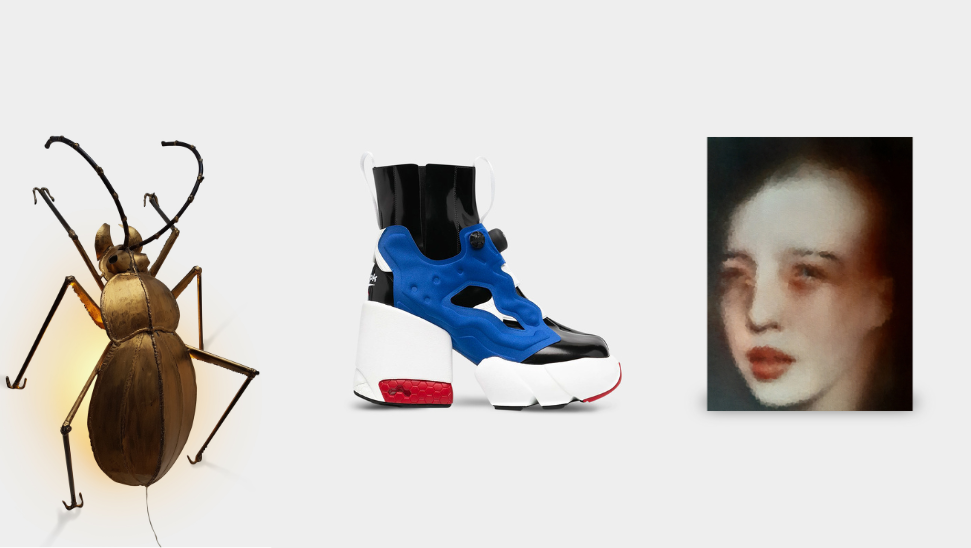 Maximalism, gender-fluid fashion and tech-driven art encompass the Beyond Normal trend.
Try embracing your most daring side, even in the smallest of ways. Forget the minimal canvas and opt for a AI-generated art-piece to be displayed in a space of your choice or swap out those white sneakers for a neon-tinged pair. The trick this year is to subvert expectations.
Key categories: Contemporary art, gender-fluid fashion, sneakers
Get cosy for the year ahead (Nesting)
Cosiness is a term often associated with the year's cooler months but autumn lovers take note – next year it's an all year-long celebration. Channel comfort with plush sofas, bean bag-like chairs and deep-seated, weathered armchairs. And don't forget floor pieces either; a soft-pile rug like a berber is an excellent way to add some muted minimalism and softness to a space, says Annick van Itallie, Expert in Antiques. "Harsh architectural lines can be softened with modern reinventions of tapestries, to provide comfort and a personal touch."
But while nesting might make you think purely of decorative choices, it's also about making your home a little world of your own through hobbies and interests. Kees Smit, Expert in Model Trains, says: "old analogue trains are rising in value. People seek simpler times and activities, to counter all the time they spend behind a screen." Return to analogue hobbying and put those vinyl records on; or reveal in the pacifying process of creating model train scenery.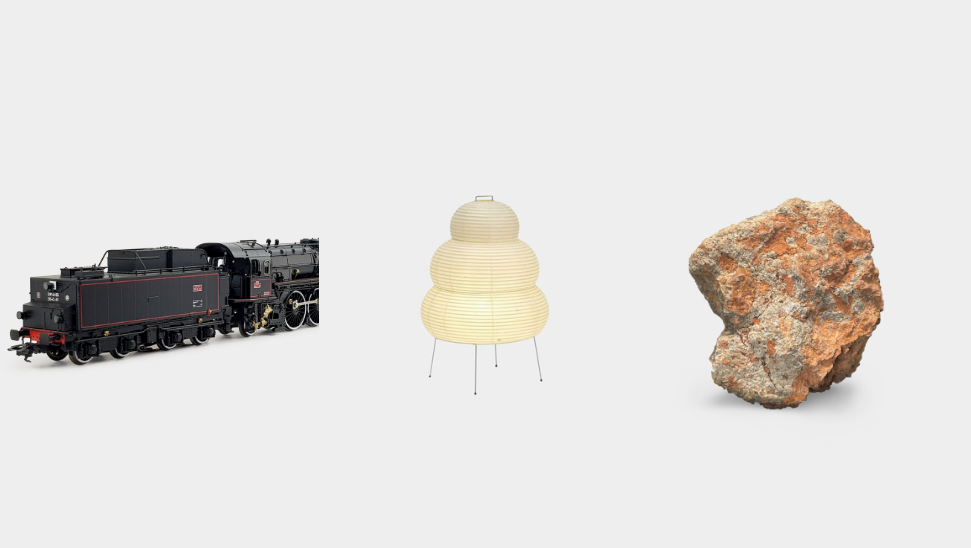 Analogue hobbying, curves and ethereal collectables make up the Nesting trend.
And don't stop there: get in touch with the ethereal with birthstones and tarot cards helping bring the cosmic world down to earth. Or lose yourself for a little while in the fantastical universes of video games – this is the year to bring your very own Animal Crossing world to life.
Key categories: Antiques, model trains, gemstones
The 2000s return (Y2K is Now)
We've celebrated the 70s, vaunted the 80s, rejoiced (and despaired) over the 90s so it was only a matter of time before the 2000s made a comeback. Return to the early millennium with glittery fashion, convertible cars and pre-tech era digital gadgets.
For cars, take a cue from the pop classics – think Fast & Furious and Need for Speed. According to Classic Cars Expert, Francisco Carrión Cardenas, the popularity of Japanese sports cars in particular has opened up an interest into lesser known JDM cars as well. "The trend transcends the classics like the 1994 Supra MK IV and opens up a whole new range of newly desirable cars like the early '00 Toyota Celica, Subaru BRZ and Mazda MX-5."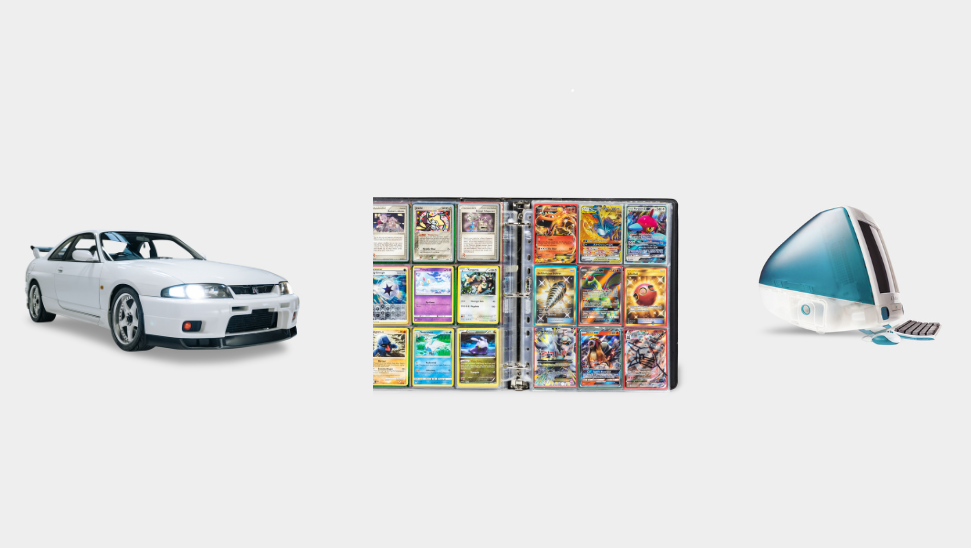 Japanese sports cars, Pokémon cards and vintage tech are proof that Y2K may actually be now.
Japanese collectables are on the rise too, alongside some familiar faces in fashion. Plug in the GameCube and grab your Pokémon cards for a Y2K revival. Or slip into a pair of low-rise jeans with your favourite Balenciaga City bag. Whether you like it or not, the 2000s are back.

Key categories: Video games, convertible cars, Pokémon trading cards
Diversifying tastemakers (New Heroes, More Narratives)
No change is arguably more important than the changing faces of age-old industries. In 2023, expect old favourites to take a backseat as new, more diverse figures rise to power. Like tastemakers in spirits putting a new spin on long-held traditions; whether that's through whisky production methods or biodynamic and natural wines.
Elsewhere historically marginalised athletes are finally getting the recognition they deserve. Women's sport is about to become just sport as the women's World Cup catapults female athletes into the spotlight. Wouter Waaijers, Expert in Sports Memorabilia, says this trend has been in the works for years. "In 2011, Panini published a low print run of stickers for the FIFA Women's World Cup for the first time, but it went by without much media attention. Today, thanks to women's football rightfully getting more attention, these first edition Panini stickers are dramatically rising in value."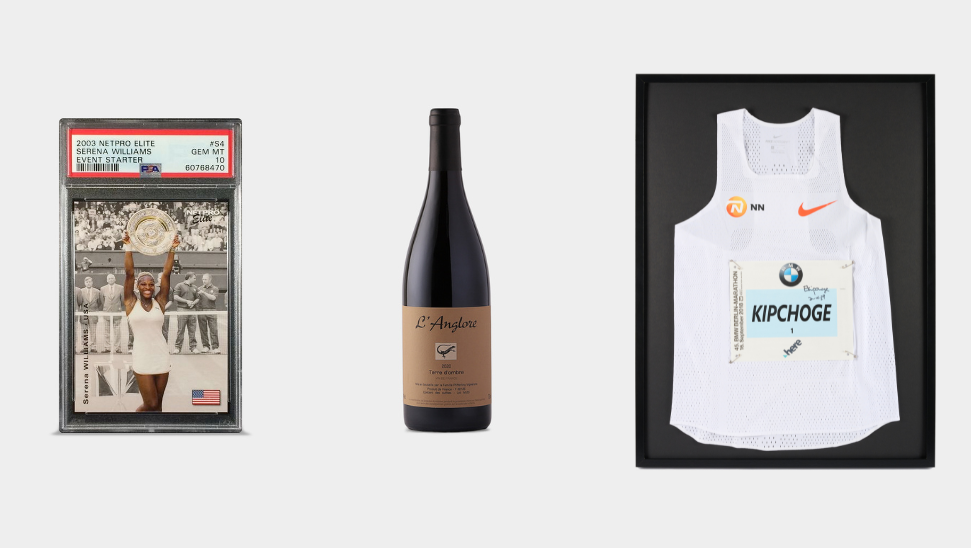 Celebrations of women in sport, new wine regions and emerging sporting heroes are all part of this trend celebrating diversity.
Wine is changing too with modern winemakers less prone to abiding by the rules says Expert in Wine Claire Sorine. "They want to be free to follow their own way of thinking, not having to adhere to rules set by people a long time ago. They produce on a smaller scale, but use the quality of the climate and soil to their advantage without striving for an appellation."
Key categories: Whisky, sports memorabilia, wine
The rise of heirlooms and heritage (Alternative Investments)
History never dies but heritage evolves – at least in 2023. We're looking to the classics to take on new forms as much-loved heirlooms and traditional investments like jewellery enter new phases of their life.
Consider the rise of 'malternatives'. Where whisky once was the investment of choice, the bottles to invest in now are cognac, armagnac and rum – plus, they're much more affordable than traditional investment spirits. "A good cognac from the fifties or sixties is still affordable today, but these are expected to double or quadruple in value," says Expert in Spirits Nicolas Heidrich. "It reminds me of what whisky was like 10-15 years ago. Now is the time to invest."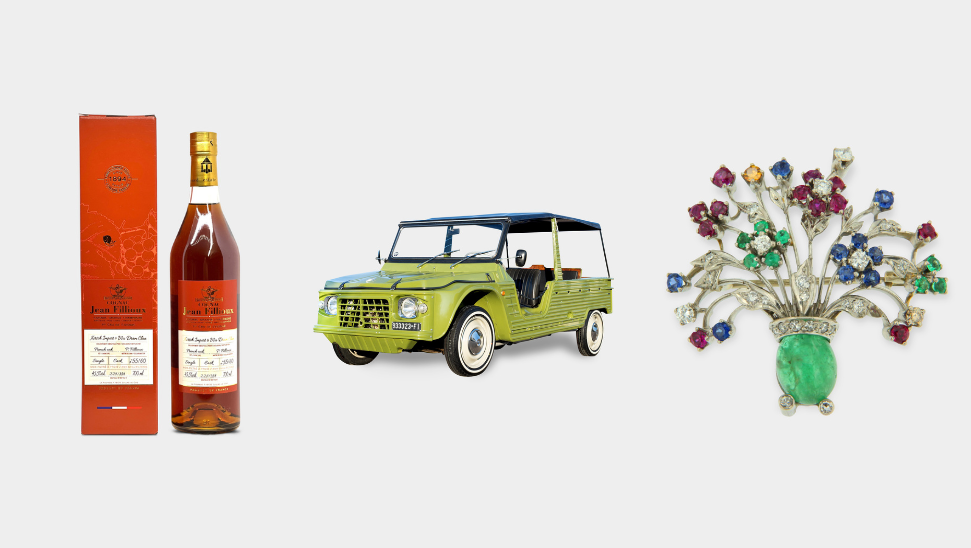 'Malternatives', new generations of old timers and heirloom pieces prove that Alternative Investments are set to be big in 2023.
And it's time to celebrate a new generation of old-timers, meaning vehicles approaching their 25th birthday. Expert in Classic Cars Franco Vigorito says: "people want to find a reasonably priced classic with performance, a nostalgic quality and low maintenance. German models, like the Volkswagen Golf GTI MK1, will be seen as great opportunities to invest." Get acquainted with other models too like a 1990s BMW Z; or drive off into the horizon in a cabriolet Mercedes-Benz SLK and bag yourself a future antique in the meantime.


Key categories: Rum and cognac, modern classic cars, jewellery
____________________
Catawiki partnered with cultural consultancy, Ipsos, to map the future of special objects. Ipsos conducted hours of deep-dive interviews with Catawiki's experts to identify emerging trends for 2023. This collective knowledge base, paired with quantitative insights, were utilised to reveal the cultural forces, industry drivers and predictions for the year ahead.

Read about the key trends set to shape the world of special objects in 2023 in our Trends Report.
You might also like:
Why Japanese classic cars are worth collectors' time